Face it, the routine doctor visit system is broken.  Walking into a germ infested waiting room, where you wait and wait, fearing that you are getting sicker just by being there.  Then half the time the doctor tells you it is some viral condition and to go home and wait it out, and please pay your co-pay on the way out.  That is even IF you can get a doctor appointment, look at this chart, this the number of average DAYS you have to wait to get an appointment at a specialist or a general practice doctor.  Depending on where you are, you could be waiting WEEKS to see a doctor.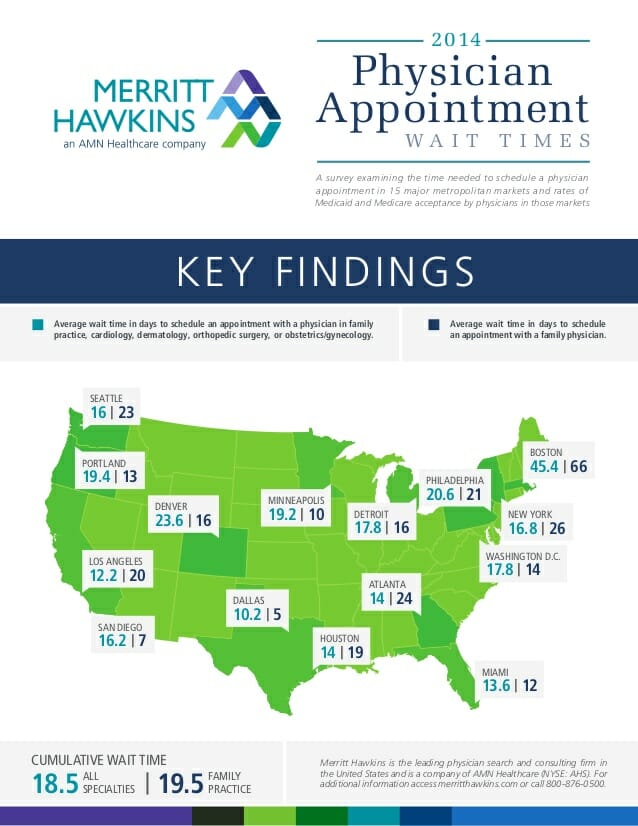 There should be a better way, and not just a little better, how about WAY BETTER!!  A better system that would allow you to:
Call a doctor and get a prescription – 24 hours a day, 7 days a week, every day of the year (yes, every day) as many times as you need to
Have a health coach
Order your own lab tests, be in control of your own health monitoring.
Find the absolute lowest price prescriptions
Find out what medical procedures cost ahead of time
Negotiate a lower doctor or hospital bill
Get help with insurance decisions
Now that IS better!  If you join our  Health Pass program, you get all this for you and everyone in your household.
The Health Pass provides individuals an alternative to Primary Care Physicians, Emergency Rooms and Minor Med Clinic visits. Cutting edge technology allows for simple and fast connection with US board certified physicians and pediatricians 24-7-365, licensed in your state. Now you can talk to the doctor when you need to.  If you have children or travel, think how convenient this will be for you.
Best of all, this is NOT insurance; there are no exceptions or exclusions, no networks. Our programs work with any type of insurance (or none at all!) and help to lower utilization costs while increasing access to the medical care you need.
This is Radically Different!
Our Health Pass program is another tool for you to use that provides loads of convenience when you are sick, as well as access to resources that most people just don't have, like health coaching and health advocates that can help you find local specialists, special pharmacy discounts, a health pricing tool, so you will know what procedures in your area should cost, and the Health Pass program even gives you the ability to get two lab tests done each year at no cost.
When the HealthStatus  team came up with this program I could hardly believe it myself, I don't like the doctor's office, when my kids were little they always got sick or hurt at the most inconvenient times and places, and a lot of the people I hang out with always comment about how lucky I am to have access to health coaches and lab work on demand.  A Health Pass membership can take care of all this for you, and it is so important that you try it for yourself I want to make sure you have a chance to try it  at NO COST.  Sign up now, and for fourteen days you can call a doctor anytime you want, get prescription discounts, consult with a health coach and more.
After that, the cost is less than one dollar a day and the Health Pass covers you and your household, you can cancel anytime.     Our analysis shows that a couple that uses our Health Pass program can save over $2,300 dollars in annual health care costs by taking advantage of the services this program provides,  a family of four will save over $2,600 every year and even individuals save over $1,700.   And those are straight up costs, we didn't add any fluff for gas, or cost of your time, or price our coaching at outrageous hourly rates.
What if you could just pick up the phone and call a doctor no matter when and no matter where you are?   24 hours a day, seven days a week, 365 days a year, a doctor you can call.   Not only a doctor that you can call, but a doctor that can call in a prescription for you to a local pharmacy!   No paperwork, no germ infested waiting rooms, no network issues, wouldn't that be great?

HealthStatus has been online since 1998 providing the best interactive health tools and assessments.  We are VERY proud to add this program as another resource for our visitors.  We completely stand behind this program and are so confident that we know if you try it, you will become a long term member.  This is a no-brainer!  Save time, save money, control your health, get help from experts, the Health Pass is awesome.
Remember our doctors are:
U.S. Board-certified

U.S. board-certified in internal medicine, family practice, or pediatrics.

State-licensed

Licensed in their respective states. When you call, you will always speak with a doctor licensed to practice medicine in your state.

Experienced

With an average of 15 years of practice experience.

Verified

Verified through the National Physician Data Base (NPDB) and the American Medical Association (AMA) for medical licensure, training and education, work history and malpractice history.

Credentialed

Doctors are credentialed every 3 years, with NCQA provider credentialing standards.

U.S. residents

Living and working in the United States.

Telehealth specialists

With specialized training in talking with patients and diagnosing over the phone and with online video, while adhering to our set of 130 proprietary, evidence-based, clinical practice guidelines for the telephonic and audio-video treatment of common, uncomplicated medical conditions (the only guidelines in the industry specific to telehealth).
HealthStatus has been operating since 1998 providing the best interactive health tools on the Internet, millions of visitors have used our
health risk assessment
,
body fat
and
calories burned
calculators.The HealthStatus editorial team has continued that commitment to excellence by providing our visitors with easy to understand high quality health content for many years.
Latest posts by HealthStatus (see all)