Food Allergy Awareness Week
15 million Americans suffer with food allergies.   If you suffer from food allergies or someone in your family does you understand the lifestyle impact that such an allergy causes.   There are restaurants that are off limits and shopping turns into a long and laborious process.
A food allergy is an overreaction of the immune system to a specific food protein.
90% of all food allergies are caused by 7 foods:
Peanuts
Tree Nuts
Milk
Eggs
Wheat
Soy
Fish / Shellfish
Food Allergy Symptoms Mild: rashes, hives, itching, swelling
Food Allergy Symptoms Severe: trouble breathing, wheezing, loss of consciousness
Peanuts:
Peanut allergies are very common.   Peanuts are legumes and grow under the ground.   Other legumes are beans, peas, lentils, and soybeans.   If a child has a sibling who is allergic to peanuts their risk for a peanut allergy increases.   Of those allergic to peanuts 25-40% will also be allergic to tree nuts. The good news is that 20% of children who are allergic to peanuts will outgrow their allergy.   The bad news is that the number of children with a peanut allergy tripled between 1997 and 2008.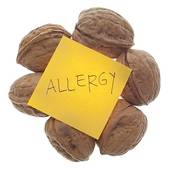 Tree Nuts:
This category contains all of the nuts that grow on trees such as: walnuts, almonds, hazelnuts, cashews, pistachios, and Brazil nuts.   A sibling with this allergy also increases the risk for other children in the family to be allergic.   Unfortunately only 9% of children with this allergy every outgrow it.   Beware of products that aren"t food but can cause an allergic reaction.   For example, tree nut oils are sometimes found in lotions and will contain the tree nut protein that causes the allergic reaction.
Cow"s Milk:
Cow"s milk is the most common allergy in infants and young children.   2.5% of all children under the age of three are affected.   The good news is most children outgrow this allergy.   The bad news is avoiding cow"s milk is the only option.   You need to be cautious of goat"s milk because the offending protein is very similar to the cow"s milk protein.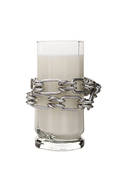 A milk allergy is not lactose intolerance.   People who are lactose intolerant are missing an enzyme lactase.   The lactase enzyme breaks down the lactose sugar in milk and dairy.   Symptoms for this are bloating, gas, and indigestion.
Eggs:
Avoiding eggs can be extremely difficult.   Eggs are found in various forms in tons of food products.   If you are allergic to chicken eggs it is quite probable that you are also allergic to quail, duck and turkey eggs also.
Many children"s vaccines contain egg protein and can cause an allergic reaction.   The yearly flu vaccine also contains egg protein.   Please discuss this with your doctor before accepting any and all vaccines.   You may need to remind him or her at each visit.
Wheat:
Again wheat is our most common grain in American and avoiding it in packaged foods is very hard to do.   The good news is that most children will outgrow this allergy.   The bad news is all wheat in any form must be avoided.
A wheat allergy is not gluten intolerance or celiac disease.   Celiac disease is an abnormal reaction in the small intestine to gluten.   Remember all allergies are an immune system overreaction to a specific food protein.
Soy:
Soybeans are a legume like the peanut.   Being allergic to soy does not increase your risk for having an allergic reaction to other legumes.   The good news is most children will outgrow this allergy by age 10.   The bad news is that soy is found in a wide variety of processed food products.
Fish:
The most common finned fish culprits are salmon, tuna and halibut.   The most common shell fish culprits are shrimp, crab and lobster.   Being allergic to one fish does not increase the risk for other fish to cause an allergic reaction.   Unfortunately, fish allergies tend to be lifelong.
Avoiding seafood restaurants is a good idea.   Even if you order a non-seafood item there is such a high probability of cross-contact that you may still have an allergic reaction.
Living with a food allergy:
Change your diet to avoid the food that is causing the reaction.
Take the time to read all food product labels carefully.   Keep in mind, many of these sources can be found in a wide variety of products.   For example, Caesar salad dressing contains egg.
If your allergy symptoms are life threatening (Anaphylaxis) carry with you an Epinephrine pen at all times and wear a medical identification bracelet.