The shoulders are very important, and oft neglected, parts of your body. Your shoulders help you with everyday tasks, they help you reach for objects, lift objects and they also help you perform exercises. Flexible shoulders are very important as they will help you increase your overall body strength.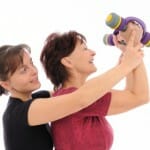 The Importance Of Flexible Shoulders:
If you find your shoulders aching and paining a day after doing some heavy lifting, like rearranging your furniture or lifting boxes, it"s probably because of the lack of flexibility in your shoulders. Flexible shoulders increase your strength and also decrease the amount of load that your bones, ligaments and joints have to bear. Shoulder flexibility is a crucial part of your body and most exercise regimes have a set of isolated stretches targeting the shoulders in particular.
Isolated Shoulder Stretches:
If you are starting weight training it is very important for you to perform isolated shoulder stretches and do some exercises that help in increasing flexibility in your shoulders.  This is very important and helps increase your overall strength and avoid ligament and joint injury. Isolated shoulder stretches improve the blood flow in the muscle groups that make up your shoulders and warm up your shoulders for heavy work outs.
Shoulder Stretches Between Exercise Sets:
If you want to work out your shoulders and make them more muscular, make sure that you perform shoulder stretches between sets of heavy lifting. This helps increase the flexibility of your shoulders and also keeps them safe from injury. As your body becomes more and more fit, you can lift even heavier weights and challenge your body even further.
Stretching Before And After Exercising:
By stretching your shoulders before starting your exercise regime, you are keeping them safe from joint, ligament and muscle injury but it is equally important to stretch your shoulders after working out as well. An effective cool down routine always includes shoulder stretches along with neck, back, lower back and leg stretches. All these stretches in turn, help increase the flexibility of your body which makes your body stronger and more physically fit. Make sure that your perform shoulder stretches and other exercises under the watchful eye of a certified physical trainer.
HealthStatus has been operating since 1998 providing the best interactive health tools on the Internet, millions of visitors have used our blood alcohol, body fat and calories burned calculators.

The HealthStatus editorial team has continued that commitment to excellence by providing our visitors with easy to understand high quality health content for many years.

Our team of health professionals, and researchers use peer reviewed studies as source elements in our articles.

Our high quality content has been featured in a number of leading websites, USA Today, the Chicago Tribune, Live Strong, GQ, and many more.