Exercise, that's how to be active for health, well it's one way. The best way to lead a healthy adult life is to have led a healthy childhood. Teach your children healthy eating habits with plenty of fruits and vegetables. Meat is good, but too much of a good thing can be bad for you. We tend to eat too many fried meats, or greasy meat like bacon, sausage and hamburger, or processed meats like hotdogs and lunchmeats.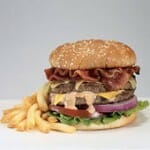 Also very important to development of a healthy body is exercise. Make sure your children get plenty of exercise. Far too many kids today spend too much time indoors on the computer or video game console. This is detrimental to their health if they are not balancing this type of activity with exercise.
If your kids don't go outside and run and play then sign them up for some type of activity. Soccer is very popular these days for children of both sexes, and boys still play basketball, football and baseball. Swimming is another healthy activity to involve your children in and this is a sport both boys and girls can participate in.
If you can afford a family pool even better because swimming is one of the best exercises for young and old alike as it works all muscle gro