As men age, testosterone levels in their body generally drop normally. Sometimes, low testosterone levels can adversely affect the health of men. Since this hormone is responsible for building new muscles, for deepening the voice and for revving up the sex drive in men, its lowering levels can have a negative impact on their lives.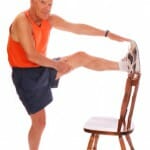 What Is The Role Of Testosterone?
Testosterone is the male hormone which is responsible for all the male characteristics that define men, such as a deep voice, increased muscle mass and strength, larger bones and the male sex drive. This hormone maintains male characteristics in men, throughout their lives. The levels of testosterone start lowering in men normally after they have crossed the age of 40. Usually this decline in the hormone level is not very significant and does not cause any symptoms.  The normal rates of lowering testosterone levels do not exceed a decline of 1 to 2 percent per year. The signs and symptoms of low testosterone in men become apparent if the hormone lowers significantly.
Symptoms Of Low Testosterone In Men:
When the testosterone levels in men become lower than 300 nano-grams per deciliter of blood, this is considered a lowered testosterone level. The following symptoms are the most commonly seen in men who suffer from low testosterone levels:
Low sex drive
Feelings of fatigue
Disturbances in sleep
Mood problems
Overall an impairment in the quality of life
Most men who have low testosterone levels may not even notice its effects, and only half to three fourth men report symptoms.
How can low testosterone levels in men be treated?
Low testosterone levels may occur for any reason, and unless an underlying problem is not causing the lowered hormone levels, the most effective treatment is by replacing testosterone in men. A daily skin gel or an external testosterone patch can be used to replace testosterone that has been lowered in men. Oral tablets and injections are also available. The blood testosterone levels should not be raised significantly as there are many side effects that can occur, and only mid-normal range testosterone levels should be achieved.