Well another Halloween has come and gone and the two "big feasts" are just around the corner. Thanksgiving and Christmas (or Hanukkah for our Jewish fiends) after Easter (or Passover for our Jewish fiends), are typically the days of celebration where everyone has a huge dinner with all of the family, friends, and other assorted loved ones (and a few not so loved ones).
Tables spread with all types of nummie nums and a large assortment of desserts of all manner for after dinner is usually the custom here in America. Eggnog and hot chocolate with lots of whipped cream toppings and those little chocolate sprinkles are some family favorites for the beverages sometimes consumed around the fire or television set.
But at what cost? AT WHAT COST? Well ok, maybe that was a little dramatic, but seriously, that stuff is loaded with calories. Everyone gains a little weight around the holidays, studies show that the "average" person of "average" weight typically gains only about 1 pound during the holiday season. But these studies also showed that the heavier a person was before the holidays, the more weight they gained during the holidays. (I guess that's why they where heavier to begin with then eh?)Some Americans may experience a weight gain of up to 5 pounds during the holiday season, and the really bad news is that most people do not lose the holiday weight.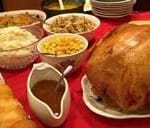 So, over the years, the little bit you gain during the holidays sticks with you and adds up later in life. So statistically if you are 20 and pig out every holiday and are not an exercise enthusiast it is likely that by the time you are 40 you have picked up an extra 20 pounds or more.
So where do all these calories come from? Let's look at some holiday favorites and see just what kind of caloric content is in this stuff. We obviously can't cover every food item that everyone eats during the holidays, but instead we will look at the three or four highest calorie foods from areas like appetizers, main dishes, side dishes and desserts.
Appetizers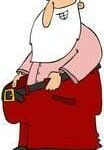 One half cup of mixed nuts is a whopping 400 calories, while a 10 oz serving of plain potato chips is 150 calories. That lovely cheese ball with nuts that tastes so good on those crackers provides about 250 calories for a two tablespoon sized serving, and the crackers themselves are 177 calories for 10 of them.
Side dishes
What's dinner without side dishes? Not much really, but some popular side dishes can really dole out the calories. A 1 cup serving of that stuffing is close to 400 calories, and those mashed potatoes or sweet potatoes each are 350 calories +/- 25 calories for a 1 cup serving. Add gravy to that mashed potatoes and that boosts it another 200 calories for a ½ cup serving. And that dinner roll is about 100 more calories; add another 50-100 calories for the butter.
Main dishes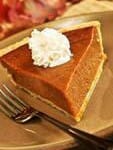 Turkey is about 200 calories for a 4 ounce serving, and ham is close to 400 for the same amount. Various beef dishes are all around 300 calories for a 4 ounce serving, then add more for the gravy.
Desserts
A small slice of pumpkin pie is about 350 calories then add almost 300 more for ala' mode. Apple pie is about the same as pumpkin but it jumps 100 more for pecan.
Beverages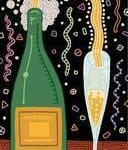 That 1 cup serving of the holiday favorite eggnog with a shot of holiday cheer, now hold onto your hats, 450 calories! Minus the cheer and minus 100 calories and a nice dry wine (red or white) is about 150 calories for a 7 ounce serving. And for you beer drinkers it's 150 calories for a can unless it's a light beer, then it"s 100.
So, imbibe, enjoy, eat and be merry, but then get on the treadmill the week after.