Many folks tend to overlook the important benefits one can observe while undergoing weight training. Due to this lack of knowledge, many men and women will experience a slower metabolism, a lack of bone density, higher stress levels, and consequences from constant stress on the body with improper muscling and flexibility.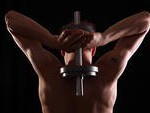 To keep one's body in its prime, a good diet and some sporadic running won't do the trick. By adding a weight lifting regime to ones workout, the person will not only look better, but the bodies overall tone and function will benefit greatly. It doesn't have to be a lot, about 30 minutes a day is a great way to get started.
Better Bone Density
The best way for a person to keep their bone density up is to lift weights. Doing so will decrease the chances of obtaining osteoporosis or fractures in the bones. While running may help and is a good way to keep bone density high, lifting weights is the overall better option. Running is known to break down the muscles in the body, while lifting weights is the way to build proper body tissue.
Drop in Hazardous Injuries
The best way known to the minds of mankind to build the body is by strength training. While lifting weights, the body will work not only muscles; but tendons, tissues, and ligaments that can help reduce the chances of injuries.
 Reducing Illnesses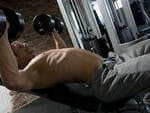 Weight lifting is also known to help k