It is imperative for us to understand our righteousness. If we don't understand this foundational principle, we will struggle mightily through the rest of our journey towards sexual integrity. We are righteous. Not by our works, not by our looks, not by our bank accounts, not by our church attendance, not by our charitable donations, not by our behaviors, not by our eloquent prayers. Only by the grace of God in Jesus. You see, in accepting Christ our filthy rags were removed. The stench of sexual sin -past, present and future- was taken away. And it's not by anything we can do for ourselves. These verses clearly depict our re-dressing being the work of God and the heavenly hosts. We have been robed in righteousness and dressed in clean clothes. When we accept Christ, his righteousness is imputed to us. It's in us. It's on us. Nothing can remove it from us. You have to accept that in the middle of your acting out, in the midst of a porn session, in the intoxicating delusion of another encounter with your mistress, God sees you as clean. He looks at you like a groom gazes at his bride on their wedding day. He is grieved by your behavior but infinitely loves your being. You are righteous!
Joshua, standing before the angel, was dressed in dirty clothes. The angel spoke to his attendants, "Get him out of those filthy clothes," and then said to Joshua, "Look, I've stripped you of your sin and dressed you up in clean clothes. Zechariah 3:4
I will sing for joy in God, explode in praise from deep in my soul! He dressed me up in a suit of salvation, he outfitted me in a robe of righteousness. Isaiah 61:10
---
When we accept Christ, his righteousness is imputed to us. It's in us. It's on us.
The challenge every man faces–the battle every man can win! Get help with Every   Man's Battle.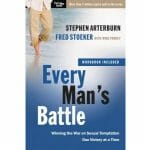 Do you need help getting connected?
Click here to learn more about our Every Man's Battle workshop.
You will, by God's grace, be transformed.
800-NEWLIFE | newlife.com
800-NEWLIFE | newlife.com