Introducing new relief for computer stress,   Issaquah WA bodywork and movement specialist, Anita Boser (undulationexercise.com) has teamed up with Costa Mesa CA software provider, Para Technology (paratec.com), to create easy-to-personalize software that prompts people to take short exercise breaks from their computers.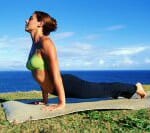 Undulation Break can be programmed with user preferences: how often to take a break, what exercises to use on each break and what music to play while stretching and shaking.   A demonstration video is available at https://youtube.com/watch?v=__1kcxe3G4o.   A free trial of the software can be downloaded at https://undulationbreak.com.
Based on Relieve Stiffness & Feel Young Again with Undulation, a book and audiobook by Boser, Undulation Break offers 22 exercises and 20 additional tips to avoid and reduce physical and visual strain when at a computer. It is available now for PCs, with a Mac version available in early 2012.
The exercises are designed to ease tension in the hands, shoulders, neck, spine, and hips. Many, such as Octopus, Easy Sway and Nose Circles, are unique to this program. Most can be done from a chair, so they work well for those in wheelchairs. The standing exercises introduce a new focal point, helping reduce eyestrain.
Undulation Break defaults are set to provide reminders every 30 minutes and to suggest three different exercises, which together require less than two minutes to complete. Based on orthopedic and ophthalmologic specialists" â"¢ recommended frequency of breaks, these defaults are easily reset to fit each user"s daily schedule.
Five-day free trials of Undulation Break are available at https://undulationbreak.com. The program is $24.95.
Boser has taught undulation, which is based on Structural Integration, yoga and belly dance, to her massage and bodywork clients and in yoga classes for 10 years. She emphasizes that Undulation Break makes it easy for people to avoid repetitive stress by incorporating unstructured movement in busy workdays and to quickly experience the effectiveness of undulation.   She notes, " "The short videos in the program provide a visual reference without any risk of the strain that can occur when watching video instruction while exercising." 
Para Technology, founded in 1988, produces the award-winning Stretch Break, designed by health care professionals   to help   prevent repetitive stress and carpal tunnel syndrome. This software for PCs prompts computer users to take breaks and illustrates 24 stretches that ease tension in the neck, arms, back, legs, and wrists. It also includes breathing and eye exercises.