This is a continuation of our series on Natural Vision Correction.  Get to Part 1 Here.
Eye Oblique Muscle Stretch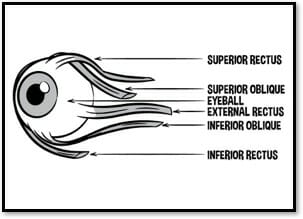 This exercise will relax the eye oblique muscles used to change the eye optical length.  Don't skip this exercise as the eye oblique muscles are responsible for proper and acute vision.
Here's how to do it.
Using a pencil or your thumb move it slowly from down, near the body and move it towards the tip of the nose.
Look at the tip of your finger until it touches the nose and your eyes turn also to that point (near the nose you may see two thumbs).
Move horizontally to the right still looking at the finger as it is moving. Stop briefly and move back toward the nose.
Repeat moving horizontally to the left.
When moving to a particular direction, breathe in, stop for 1-2 seconds, exhale when moving towards the nose to relax the muscles.
Near / Far Exercise
This exercise will teach you to fully contract and relax the eyes. This will train the muscles to become strong