Take your game (and your workouts) to the next level! Power up your performance with clean, superfood energy. This Platinum 10-Day Transformation is unlike anything you've ever tried before. Build and maintain lean muscle. Increase endurance. Boost testosterone, power and strength. Enhance mental focus. Minimize lactic acid soreness. Accelerate recovery. This program has everything your body needs and nothing it doesn't. You won't believe how great you can feel!
Build lean muscle/burn fat
Create sustained energy
Reduce fatigue and damage
Pack Contains:
L.O.V.E. Supermeal Vanilla Chai
MAP
Astaxanthin
Super Male Formula
Shaker Bottle, Tape Measure and Gym Bag.




---
Gerald McCoy
TAMPA BAY BUC'S ALL-PRO
I work out 2-3 hours every day in the off-season: field drills, lifting, running. It can be really tough to stay energized and stay motivated every day. I lost 18 pounds in 10 days and found that I could still work out while dropping the weight.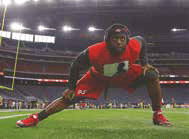 FAVORITE PRODUCT: The L.O.V. Super Meal
We proudly promise – this is NOT in your Athlete's Transformation:
No sugar
No artificial sweeteners
No gluten
No soy
No pesticides or environmental toxins
No GMO's
No artificial preservatives or colors

 
Did You Know?
 

Platinum Products are organic and GMO free.
Platinum Top Sellers
Let HealthStatus Send You a €50.00 Gift Card