Platinum  10 Day Transformation Cleanse L.O.V.E
Experience Transformation — Unleash Your Full Genetic and Energetic Potential
!
Embark on a 10 Day Vacation from Processed Food!  
Plus detox your body and clean your digestive tract. Expect to lose 3-9 kilograms in just 10 days!
The power of grasses, algae and precious seeds
Platinum Transformation Cleanse L.O.V.E replaces your breakfast, lunch, dinner and snacks for 10 days. Your body can live without a lot of calories, but can't live without a lot of nutrition. The concept behind the 10-Day Transformation is really quite simple and uses nutrient-dense super foods, slow-burning carbs and highly digestible protein. All vegan. All natural.
Benefits include:
Can help optimize your body's natural detox systems

Supports replenishment of your micronutrients  

Helps you experience healthy and restful sleep and relaxation

May support your body's natural repair mechanisms

Helps support normal and healthy levels of satiety hormones  

May help maintain normal and healthy alkalinity

Can help ease cravings for unhealthy food  

Helps maintain healthy and normal blood sugar levels  

AND you can expect to lose 3-9 kilos as an intended "side effect" in just ten days helping your lean muscle mass and improving your nutrition.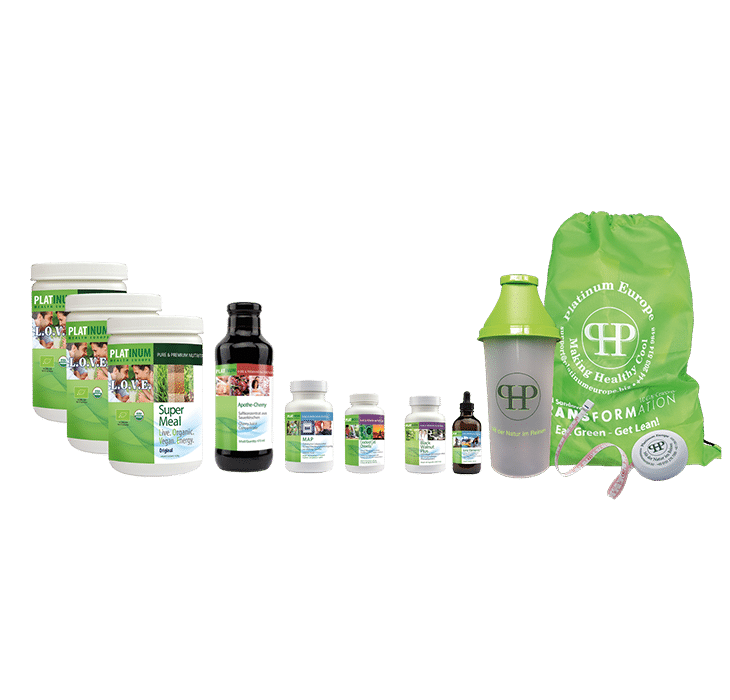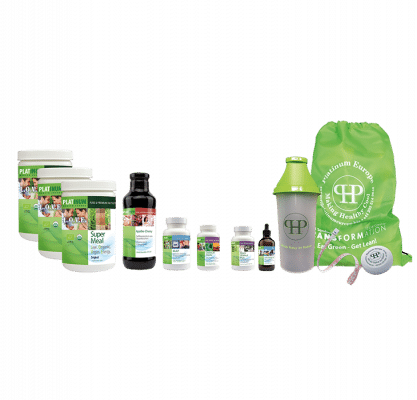 During the Platinum10 Day Transformation you will experience the full power of greens, grasses, algae, sprouts, essential amino acids and power fruits with deep, dark phytonutrients.  
Your food will consist of some of the most powerful and nutrient-dense plants on the planet. And you will save on your grocery bill. The 10 Day Transformation already includes your meals and snacks for 10 days.  
We proudly promise — this is NOT in your Super foods Transformation:  
      No sugar

      No artificial sweeteners

      No gluten

      No soy

      No pesticides or environmental toxins

      No GMO's

      No artificial preservatives or colors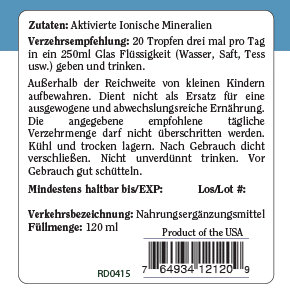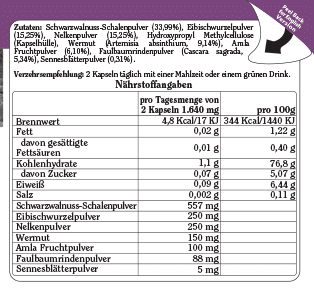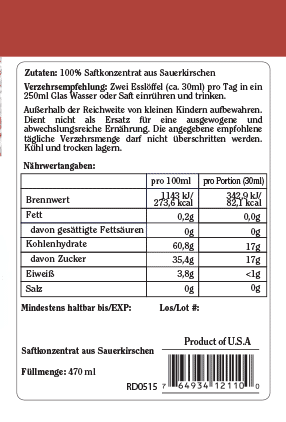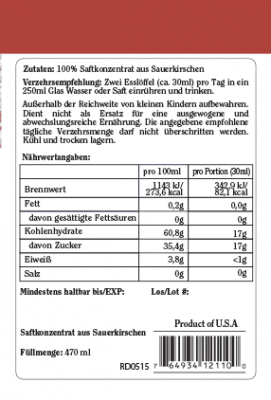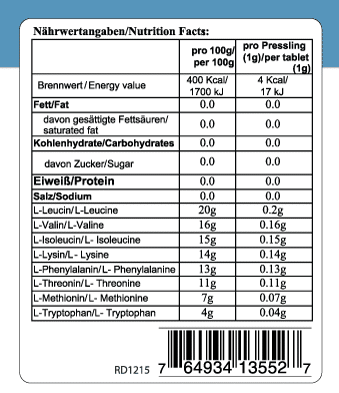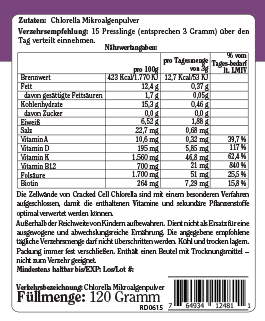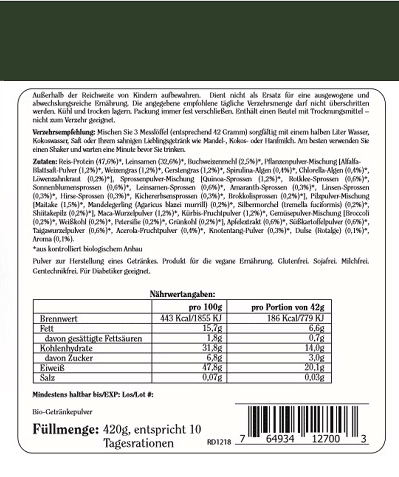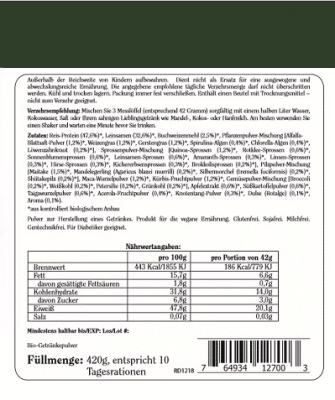 Contains:
Shaker Bottle,
Tape Measure and Gym Bag.
Note:
Store dry and not above room temperature and out of the reach of children. Contains a bag filled with a harmless adsorbent that should not be consumed. Please shake the product well for a short time before each removal.
Safety First!
 At Platinum we want every Transformation to be a positive experience, we recommend consulting a physician (preferably a physician specializing in integrative medicine) before starting this or any other weight loss regimen. The Transformation Program is intended for use only by healthy adults. If you experience any discomfort, distress,  or any other negative symptoms during your 10-Day Transformation, please discontinue using the products immediately and consult a physician.
Labels of 10 Day Transformation Cleanse L.O.V.E: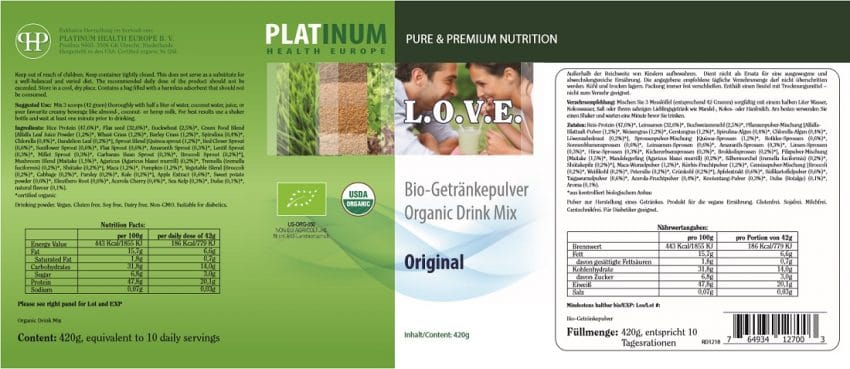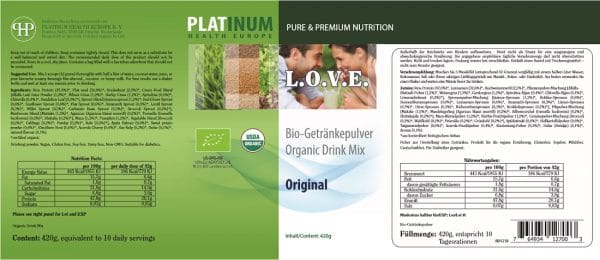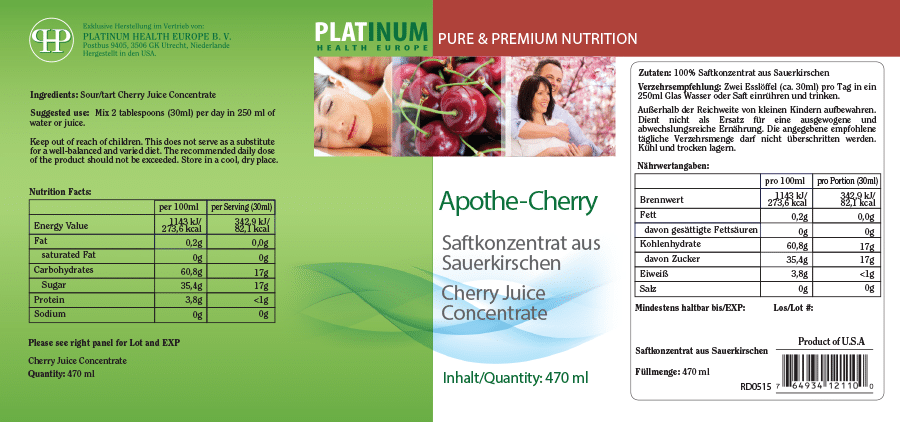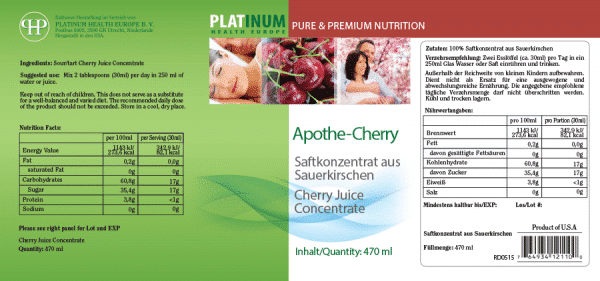 Did You Know?
 

Platinum Products are organic and GMO free.
Platinum Top Sellers
Let HealthStatus Send You a €50.00 Gift Card
Greg lost 32 pounds (and counting) with the Purium Ultimate Lifestyle Transformation and Core 4 programs during 2020.The Purium product line is something he highly recommends and uses himself every day.Greg founded HealthStatus in 1998 and continues todeliver high quality products and services to HealthStatus visitors.