Platinum Astaxanthin is the powerful red pigment from the algae  Haematococcus pluvialis. It belongs to the carotene family. The algae uses the astaxanthin pigment to protect itself against inhospitable environmental conditions such as extreme cold or intense sunlight.
How does
Astaxanthin

work?

Astaxanthin Capsules are an antioxidant. This effect might protect cells from damage. Astaxanthin might also improve the way the immune system functions.
Benefits of Platinum Astaxanthin:
May support healthy eyes, macula and vision acuity

Can help the eye's natural defense against blue light exposure from screens  

Can support healthy energy metabolism May help healthy and normal recovery time in athletes

May support healthy blood vessels

May promote healthy and youthful skin appearance

May support the body's natural defenses against sun exposure
Nutrition Facts of Astaxanthin Capsules: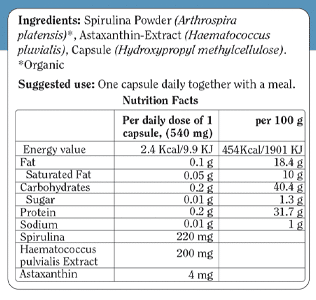 Clinical studies have shown that natural Platinum Astaxanthin:
Reduces hyper pigmentation, wrinkle formation and collagen breakdown.

Improves the skin elasticity and moisture content

Prevents UV-induced skin damage.
Ingredients:
Microalgae Spirulina

Haematococcus pluvialis Extract (Microalgae, rich in Astaxanthin, 2%)

Hydroxypropyyl Methylcellulose (capsule)
Suggested to Use: One capsule daily together with a meal.
Contents: 60 Capsules of 540 mg

Caution:
Due to the Astaxanthin's potency, this product may stain skin, clothing or other household surfaces.
Label of Platinum Astaxanthin Capsules:


Did You Know?
 

Platinum Products are organic and GMO free.
Platinum Top Sellers
Let HealthStatus Send You a €50.00 Gift Card
Greg lost 32 pounds (and counting) with the Purium Ultimate Lifestyle Transformation and Core 4 programs during 2020.The Purium product line is something he highly recommends and uses himself every day.Greg founded HealthStatus in 1998 and continues todeliver high quality products and services to HealthStatus visitors.