Platinum Complex Moisturizer delivers Hyaluronic Acid and a high concentration of synergistically combined vitamins and natural extracts.  
Platinum Complex Moisturizer can help to protect and nourish skin and may help in rebuilding collagen and elastin. It provides SPF 15 protection.
Compared to any other cream, our Complex Moisturizing provides the widest range of benefits to your skin. It dramatically improves the tone, color, clarity, and smoothness of your skin by delivering Hyaluronic Acid and a high concentration of synergistically combined vitamins and natural extracts.
The ingredients are time released into the skin for continuous nourishment and protection. This treatment rebuilds collagen and elastin and provides SPF 15 protection
Directions:
For dramatic results, use at least twice a day. Wash face thoroughly with Rejuvenating Cleansing Gel then apply a small amount (pearl size or as needed) Platinum Complex Moisturizer.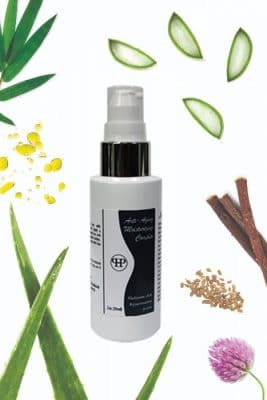 How to Use Complex Moisturizer:
Apply treatment two times per day on moist skin with an upward motion. Complex Moisturizer Can be applied immediately on top of the Line Erasing Serum.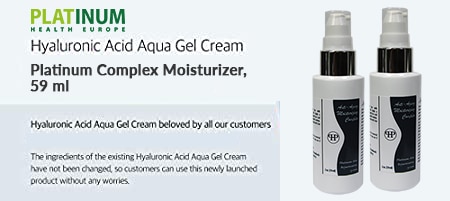 Ingredients of Platinum Complex Moisturizer:
Deionized water

Lactobacillus/algae extract ferment 5

Vitamin C ester complex

Tetrahexyldecyl ascorbate

Ascorbate glucosamine

Magnesium ascorbyl phosphate

Calcium ascorbate

L-ascorbic acid

Polyglyceryl-10 pentastearate & behenyl sodium stearyl lactylate,

Marine collagen

Sodium pca

ppg-12/smdi copolymer

Marine elastine

Natural cetyl esters broad spectrum anti aging   antioxidant complex 14

Herbal complex 30

Fruit flower complex 12

Lecithin

Natural firming complex (DMAE, alpha lipoic acid)
Size:

59 ml

Caution:
As with any new skin care product, skin test 24 hours before use on inner arm. If reaction , discontinue use.

Label of Complex Moisturizer: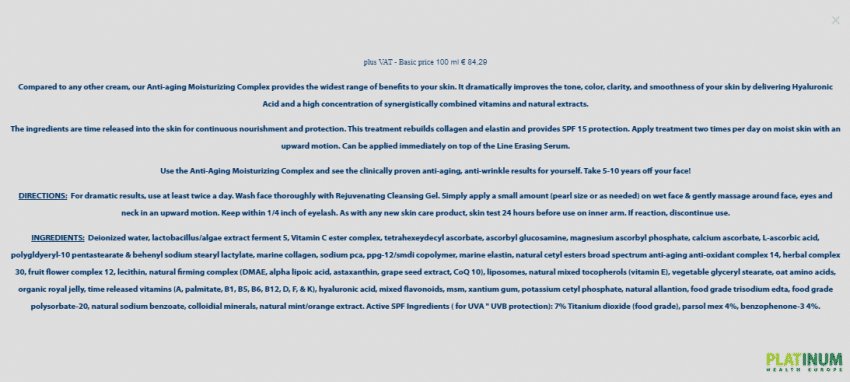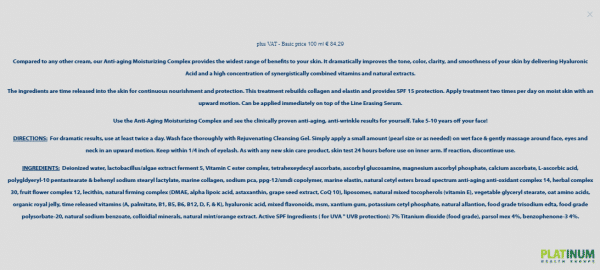 Did You Know?
 

Platinum Products are organic and GMO free.
Platinum Top Sellers
Let HealthStatus Send You a €50.00 Gift Card
Greg lost 32 pounds (and counting) with the Purium Ultimate Lifestyle Transformation and Core 4 programs during 2020.The Purium product line is something he highly recommends and uses himself every day.Greg founded HealthStatus in 1998 and continues todeliver high quality products and services to HealthStatus visitors.