Platinum Cracked Cell Chlorella, 600 Tabs
Cracked Cell Chlorella is nature's richest whole food source of chlorophyll, a powerful cleanser and detoxifier for the body. Health-minded people will enjoy the whole food nutrition of 100% Pure Chlorella tablets made without binders, filler or tableting aids.
Cracked Cell Chlorella is cultivated in a controlled outdoor environment in ponds filled with mineral-rich water. Our easily-digestible tablets and powder are a great addition to any detoxification regimen. We recommend combining it with any of our green foods for a smoother taste and added nutritional benefits.
Nutrition facts (per daily dose of 3g)
Energy value 12.7 Kcal / 53 KJ, 0.77g fat thereof 0.05g saturated fatty acids, 0.46g carbohydrates thereof 0g sugar, 1.88g protein, 0.68mg salt, 0.22mg Vitamin A (*38.7%), 5.85mcg Vitamin D (*117%), 46.8mg Vitamin K, 21mcg Vitamin B12 (*800%), 51mcg Folic acid (Vitamin B9, *25.5%), 7.29mcg Biotin (Vitamin B7, *15.8%).
Nutrition facts (pro 100g)  
Energy value 423 Kcal / 1770KJ, 12.4g fat thereof 1.7g saturated fatty acids, 15.3g carbohydrates thereof 0g sugar, 62.5g protein, 22.7mg salt, 10.6mg Vitamin A, 195mcg Vitamin D, 1560mg Vitamin K, 700mcg Vitamin B12, 1700mcg folic acid (Vitamin B9), 264mcg Biotin (Vitamin B7).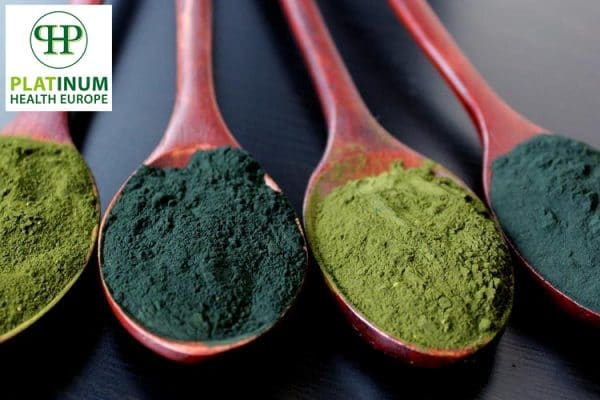 Suggested Use:
Consume 3x daily 5 tablets with plenty of water..
Ingredients:
Chlorella Micro Algae powder (Chlorella pyrenoidosa).
Benefits
Are a rich whole-food source of chlorophyll

 

May support your body's natural detox systems

Can help with healthy and normal cell division

May help to optimize the natural repair processes of the body

Can support a clean and healthy digestive system  

May support healthy and normal blood building




Nutrition Facts of Cracked Cell Chlorella
Description
Cleanse

With High Chlorophyll

Dietary Supplement

Gluten Free

Non-GMO

Radiation Free

100% Pure

Kosher
Package Contents:
600 tablets
Note:
Dietary supplements are no substitute for a balanced diet and the recommended daily dose should not be exceeded. Varied and balanced diet and a healthy lifestyle are important. Store dry and not above room temperature and out of the reach of children. Keep container tightly closed after opening. Contains a bag filled with a harmless adsorbent that should not be consumed.
Label of Cracked Cell Chlorella: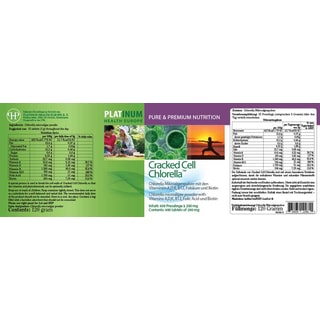 Did You Know?
 

Platinum Products are organic and GMO free.
Platinum Top Sellers
Let HealthStatus Send You a €50.00 Gift Card
Greg lost 32 pounds (and counting) with the Purium Ultimate Lifestyle Transformation and Core 4 programs during 2020.The Purium product line is something he highly recommends and uses himself every day.Greg founded HealthStatus in 1998 and continues todeliver high quality products and services to HealthStatus visitors.
Latest posts by Greg White (see all)