Platinum Health  Joint-Flex
Joint Flex Capsules has been created to nutritionally support optimal health and normal mobility of all joints, ligaments and tendons of the human body.
Can support body`s response to inflammation

Can help enhance flexibility

May stimulate the rebuilding of connective tissues

Can inhibit the neural transfer of pain signals
Platinum Joint Flex synergistically combines willow bark, curcumin, and green lipped mussels to aid the body's response to inflammation and healthy blood circulation. This product is a holistic alternative for healthy joint function and physical mobility.
Product Benefits:
Can help with healthy and normal joint function and mobility

May support healthy connective tissue

Can support healthy synovial fluid

May help with healthy bone density
Recommendation for use:
 Take six capsules daily. For best results, take 3 in the morning and 3 in the evening.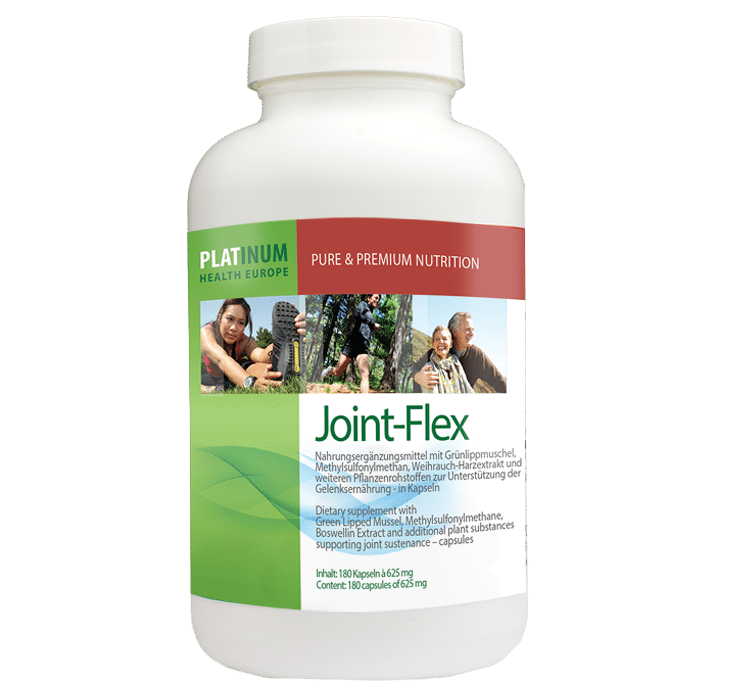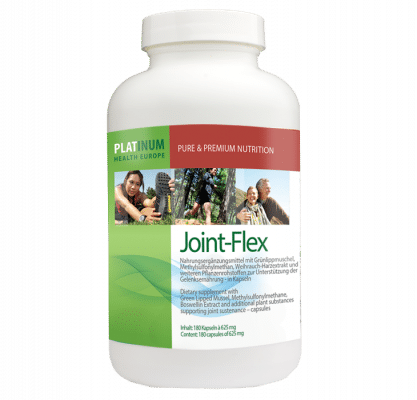 What it is:
Platinum`s Joint Flex Capsules contains a variety of herbs used to support healthy joint function.
Nutrition Facts of Joint Flex Capsules: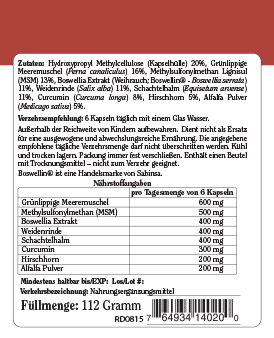 Ingredients:  
Hydroxypropyl Methylcellulose (capsule) 20%

Green Lipped Mussel (

Perna canaliculus

) 16%

Methylsulfonylmethane Lignisul (MSM) 13%

Boswellin Extract (Boswellin ® –

Boswellia serrata

) 11%

White Willow (

Salix alba

) 11%

Horsetail (

Equisetum

arvense

) 11%

Curcumin (

Curcuma longa

) 8%

Velvet Antler 5%

Alfalfa Powder (

Medicago sativa

) 5%.
Green Lipped Mussels: Green lipped mussel powder is derived from the New Zealand shellfish, rich with multi-vitamins and minerals. Research suggests that consumption can support digestion, flexibility, and a healthy response to inflammation, discomfort and pain.
White Willow Bark: Our white willow bark is a combination of the bark of a several varieties of willow trees. White willow bark contains the natural pharmaceutically active compound salicin, or salicylic acid, which is chemically related to aspirin. It complements the body's ability to relieve discomfort – without the possible complications caused by aspirin and NSAIDs.
Methylsulfonylmethane (MSM): MSM is an organic sulfur that can be found in plants, animals, and humans. Research has connected its use with pain management, internal swelling aid and other joint-specific issues.
Boswellin ®*: Boswellin ®* is an herbal extract from the Boswellia serrata tree and is used in Auyurvedic medicine. The extract contains anti-inflammatory phytonutrients and betaboswellic acids, which can aid the body's response to inflammation.
Horsetail: Horsetail is a perennial plant that has been related to bone flexibility and maintenance. Horsetail contains silica, which is a mineral that promotes stronger bones and healthier hair and nails.
Curcumin Extract: Curcumin extract is an antioxidant extract from the turmeric spice. Curcumin is a natural anti-inflammatory agent that supports the body's response to inflammation. Research has shown that it can be as effective as NSAIDs without the dangerous side effects.
Velvet Antler: Velvet antlers are antlers that are safely removed from deer and elk during the soft growing cartilaginous stage, with no harm to the animal. The antlers are covered in a velvet-like fur, which contains rich nutrients and proteins such as glucosamine, chondroitin and collagen. Glucosamine and chondroitin have been connected to joint and tissue health. Collagen promotes joint elasticity.
Alfalfa Whole Leaf Powder: Alfalfa is a plant that supports the immune system and healthy circulation.
Boswellin ® is a registered trademark of the Sabinsa Corporation
Package Contents:
180 Capsules of 625 mg
Note:
Dietary supplements are no substitute for a balanced diet and the recommended daily dose should not be exceeded. Varied and balanced diet and a healthy lifestyle are important. Store dry and not above room temperature and out of the reach of children. Keep container tightly closed after opening. Contains a bag filled with a harmless adsorbent that should not be consumed.  
Label of Joint Flex Capsules:


Did You Know?
 

Platinum Products are organic and GMO free.
Platinum Top Sellers
Let HealthStatus Send You a €50.00 Gift Card
Greg lost 32 pounds (and counting) with the Purium Ultimate Lifestyle Transformation and Core 4 programs during 2020.The Purium product line is something he highly recommends and uses himself every day.Greg founded HealthStatus in 1998 and continues todeliver high quality products and services to HealthStatus visitors.