Platinum L.O.V.E. Dark Berry
Platinum L.O.V.E. Dark Berry makes an ideal breakfast or snack with a "berrylicious" taste and creamy consistency. Great for everyone and especially for people who work on computers and screens and for those who read, talk, write, learn and communicate a lot and/or are working on creative projects.
Functional food with protein, powders and extracts of dark berries and fruits.
Make your brain happy – and the rest of the body right away!
Deeply pigmented fruits and berries are known for their particularly high content of polyphenols and other phytonutrients. Research around these natural pigments deals with their amazing benefits for a healthy brain, healthy nerves and healthy blood vessels. Deep pigmented fruits offer the most powerful benefits from the entire realm of fruit and at the same time can help maintain a healthy blood sugar level and a healthy microbiome, as they contain much less fructose than table fruit or juice.
The selection of original non-highly bred varieties is an important key, the high-quality cold processing and also the variety.
Platinum L.O.V.E. Dark Berry gives you 12 of the most powerful fruits and berries on the planet with their deep red, blue and violet pigments, combined with a full serving of vegan protein, MCT coconut oil and two herbs that are also known for their beneficial effects on a healthy brain, memory and blood vessels: Gingko Biloba and Lion's Mane.
Product Benefits:
Can support healthy function of the brain and nerves

May support healthy memory and concentration

Can promote healthy blood vessels and heart function

Can support healthy vision

Can help maintain healthy, firm skin and connective tissue

Can help maintain healthy joints and mobility

Supports the maintenance of stable blood sugar levels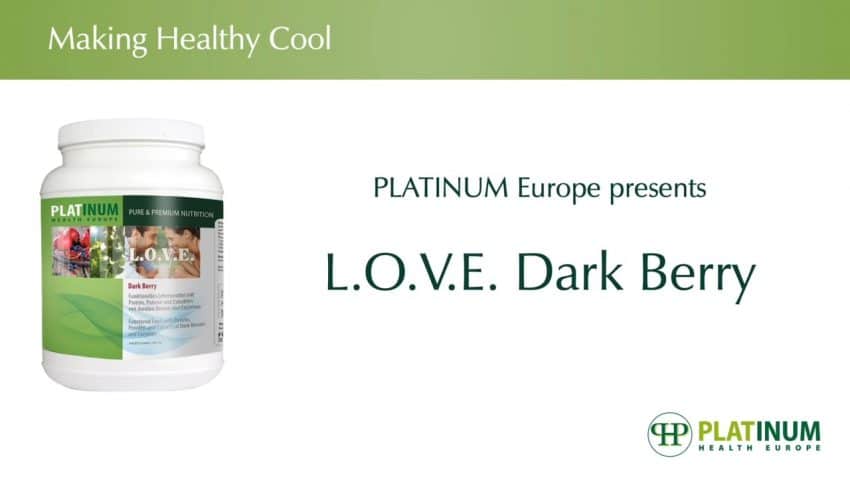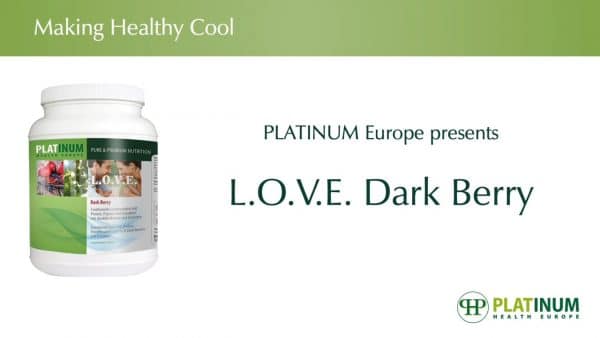 Recommendation For Use:
Carefully stir a measuring spoon (equivalent to 24.85 grams) into 250 ml of water. An extra creamy treat also mixed with coconut milk or some raw coconut.
Nutritional information (per serving of 24.85g)
Energy 97Kcal / 405KJ, 1.98g fat of which 0.42g saturated fat, 4.58g carbohydrates of which 1.33g sugar, 14.95g protein, 0.28g salt.
Nutrient information (per 100g)
Energy 389Kcal / 1.630KJ, 7.95g fat of which 1.71g saturated fat, 18.44g carbohydrates of which 5.35g sugar, 60.18g protein, 1.12g salt.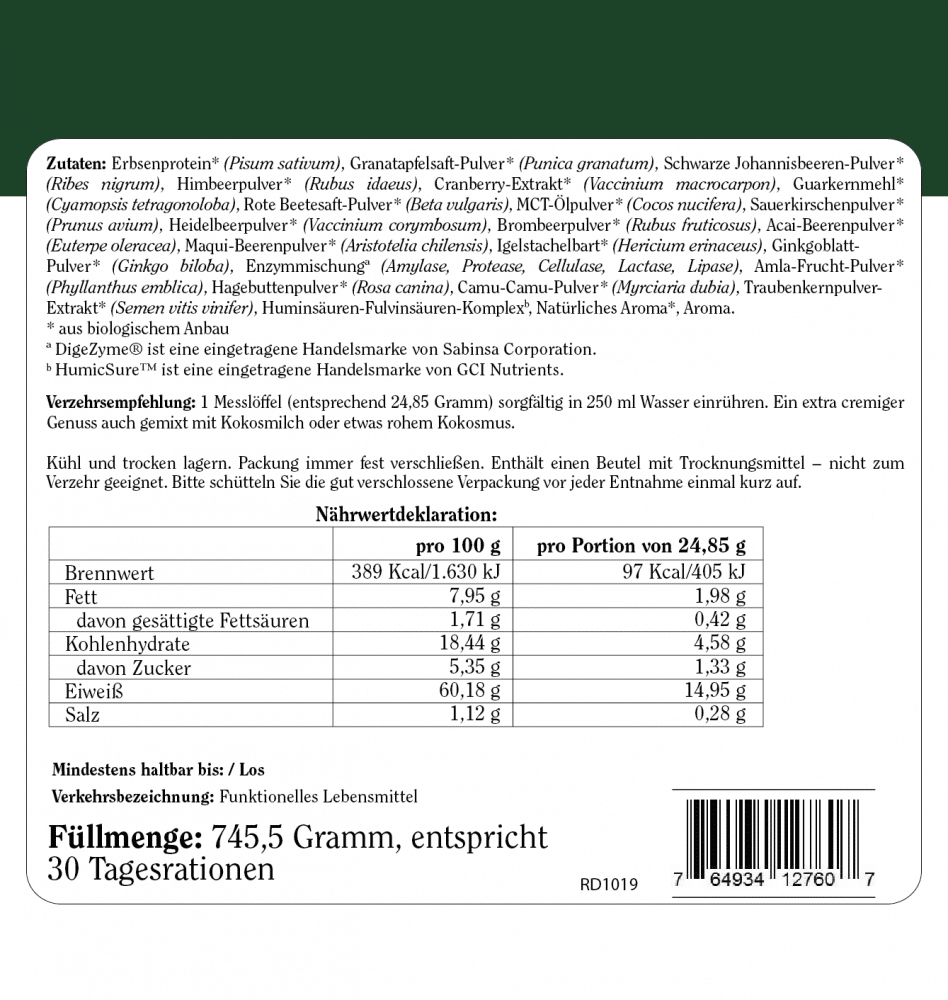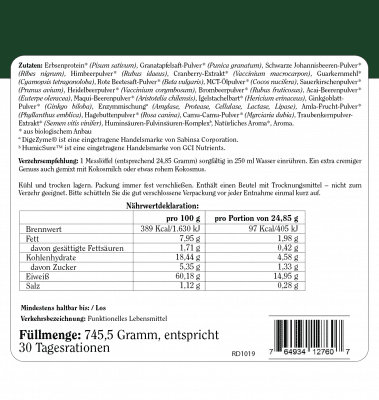 Ingredients:
Pea protein

Pomegranate juice powder

Blackcurrant powder

Raspberry powder

Cranberry extract

Beetroot juice powder

MCT oil powder

Sour cherries powder

Blueberry powder  

Blackberry powder

Acai berry powder

Maqui berry powder

Hedgehog bar

Ginkgo leaf powder

Enzyme mixture (a) (amylase, protease, cellulase, lactase, lipase)

Amla fruit powder

Rosehip powder

Camu-camu powder

Grape seed powder  

Extract guar gum

Flavor humic acid (b).
Package Contents:
745.5g
Note
Store dry and not at room temperature and out of reach of children. Contains a bag of drying agents – not suitable for consumption. The product is packed by weight, not volume, and can settle on the floor. Please shake the well-sealed packaging for a short time before each removal.
Label:


Did You Know?
 

Platinum Products are organic and GMO free.
Platinum Top Sellers
Let HealthStatus Send You a €50.00 Gift Card