Platinum L.O.V.E. Super Meal
Platinum L.O.V.E. Super Meal is a convenient way to pack more nutrition into your diet? With 50 organic supermeal and one billion probiotics in every serving, our Organic Super meal Powder is as convenient as it gets. Simply stir some into your lemonade, sprinkle it atop your morning oats, or blend it into your morning smoothie. This organic blend of super foods provides phytonutrients and antioxidants in every scoop. Supercharge your nutrition.
Nutritional Benefits:
Gluten Free
Kosher
No Sugar Added
Vegan
Non-GMO
USDA Organic
Made without Soy Ingredients
Made without Dairy Ingredients
Made without Lactose Ingredients
Product Benefits:
Supports healthy immune function
Supports healthy digestive function
Great source of protein, essential fatty acids & other important nutrients
May be used as a snack or meal replacement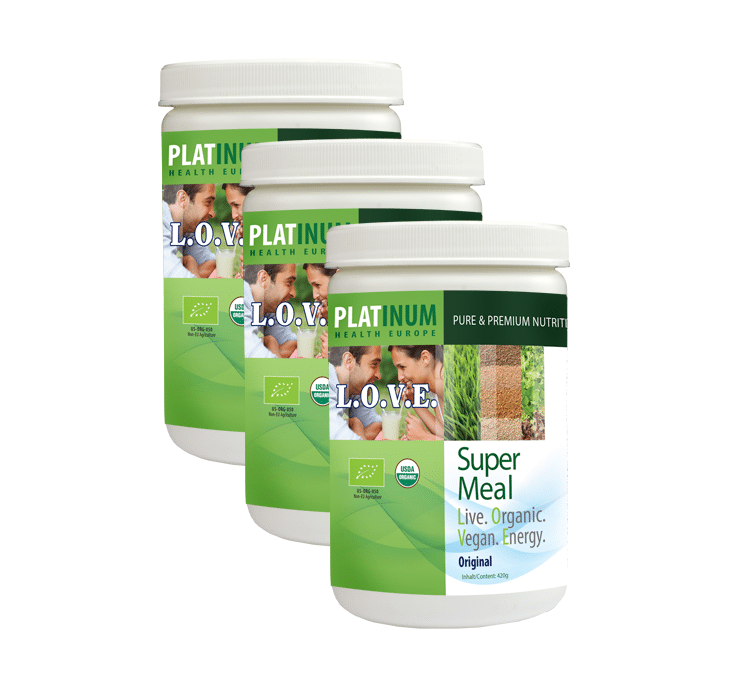 Advisory Information:
Tips for using supplements:
The U.S. Food and Drug Administration (FDA) warns that combining or taking too many supplements can be hazardous. Only use supplements that the FDA has approved.
Tips for safe use  include the following:
Use non-commercial sites for information, such as the National Institutes of Health (NIH) and FDA.
Beware of claims that a product "works better than a prescription drug" or "is totally safe."
Remember that natural does not always mean safe.
If using supplements,  the FDA recommends  choosing high-quality products that have been tested by a third party.
Find out more about individual supplement testing  here.
Always check first with a health provider before starting to use a supplement.The meal replacement just got replaced!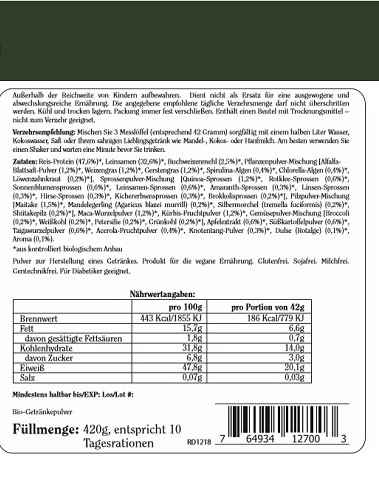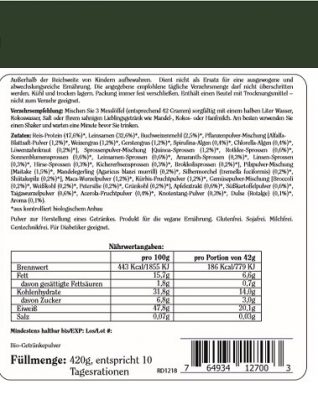 Ingredients:
Rice Protein (47,6%)*, Flax seed (32,6%)*, Buckwheat (2,2%)*, Green Food Blend (Alfalfa Leaf Juice Powder (1,2%)*, Wheat Grass (1,2%)*, Barley Grass (1,2%)*, Spirulina (0,4%)*, Chlorella (0,4%)*, Dandelion Leaf (0,2%)*), Sprout Blend (Quinoa sprout (1,2%)*, Red Clover Sprout (0,6%)*, Sunflower Sprout (0,6%)*, Flax Sprout (0,6%)*, Amaranth Sprout (0,3%)*, Lentil Sprout (0,3%)*, Millet Sprout (0,3%)*, Garbanzo Bean Sprout (0,3%)*, Broccoli Sprout (0,2%)*), Mushroom Blend (Maitake (1,5%)*, Agaricus (Agaricus blazei Murrill) (0,3%)*, Tremella (Tremella fuciformis) (0,3%)*, Shitake (0,3%)*), Maca (1,2%)*, Pumpkin (1,2%)*, Vegetable Blend (Broccoli (0,2%)*, Cabbage (0,2%)*, Parsley (0,2%)*, Kale (0,2%)*), Apple Extract (0,6%)*, Sweet potato powder (0,6%)*, Eleuthero Root (0,6%)*, Acerola Cherry (0,4%)*, Sea Kelp (0,3%)*, Dulse (0,1%)*.
Suggested Use:
Mix 3 scoops (42 gram) thoroughly with half a liter of water, coconut water, juice, or your favourite creamy beverage like almond-, coconut- or hemp milk. For best results use a shaker bottle and wait at least one minute prior to drinking.
Package Contents:
1260 g
Note:
Keep out of the reach of children. This does not serve as a substitute for a well balanced diet. The recommended daily dose of the product should not be exceeded   Store in a cool and dry place. Contains a bag filled with harmless adsorbent that should not be consumed.

Variations:
Label of L.O.V.E. Super Meal, 1260 g, Organic: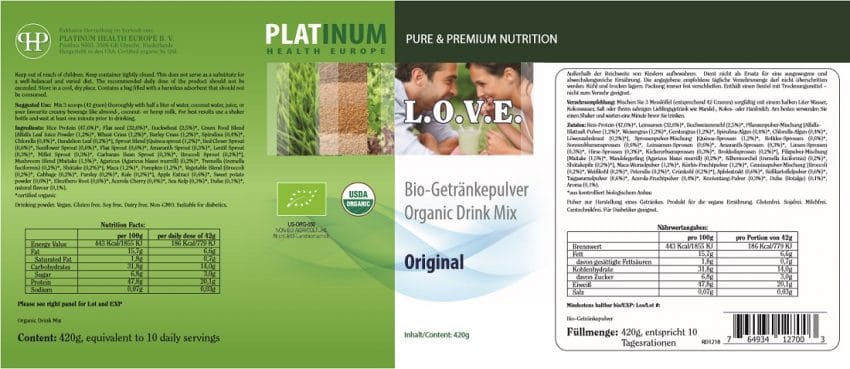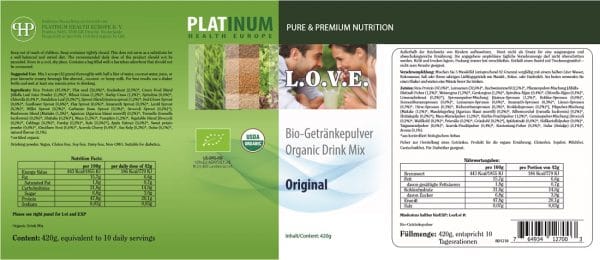 Did You Know?
 

Platinum Products are organic and GMO free.
Platinum Top Sellers
Let HealthStatus Send You a €50.00 Gift Card