Platinum Revive-It-All
The over-50s group is a rapidly growing population in industrialized countries. However, getting older doesn't have to mean being less energetic, having poorer memories, or being slower. The amino acid combination acetyl-L-carnitine is one of the natural vital substances in Platinum Health Revive-It-All. Amino acids are the basic building blocks of life, many different amino acids also have catalytic functions in the metabolism.
Alpha-lipoic acid is a natural vital substance that is also found in the germs of brown rice, for example. Among other things, it serves as an antioxidant substance in the body, but also supports other antioxidants in their tasks in the body to bind free radicals and to reduce stress caused by oxidation.
Another proven ingredient in Revive-It-All from Platinum Europe is SOD (superoxide dismutase). SOD is an important antioxidant that is also produced by the body.
What it is: A scientifically combined proprietary blend of herbs and whole foods designed to help improve circulation, cognition, memory, and other age-related degeneration.
Interesting Facts:
According to a study at the University of California, Berkeley, dated February 19, 2002, two dietary supplements put the spark into aging rats and might do the same for people. Doctor and Researcher Bruce Ames, and others observed reversal in memory loss, increased vigor, and increased energy in the animals that were taking Acetyl L-carnitine with Alpha Lipoic Acid. Their conclusion, if you tune up the mitochondria you may have a means of delaying at least the onset of a number of age-related problems that we encounter, and we can in some ways, hopefully, reverse what has already taken place. People use acetyl-L-carnitine to maintain their immune competence and reduce the formation of the aging pigment lipofuscin. The most important effect of acetyl L-carnitine, however, is to maintain the function of the cell's energy powerhouse, the mitochondria. Published research continues to substantiate the multi-faceted benefits of this critical amino acid supplement. It has the ability to squeeze through even the narrowest of blood vessels to increase the supply of oxygen to the heart, brain, and all other body parts. This aids in mental functioning and helps to relieve muscle pain.
Product Benefits:
Platinum Revive-It-All contains two very important ingredients that have been proven to help reverse memory loss and increase energy and vigor: Acetyl L-Carnitine and Alpha Lipoic Acid. To those we have added Ginkgo Biloba and GliSODin ®, a complex with potential anti-oxidative properties.
Can help improve mood, memory and cognition

May help increase energy and vigor

Can enhance circulation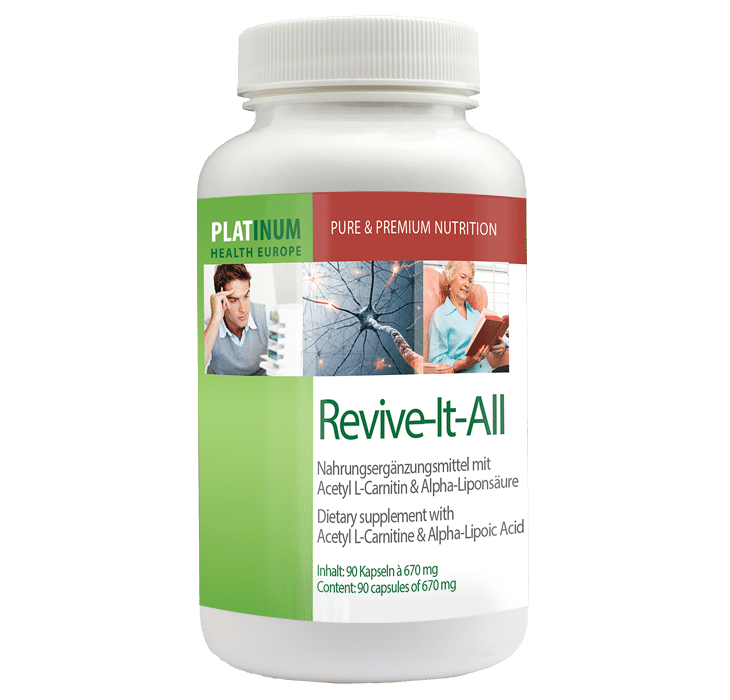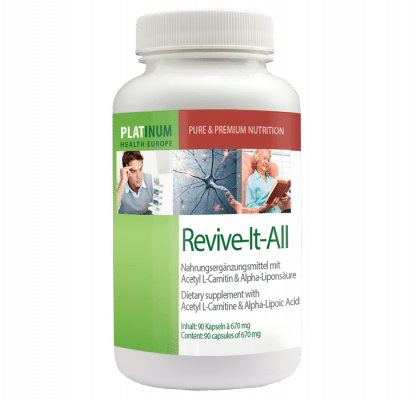 Ingredients:  
Acetyl L-Carnitine,  

Hydroxypropyl Methylcellulose (capsule),  

Alpha-Lipoic Acid,

Rice Powder,  

Superoxide Dismutase (GliSODin ®, 1IU/mg Powder, Contains: Gluten), Ginkgo-Extract.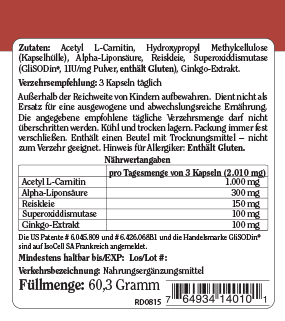 Recommendation for use:
Take 3 capsules daily. For best results, take one capsule in the morning, one in the afternoon and one in the evening.
Contains:
90 Capsules of 670 mg

Note:
Keep out of the reach of children. Keep the container tightly closed. This does not serve as a substitute for a well-balanced and varied diet. The recommended daily dose should not be exceeded. Store in a cool and dry place. Contains a big filled with a harmless absorbent that should not be consumed.    
Label of Revive-It-All, 90 Caps:


Did You Know?
 

Platinum Products are organic and GMO free.
Platinum Top Sellers
Let HealthStatus Send You a €50.00 Gift Card