Beets have great health benefits:Â  increase stamina, improve blood flow, rich in nitrates and lower blood pressure.
Research is showing that beet juice improves stamina during intense exercise.
And I am a believer in the truth of this.  I was lucky to get to go to Disneyworld for vacation this year.  Love that place.  But the walking is WAY more activity than I do on a regular basis; we usually walk between 6 and 10 miles per day.  I wanted to enjoy the parks and be wide awake to get to the must have rides and not slow down anyone else while it was early and cool.  My solution, beet juice to wake me up and give me the stamina I needed.
So we headed out the door early in the morning and I grabbed my bottle of water with added Purium's Beet powder.  That was the perfect way to start my day.  Got me going and kept me going well into the day.  And so easy just add the powder to a bottle of water.
It can also be a great way to start your regular work day.  Instead of starting out with a cup of coffee start with a bottle of water full of beets.  Delicious and a great wake me up.
Beets are low in calories; contain carbohydrates, a good source of folate, potassium, vitamin C, fiber, antioxidants and nitrates.
Beets Are Good For You
1

Folate found in beets can aid in normal brain development and function. Folate is also very important for fetal development.

2

Nitrate rich plant foods like beets can promote heart health.

3

Potassium in foods like beets can help lower blood pressure.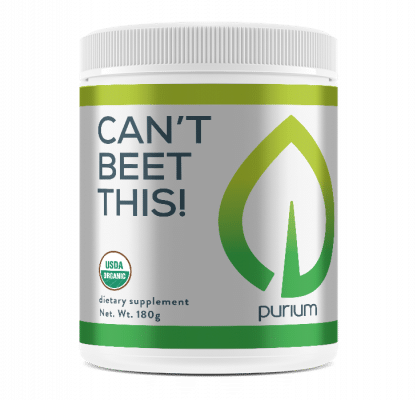 Everyone and their mother knows that beets are good for you, but does everyone know why?
Packed with phytonutrients ("phyto" being the Greek word for plants), vitamins and minerals, beets provide support to many systems of the body from digestion to energy levels.
Bodies convert the nitrates found in beets to nitric oxide, which helps improve oxygenation levels in the blood and overall circulation.  

The antioxidants and fiber act like natural cleansing agents, helping with the detoxification of toxins and heavy metals in the blood and giving the digestive tract a gentle flush to support a healthy elimination process.  

Consuming whole foods like beets is an excellent way to reduce the immune system from triggering ongoing harmful levels of high inflammation.

Healthy blood pressure, stamina, and detox are just a few of the immune boosting benefits of beets. According to a study done on beetroot juice.

Beets may stimulate cell production, which can protect your skin from premature aging and wrinkles. It'll also keep your brain young by preserving it with nitrates to improve blood flow.
---
https://www.webmd.com/food-recipes/features/truth-about-beetroot-juice
https://www.selfhacked.com/blog/16-proven-benefits-vitamin-b9-folate-folic-acid/
https://articles.mercola.com/sites/articles/archive/2018/03/19/healthy-harmful-nitrates.aspx
https://www.medicalnewstoday.com/articles/287212.php
HealthStatus has been operating since 1998 providing the best interactive health tools on the Internet, millions of visitors have used our
health risk assessment
,
body fat
and
calories burned
calculators.The HealthStatus editorial team has continued that commitment to excellence by providing our visitors with easy to understand high quality health content for many years.
Latest posts by HealthStatus (see all)