Osteoporosis is a disease that has garnered a bit of attention just by the severity of the results of later stages of the disease. It is characterized by the later stages, as in these stages the bones have become thin and porous and pose more and more risk over time as they become more fragile.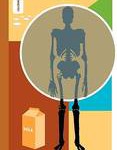 This condition is estimated to be affecting 2 million men and 6 million women of the United States alone, and is very hard to detect in the early stages as it shows little to no symptoms. Often the only time a person is even suspected to have this disease is the first time that person fractures a bone, as that can be the first sign of the bones having been weakened by the disease.
With this in mind, there is good news emerging as some believe we may soon be able to diagnose osteoporosis earlier in a person by looking inside their mouth. This is because being able to identify the quality of bone strength in the mouth is showing to be a reliable indicator of the bone strength elsewhere in the body. This is in part due to more scientists studying the link between osteoporosis and periodontal disease of the mouth in which the bones of the mouth have been determined to be susceptible to the same conditions the bones of the rest of the body.
Periodontal disease itself is caused by infection and inflammation inside the mouth after plaque has been left on the teeth far too long than what is healthy. When the bacteria in the plaque have dissolved the surrounding gums and begin to do the same to the bone, it weakens the surrounding bones of the mouth and jaw. While this disease, commonly called gum disease, is not caused by osteoporosis it is complicated when it is