When you go to change your baby's diaper and you see red streaked on the outside, or all mixed into the stool it is not uncommon to panic.  Did you know though that most babies in infancy will have at least one bloody stool diaper in their lives?  If your baby experiences this, you will want to call your doctor.  Though in most cases you don't need to panic.  Most causes of bloody stool are not life threatening and will actually resolve all on their own.  It is important though to figure out what the cause of the blood is and sometimes that is hard to do at home without a doctor's help.  
Your doctor will have questions that they will ask you when you call about the bloody stool. 
Such as what color?

How much blood was there?

Was it mainly on the outside of the stool or mixed within?
Make sure you have all your answers beforehand so you aren't caught off guard and know how to answer so that your doctor can assist in diagnosing as best as possible.  In some cases your doctor may want you to bring in a dirty bloody stool diaper for testing.  This can help sometimes eliminate causes of the blood faster.  
Causes
There are many common causes of bloody stools in infants.  One of the main ones is food allergies in your baby.  The top allergies for your baby to be allergic to are cows milk and soy.  If your doctor suspects an allergy of this kind they will put you on a complete elimination diet.  Where you will not be able to eat cows milk products or soy for 2-3 weeks. Babies with a food allergy though will have bloody diapers for days, weeks, months normally, not just from time to time.
Your baby can also have a temporary lactose intolerance if they are experiencing an illness or sickness that can unbalance the GI tract. 
Another common cause of blood in the stool is your baby ingesting blood.  This can be if the person nursing the baby has cracked nipples.  Your baby ingesting blood is not harmful to them as long as the person nursing them does not have a blood transferable disease such as HIV or AIDS.  Though you will want to make sure you treat the cracked nipples so this doesn't continue. 
Infection or illness can also play a role in having bloody stools.  This can cause constipation, or diarrhea which both can lead to bloody stools.  Also if there is an infection of the GI tract and upper GI bleed can cause blood in the stools as well.  An upper GI bleed would be from the esophagus, throat, or nose.  This can happen from sickness or illness, or even trauma of choking on something.
Hemorrhoids or an intestinal blockage are also causes of bloody stool.
Treatment
There are a lot of things that can cause blood in the stool.  Treatment of the bloody stool will be dependent on what is causing it.  Some reasons won't need treatment at all and can resolve on their own.  
If the cause is from a tear in the rectum from baby straining when pooping or from hemorrhoids, your doctor may prescribe a sitz bath or a cream to help ease pain down there and promote healing.  You will just want to keep an eye to make sure the area doesn't become infected.  In more serious cases of hemorrhoids or intestinal blockages your baby may need surgery.  This is only in more serious cases. 
If the cause is from an allergy a complete change in diet for mom or baby will need to happen.  Either mom can go on an elimination diet until done breastfeeding, or baby can be switched to formula that is soy and dairy free.
If an infection or illness is present your doctor may prescribe antibiotics. 
Sometimes with bloody stool your baby may not want to eat so if your baby shows signs of dehydration or not getting enough fluid, they may need to be put on IV fluids.
Complications
Most of the time bloody stools are not immediately life threatening.  But in some cases it is best to go to the emergency room if one of the following symptoms arise with the bloody stool.  If your baby shows signs of bloody diarrhea, sign of illness with bloody stool, if your baby was prematurely born and has bloody stools, has a swollen stomach, refusing to eat, or being lethargic and confused you will want to go to the doctor as soon as possible. 
Conclusion
Even when cases are serious most of them are completely treatable.  Though it can be alarming to see blood in your baby's stool don't panic before you get all the questions answered since most babies will experience one of these diapers in their lifetime. 
Did you know though that most babies in infancy will have at least one bloody stool diaper in their lives? Learn more here! #HealthStatus
---
Babies with a food allergy though will have bloody diapers for days, weeks, months normally, not just from time to time.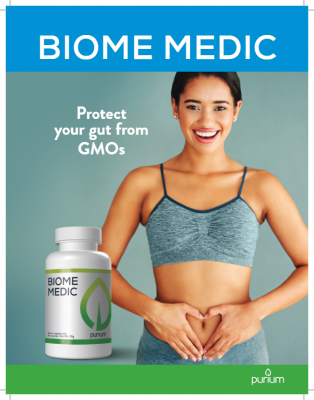 Gut Harmony is an exclusive formula of natural ingredients that may help to create and maintain optimal gut health. Gut Harmony is known as "Biome Medic" in the USA and has been certified by The Detox Project under that brand name.

HealthStatus has been operating since 1998 providing the best interactive health tools on the Internet, millions of visitors have used our blood alcohol, body fat and calories burned calculators.
The HealthStatus editorial team has continued that commitment to excellence by providing our visitors with easy to understand high quality health content for many years.
Our team of health professionals, and researchers use peer reviewed studies as source elements in our articles.
Our high quality content has been featured in a number of leading websites, USA Today, the Chicago Tribune, Live Strong, GQ, and many more.