Organic ecologically responsible Coco Hydrate! Coconut water is amazing but most brands are not organic and are bad for the planet. Purium's coconut water is dehydrated on-site after harvesting to reduce our carbon footprint. Hydrate and reenergize with our blend of coconut water, mineral salts and rooibos. The concentration of balanced electrolytes can help promote hydration after a workout, elevation shift or just an afternoon thirst quencher.
May promote hydration
Supports electrolyte balance
May boost endurance and recovery
>>The current prices for the Entire Purium Line as of January 19th, 2022 are Here<<
Suggested Use/Ingredients
Suggested Use:  Mix one scoop with 10-12 oz. of water. Tastes great over ice.  
Ingredients:  Organic Coconut Water, Organic Coconut Sugar, Organic Hibiscus Flower, Organic Coconut Oil Extract Powder, Organic Ginger Root Powder, Organic Brown Rice Extract, L-Malic Acid Powder, Mineral Salts (Calcium Carbonate, Sodium Bicarbonate, Potassium Bicarbonate, and Magnesium Carbonate), Organic Raspberry Flavor, Agar Agar Powder, Organic Rooibos Extract, Organic Stevia Leaf Extract.

Label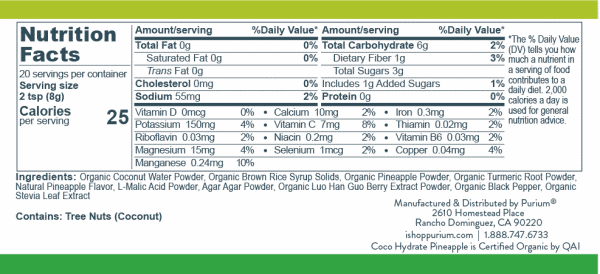 Did You Know?
Purium Top Sellers
Let HealthStatus Send You a $50.00 Gift Card
HealthStatus has been operating since 1998 providing the best interactive health tools on the Internet, millions of visitors have used our blood alcohol, body fat and calories burned calculators.

The HealthStatus editorial team has continued that commitment to excellence by providing our visitors with easy to understand high quality health content for many years.

Our team of health professionals, and researchers use peer reviewed studies as source elements in our articles.

Our high quality content has been featured in a number of leading websites, USA Today, the Chicago Tribune, Live Strong, GQ, and many more.