Quickly Replenish, Renew, REHYDRATE
Contains Rooibos tea extract for rapid rehydration
Contains quality sodium from Himalayan sea salt
Balanced with added magnesium and potassium to reduce cramping and headaches
Replaces your grandfather's salt tablets and your father's colored/flavored sports drink
Purium's Super Lytes is ideal for those who participate in athletic activities, hot yoga or consistently take saunas or may suffer from dehydration, cramping, headaches and nausea during their 10-Day Transformation.
Servings per container: 10
Instructions:  Take 3 capsules daily. May spread out the 3 capsules throughout the day, ideally as part of the 10-Day Transformation or whenever you are participating in vigorous exercise for a sustained amount of time.


Label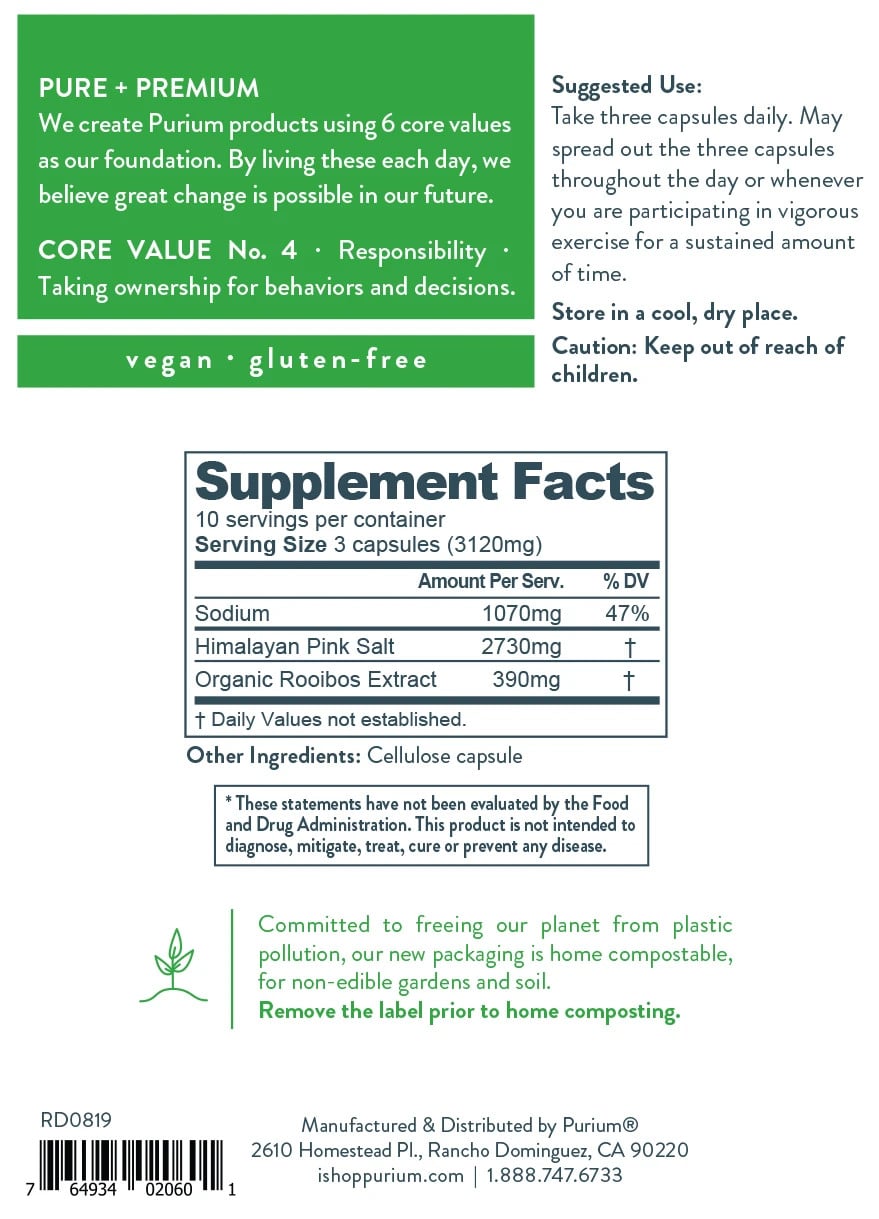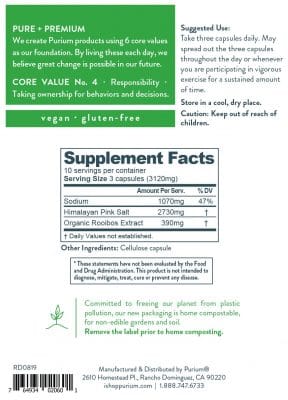 >>The current prices for the Entire Purium Line as of May 25th, 2022 are Here<<
More Information
What it is:  An all-natural proprietary formula designed to provide a safe and effective way to hydrate your body and replenish with electrolytes. Unlike leading "hydrators" on the market, Super Lytes do not contain any artificial colors, flavors or sweeteners. An integral part of the 10-Day Transformation Cleanse.
Benefits:
Rehydrates your body
Replenishes body with electrolytes
Supplies powerful antioxidants
Interesting Facts:
Himalayan Pink Salt comes from salt deposits from ancient seas (as opposed to most other sea salts which are created by evaporating ocean water)
Himalayan Pink Salt is considered to have a higher mineral content than other salts
Rooibos tea is also a great source of important minerals
Rooibos tea naturally does not contain any caffeine and is very low in tannins
Final word from Dave:
The evolution of the salt tablet…first there were sodium pills (good idea, but way too much sodium) then there were Sports Drinks (good idea, but way too many artificial ingredients). Now Purium presents Super Lytes, the ultimate rehydration and electrolyte supplement made from only the purest ingredients. This product was specially formulated for the 10-Day Transformation.
– Dave Sandoval
These statements have not been evaluated by the FDA and were not intended to diagnose, treat, cure or prevent any disease.

Did You Know?
 

Purium Products are organic and GMO free.
Purium Top Sellers
Let HealthStatus Send You a $50.00 Gift Card
Greg lost 32 pounds (and counting) with the Purium Ultimate Lifestyle Transformation and Core 4 programs during 2020.The Purium product line is something he highly recommends and uses himself every day.Greg founded HealthStatus in 1998 and continues todeliver high quality products and services to HealthStatus visitors.