By Evon Holladay
Did you know that there is much more to health than health care?   You might not know this by the nightly news, but it is a fact that where we live, learn, work, and play influences our health much more than access to health care.
So how is your community doing?
New research from Indiana University's Workshop in Political Theory and Policy Analysis finds that community leaders are taking action to make healthier choices more readily available to their citizens and they are getting results.
Tupelo Health Task Force
What started as a mayoral election campaign promise has turned into a permanent task force that is making strides in improving the health of all.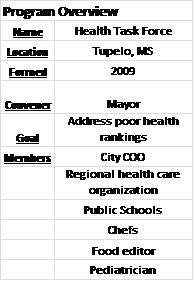 Outcomes
2011-$25,000 Healthy Hometown grant from Blue Cross Blue Shield Foundation of Mississippi.
2012 – $50,000 Healthiest Hometown grant, Blue Cross Blue Shield Foundation of Mississippi.
Actions
Healthy Food Access
Health on a Shelf! Project provides guidelines for local convenience stores highlighting how to incorporate a healthy food section in their store.
Increasing Physical Activity
Trim Down, Tone Up Tupelo challenge was launched in January 2010 with more than 150 teams of roughly 1,000 people. When the challenge ended in early March 2010, 86 teams with some 570 people completed the final weigh-in with a total weight loss of 4,130 pounds.
Integrated more than 10 walking trails into its city parks.
Reviewed city parks and recreational complexes to ensure residents have ample opportunities to participate in activities including swimming, tennis, baseball, and more,
Increase Health Awareness
Billboards with healthy messages about good nutrition were installed Spring 2011 courtesy of the task force.
"3 Feet Please" campaign keeping pedestrians & cyclists safe from motorists
City Planning, Policies and Zoning
Smoke-free policy
Partnership w/ schools  passing policy for after-hours use of schools parks  
Get Healthy Philly
Philadelphia is also taking action.   In their fourth year, the Get Healthy Philly Leadership Team has brought together government agencies, community-based organizations, academia and the private  sector to address obesity and smoking in Philadelphia.
"Our vision is a city where all residents can live, learn, work, shop, worship and play in environments that promote healthy eating, active living."
And they are seeing real results that improve the quality of life and reduce cost for everyone. aoke-freence.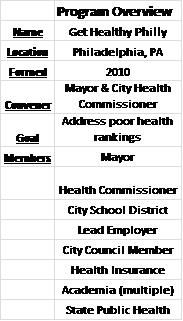 Outcomes
15% reduction in smoking among adults and a 10% reduction among youth, translating into over 40,000 fewer smokers in the city
5% reduction in childhood obesity, including larger reductions among African-American boys and Hispanic girls and a plateauing in adult obesity prevalence;  
Actions
City Planning, Policies and Zoning
Integrated healthy living and health impact assessments into Philadelphia 2035, the city's new comprehensive plan
Passed the New Zoning Code, Bill No. 110845, on December 22, 2011 that established provisions that:
Provide incentives for pedestrian-friendly transit oriented development (TOD) patterns around key transit stations (14-704)
Require the provision of secure bicycle parking in developments above a certain size and allow the removal of 1 automobile space in exchange for the provision of 5 bicycle parking spaces (14-804)
Limit curb cuts that interrupt sidewalks and discourage walking (14-703(3))
Completed two Health Impact Assessments for the Lower South and West Park Districts analyzing the connections between better health outcomes and development improvements recommended by the District Plan
Healthy Food Access
Increased access to healthy foods for approximately 100,000 residents of low-income neighborhoods
Opened 10 new farmers' markets in low-income communities helped increase SNAP (food stamp) redemption at markets by 335% through the Philly Food Bucks program
Trained and supported over 630 corner stores to sell healthier products, such as produce, water, and low-fat dairy
In public buildings, made 220 beverage vending machines healthier by offering more water and non-caloric drinks, putting them at eye level, decreasing portion sizes of sugary drinks from 20 ounces to 12 ounces, and providing calorie labeling on the machines.  
Increasing Physical Activity
Installed 9.7 miles of conventional bicycle lanes, 6.7 miles of new buffered bike lanes, 2.0 miles of Green bicycle lanes, 8.9 miles of "sharrows" or shared bicycle lanes and completed a pedestrian and bicycle plan for the city
Implemented a 39-week education and enforcement campaign to improve safety for walkers and bikers
Increase Health Awareness
Increased parents' awareness about the sugar content of beverages like soda, fruit drinks, and sweet teas through a media education initiative that was seen or heard over 40 million times
Community Partnerships
Public Schools

Established active School Wellness Councils in 171 public schools serving over 100,000 students to incorporate physical activity into the school-day and remove junk foods from classrooms, school stores, and fundraisers
Over 50 schools implemented classroom movement breaks and other strategies to get kids moving
Implemented food and fitness standards for over 200 Out-of-School Time afterschool programs and 100 afterschool recreation programs that serve 20,000 children annually
Trained staff from 88 school sites in physical education; and made healthy meal changes at 80 afterschool and summer recreation sites.

Restaurants
Decreased sodium content in foods served at 200 take-out Chinese restaurants Philadelphians have nutritional information available to them at nearly 700 chain restaurants through menu labeling established through the Philadelphia menu labeling ordinance
91% of inspected restaurants are in compliance with calorie labeling
66% of Philadelphians in one study noticed the calorie labeling24
38% of Philadelphians who had been to a fast food restaurant in the past month reported that calorie labeling influenced them to buy a lower calorie item25
Employer Wellness Initiatives

Ten local employers with over 80,000 employees implemented worksite wellness initiatives, such as healthy vending standards, breastfeeding-friendly policies, and physically active lunch-breaks

Medical Community

Engaged all six Philadelphia birthing hospitals to support breastfeeding, four of which are on the pathway to implementing the evidence-based Ten Steps to Successful Breastfeeding.  
Community Wellness the Next Evolution
Other communities are also getting involved from Atlanta to states like Oregon's We Can Do Better campaign.   Each is looking at their local assets   and empowering individuals by providing access to healthier choices.
This new research sees this 'Community Wellness'   as a next evolution in the collaboration needed to not only reduce healthcare cost but to improve the productive life of each person.
In the end healthy citizens is what matters.  It is not a political debate over access to healthcare or having health insurance (although this can have a significant impact on your financial wellbeing).   Neither are a major contributor to creating and maintaining your health.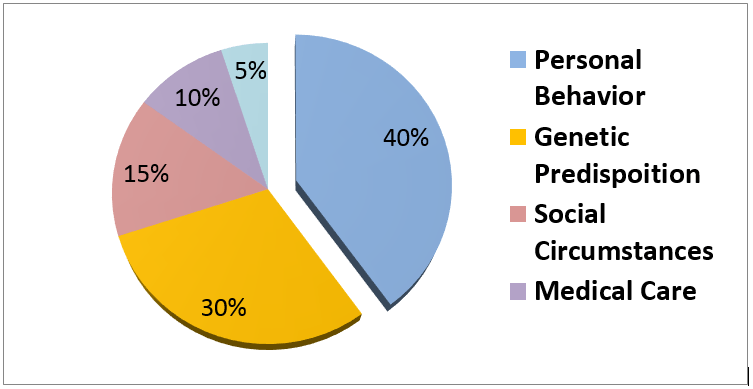 Figure 1: Health Determinants on Early Mortality (Source: Healthcare Delivery in the US, 2011, Kovner and Knickman)
It is personal behaviors that have the greatest impact on how long you will live and what kind of quality of life you will have. This is directly influenced by how your community assets are being used to help you create and maintain your health.
Click here to find publicly available data like County Health Rankings and America's Health Rankings to help you understand how your community is helping (or hurting) your health:
https://www.countyhealthrankings.org/
https://www.americashealthrankings.org/
Maybe now is the time for you to ask: What is my community doing to improve my health?