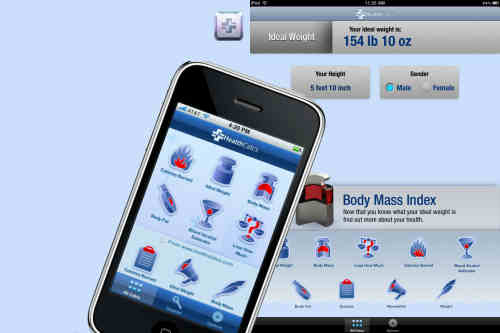 HealthCalcs

Blood Alcohol, Body Mass Index, Body Fat Percentage, Calorie Burn, Calories to Lose, and Ideal Weight calculator for the iPad and iPhone

The BEST HealthStatus.com Calculators

HealthStatus has been providing excellent online health tools since 1998. Now we have put our most popular tools in an app that you can have with you all the time. HealthCalcs are fun, easy to use, and they provide great information!

What You Get

Huge list of activities! Over 125 different activities in our calories burned and lose how much tools.
Four body fat formulas to estimate your body fat.
Ideal weight and body mass calculators give you a quick reminder on where you are and where you are trying to get to with your weight.

The HealthStatus HealthCalcs App


The HealthCalcs app contains our FIVE most used health calculators plus a BRAND NEW, never seen before calculator called Lose How Much? Plus you can share your numbers with friends via a post to your Facebook and Twitter accounts directly from the application.

| | | | |
| --- | --- | --- | --- |
| | | | |
| Calories Burned Our most popular calculator allows you to enter the time you spend doing exercise, chores around the house, sports and all sorts of activities (even sex) and the calculator will show you about how many calories you burned up. | Ideal Weight How much should you really weigh to be healthy? Plug in a couple of facts and find out, quick and easy! | Blood Alcohol Estimate what your blood alcohol level is with this quick and easy tool. Enter the number of drinks, how long it took you to drink them, and a couple of other details and get immediate results. You should never drink and drive. | Lose How Much? Want to know how long it will take to lose a few pounds, or burn off a specific number of calories? This calculator will tell you! |

Looks great on the iPad too!

---

Comments about HealthCalcs

Chi Town Fun – Finally an app that makes it easy to know if its worth having another desert!

---

R2S Writes – I love to focus on my health, and this cool app helps me do just that. You can get your BMI (Body Mass Index) and body fat calculations, determine how many calories you burn with different activities throughout your day, and more. You input your personal info (height, weight, etc.) so the calculations are tailored to me. Cool!

lamocuana1 – Nice app! Input your own stats (height, weight, etc.) to calculate your body fat percentage, body mass index (BMI) and more. Great for those who want to maintain a healthy lifestyle!

---

Meowzers9 – We just started a weight loss group at my job, and this App is great! Not only does it give those of us that have iPhones the ability to calculate a bunch of different areas of our weight, such as our Ideal Weights, How to Get to Those Weights, our BMI and more, but we can share all the info on Facebook and Twitter with the team. This has added a whole new dimension to our little challenge! Good for individuals, great for teams!

glynnw – Love this app. Has the calculators I want. Tracks your information, have it both on my iPod and iPad and looks and works great on both. Lose how much calculator is awesome. To the person confused about the slider, just tap the number and a different input option appears. Look at the screen shots, the numbers are a button.

---

Witchygreeneyez2 – I found this app to be very helpful and informative. It has LOTS of information to help you maintain or lose weight. I would recommend this application to everyone watching their weight and who are trying to stay healthy on the go.

HealthStatus has been operating since 1998 providing the best interactive health tools on the Internet, millions of visitors have used our blood alcohol, body fat and calories burned calculators.

The HealthStatus editorial team has continued that commitment to excellence by providing our visitors with easy to understand high quality health content for many years.

Our team of health professionals, and researchers use peer reviewed studies as source elements in our articles.

Our high quality content has been featured in a number of leading websites, USA Today, the Chicago Tribune, Live Strong, GQ, and many more.

Latest posts by HealthStatus Team (see all)