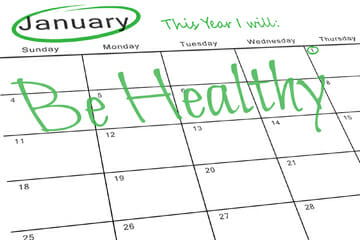 It's a NEW YEAR! Let's roll with some resolution products that the HealthStatus Team uses and recommend highly.
Lose Weight: Did you know that the average American has doubled the amount of calories they eat per day, compared to 20 years ago?I mean… with stats like, it should be no surprise that most of us have a little extra "junk in the trunk."

But what really scares me, is the fact that we're still only eating three meals a day (Actually, I'm usually too busy for breakfast)… Yet we're still gaining weight at a rapid pace.

This can only mean one thing… WE'RE EATING THE WRONG FOODS!

Sleep Better: Scientists and physicians continue to find more health issues tied to your sleep. Obesity, depression, mental focus and daily energy are all tied to the amount and quality of your sleep. Get a mattress designed by a chiropractor, and used by dozens of pro athletes, that uses multiple layers of different density non-petroleum BioFlex foam to cradle your body without harmful gasses. This foam mattress sleeps cool and comfortable. Don't trust a cheap mattress rolled up in a box. Complete white glove setup to your US home. Buy one for your home now and experience restful sleep.
Be Prepared: How would your family do in an emergency with no access to food or water for 72 hours? Recent hurricane, wild fire and other natural disaster victims have had to live without basics for several days as they waited for roads to be cleared and power restored. Without power, stores won't open or be stocked with products. The disasters of 2017 have shown that all parts of the US are subject to disruption. You need to have a disaster survival kit in your home that will feed you and provide you the water you need to survive. But don't just survive, THRIVE with a healthy survival kit, not a bunch of chemical goo and preservative laden mystery meals..
Make Extra Money: A side gig is tough, inventory to manage if you sell stuff, time if you sell services, lots of paperwork, orders, re-orders, credit card setup, it really doesn't give you that much freedom. What if there was a business where you made money by simply giving away gift cards? And the gift cards were for healthy, organic, super-foods!! Sign up as a Brand Partner, and start handing out gift cards to your friends, family and anybody you meet. They cash them in for products that help them be healthier via an online store and you get paid a commission. No inventory, no rent, no order taking, you don't even need a website it is all provided for you. Learn more here.
Fix Your Feet: Whether you Stand, Walk or Play, AirFeet® CLASSIC are a life-changing, revolutionary product. Through our Doctor recommendations, 1,000's of testimonials, and Industry Data we recognize we have without a doubt redefined the insole world.  The Active Gel Technology™ enables the insole to absorb the impacting energy from a heel, and then move rapidly across the arch ready to absorb the force of the impacting ball of the foot.Individuals now have a life-changing footwear insole that induces increased circulation to the feet and toes. Simply sit or stand, and rock your heel to toe and experience the wonderful feeling under your feet.The sensation is so radically different that first-time customers have often called it "WEIRD".  In fact, it is now promoted as "the best weird you'll ever feel!" This sentiment is a hallmark of true innovation.  Some of the HealthStatus Team wore AirFeet inserts for a couple of days at a theme park and have said that their legs and feet did not hurt or get tired like what usually happens, now they wear them all the time.  Get them here!
Physician Option: Do you put off going to the doctor, just because it is such a hassle? Or are you like me and think the last thing you want to do when you feel bad is go sit in a room with sick people? I love our tele-doctor solution, with a phone call I can get prescriptions called into my local pharmacy 24/7. When I feel bad, doctors are ready to talk to, or even video conference. This is a great solution if you have kids, travel, a super busy schedule, or just put off going to the doctor even though you know you should probably go.  !Learn more

HealthStatus has been operating since 1998 providing the best interactive health tools on the Internet, millions of visitors have used our
health risk assessment
,
body fat
and
calories burned
calculators.The HealthStatus editorial team has continued that commitment to excellence by providing our visitors with easy to understand high quality health content for many years.

Latest posts by HealthStatus (see all)