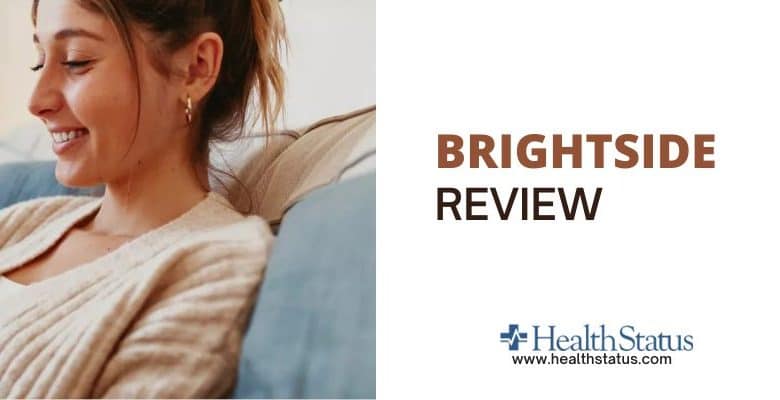 Have you ever heard about Brightside? Mental health is one of the most overlooked areas in global health. Even with more than one in 10 people suffering from a mental health disorder, that remains the case. With anxiety and depression accounting for the most common mental health illnesses.
According to the Anxiety & Depression Association of America, 18.1 percent of the American population suffers from an anxiety disorder every year. Globally, it is estimated that 280,000 (3.8 percent) million people suffer from depression.
And although mental disorders are an epidemic made worse by Covid-19, Brightside is working to make health care available to everyone that needs the help more so because almost 75 percent of people with mental disorders remain untreated in developing countries, with nearly 1 million people taking their lives—with a person dying from suicide every 40 seconds.
This Brightside review 2023 hopes to explore what Brightside is, how it works, what consumers have to say about Brightside, who is behind it, and how much the service costs.
What is Brightside?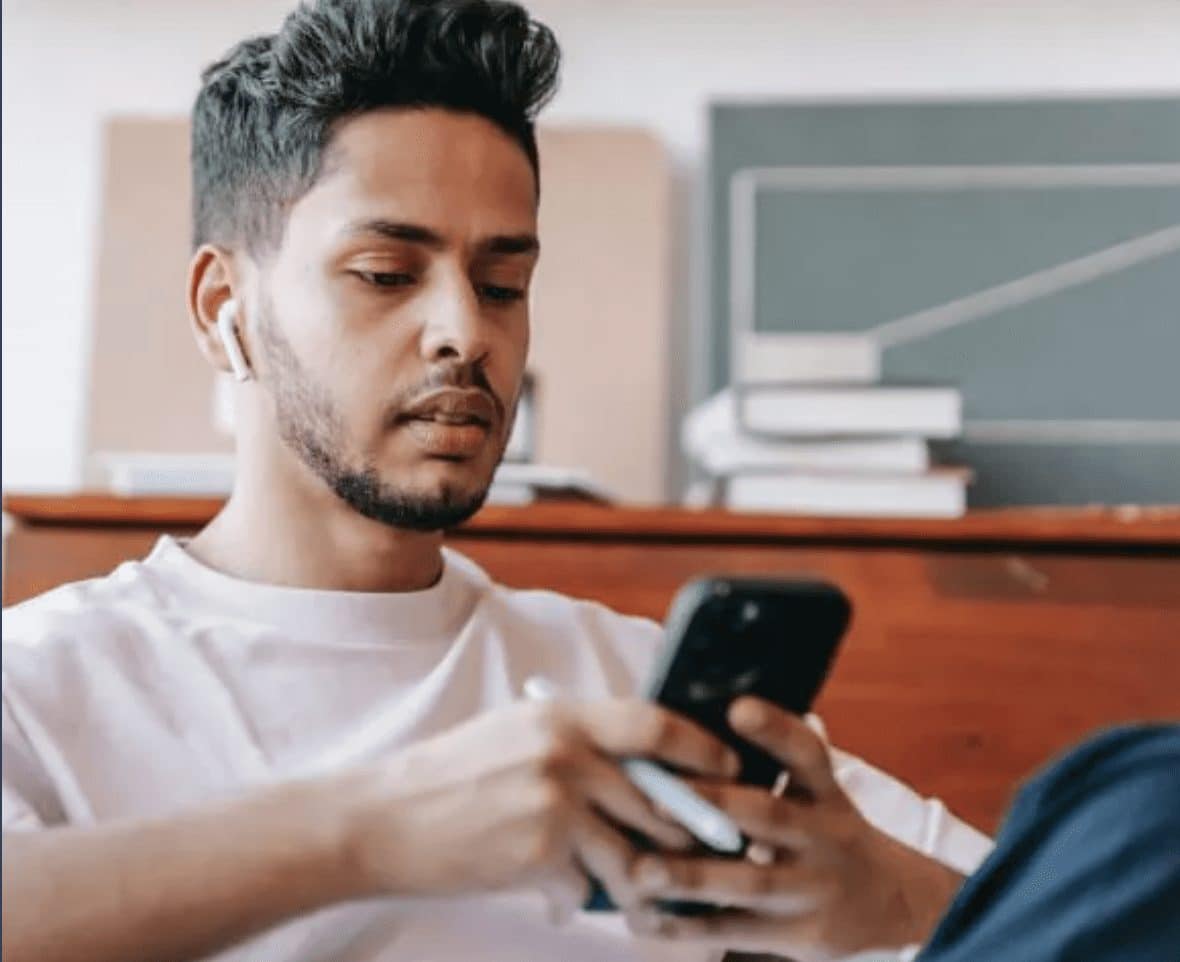 Brightside is a telehealth company that offers access to high-quality anxiety and depression care.  The company seeks to revolutionize the treatment of both anxiety and depression by using a holistic approach that makes its services readily available for thousands who need them. The company leverages the internet to provide internet-based intervention, face-to-face treatment for 8 weeks, FDA approved medication, and they are personalized to suit you. Their treatment plans are designed to break the cycle of how we think, act, and feel. The services are intended for people aged 18 and older.
How does Brightside work? How effective is Brightside?
You will be asked to answer a quick set of questions on the Brightside website. The questions are short and clinically proven, and the questions are designed in a way that helps the service providers understand your symptoms. Based on your answers in the questionnaire, Brightside will match you with a psychiatric provider who recommends a treatment plan, medication therapist, or both.
In 48 hours, a doctor will contact you virtually to discuss your feelings and possible treatment plans. The video evaluation will help give your doctor better insights into your emotions and symptoms. With the doctor's information, a personalized treatment will be developed by your doctor to fit your needs. Your treatment plan may or may not include medication.
Brightside will deliver your medication right to your doorstep if you require medication. Worry not; all Brightside prescribed medicines are FDA approved. Moreover, you will be able to keep in touch with your doctor to discuss any concerns you might have—you get access to unlimited messaging, video sessions, and regularly scheduled check-ins with your support system.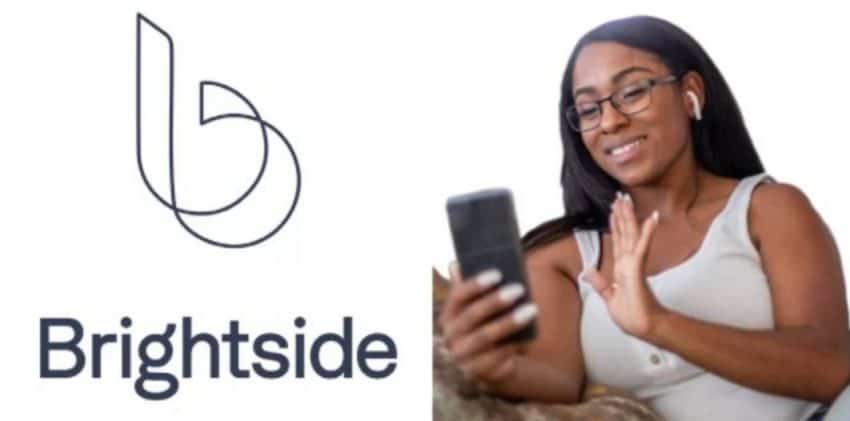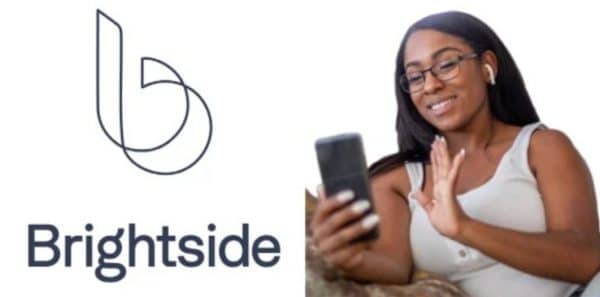 As for therapy, you will be assigned a licensed therapist in your state, whose background has been comprehensively checked and who holds a master's degree or higher. In addition to this, you can track your progress online using Brightside's symptom tracker; Your Path. Your path compares your depression and anxiety symptoms from week to week and plots them on a graph so you can tell whether the treatment plan you are on is effective or not.
What Treatment Plans Are Available On Brightside? How Do The Treatment Plans Work?
This platform takes on a multi-pronged approach to mental health. It offers three main treatment plans you can choose from:
Medication,
Therapy,
Both.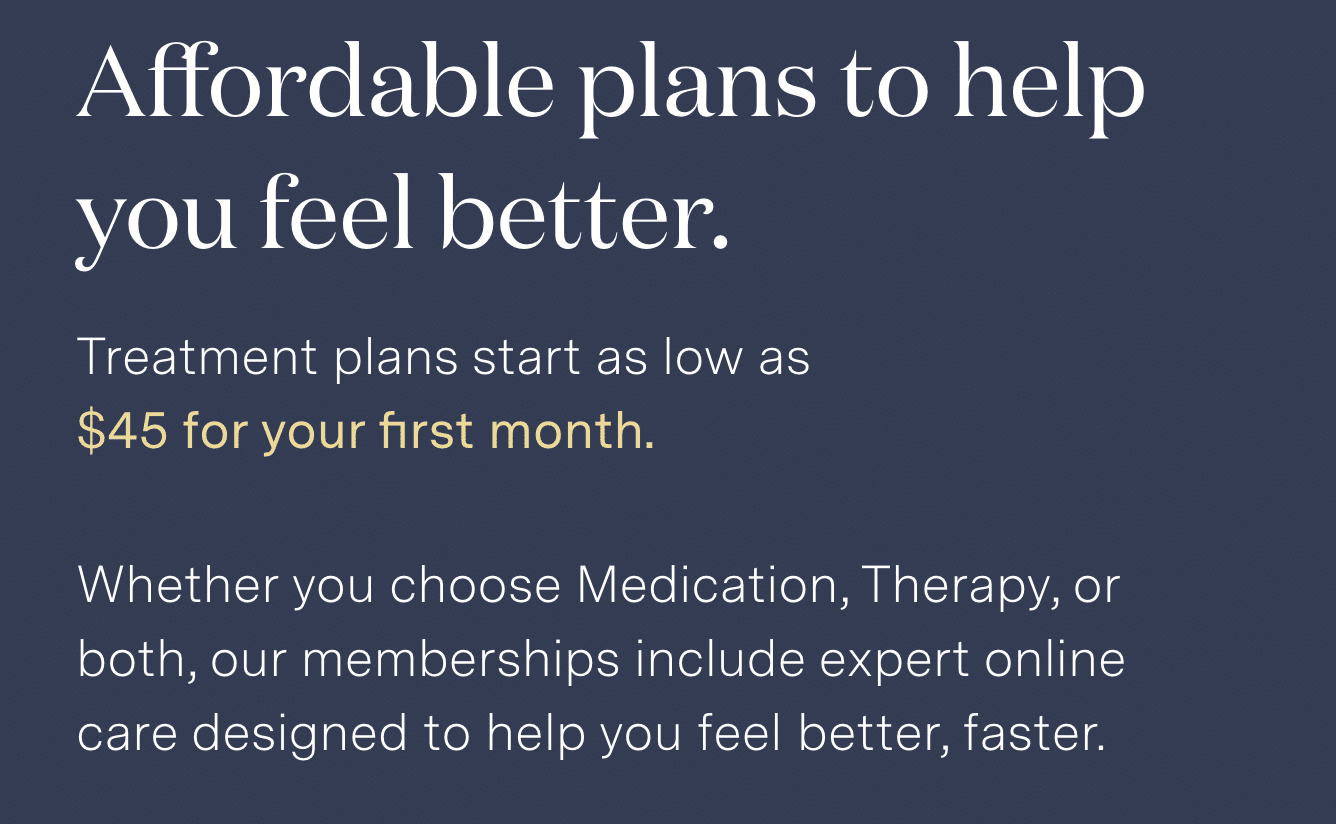 Regardless of what treatment plan you choose, they all begin with a 25 question assessment focused on understanding your symptoms better. Upon completion, you will get another 15-minute consult with a doctor who will ask additional questions to help develop a treatment plan that works for you.
Therapy
If you go the psychotherapy route, you will be assigned a licensed therapist in your state. Unfortunately, you will not be able to choose your therapist. However, if you are unhappy with the therapist, you are assigned another one once you start. Brightside primarily chooses a therapist for you based on your location.
You will then schedule a session with your therapist; Brightside provides up to four sessions a month. Your therapist will get back to you within 24 to 48 hours, according to the platform's website. However, if they do not get back to you, you can text them, and they should respond almost immediately—Brightside offers a 24-hour crisis text line that instantly connects you with a counsellor.  Alternatively, you can use the 24-hour suicide prevention hotline provided.

During your 30-minute session, your therapist will help you create a personalized plan for yourself. A therapist will also help you develop coping skills and healthy habits, help modify your behavior and thought patterns, and generally guide you on overcoming your depression and anxiety.
Self-care and Lifestyle Habits
Brightside, however, focuses comprehensively on the use of cognitive-behavioural therapy (CBT). It is a short-term therapy technique that helps people find new ways to behave by changing their thought patterns.
Brightside membership gives you unlimited access to tools and resources that will help you reshape your thoughts into more useful and positive ones. For example, you will have access to a ten-week program, 'Brightside Self-Care.' All the exercises are CBT-based and include exploring the benefits of practicing gratitude, relying on social support, engaging in mindful breathing and exercising mental flexibility.
According to Forbes.com, research has shown that this kind of therapy can be effective for people suffering from depression and anxiety. Numerous research suggests that CBT significantly improves the functioning and quality of life.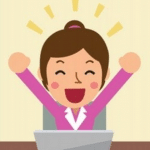 According to apa.org, CBT is based on several core principles: psychological problems are in part based on distorted and unhelpful ways of thinking, learned patterns of unhelpful behavior and that people suffering from these psychological problems can learn better ways of coping with them.
Coupled with therapy, you will be able to better understand the behavior and motivation of others, helping you cope better with complicated relationships, grief and other stressful situations. This may include helping the person recognize their distorted thinking causing problems and reassessing them in a new light. In addition to this, the platform will help you develop problem-solving skills to cope with difficult situations and learn how to create a greater sense of confidence in your capabilities by taking a goal-oriented approach.
Medication
On Brightside, you will be working with an expert Psychiatric team that includes a psychiatrist, a doctor, and sometimes a psychiatric nurse practitioner. A team that checks in on you six times more than the traditional doctor.
Depending on your location, you will be matched with a psychiatric practitioner in your area. The psychiatric provider must be licensed in your state, and their background will be comprehensively checked.
Based on your initial consult and the answers you gave on the questionnaire, your psychiatric provider will make a tailor-made prescription based on their careful assessment of your symptoms. On that premise, your prescription will not be a one-size-fits-all, based on your needs; your doctor will find an FDA-approved match with Brightside's revolutionary function called Brightfinder. This in-house software will evaluate more than 100 unique data points about you and run them against data based on antidepressants to pick from over 30 different medications.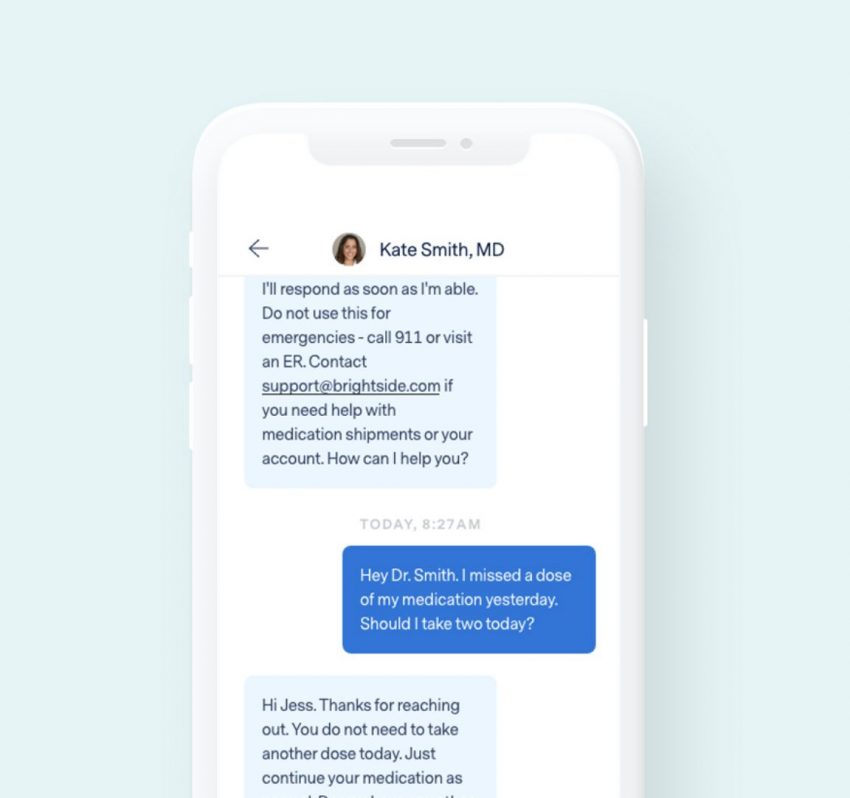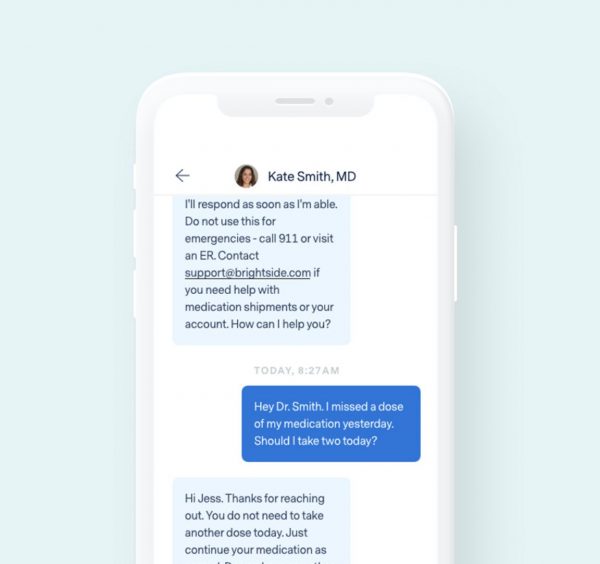 According to their website, your Brightside assigned doctor will be part of your recovery journey every step of the way. Based on this promise, your doctor will make adjustments to your treatment plan until it fits your needs. That will be made possible by the platform's unlimited messaging or video calls to your psychiatric practitioner.
The doctor will also monitor your progress on Your Path, where you will be reporting your symptoms, and the software will plot a graph based on your symptom. Based on this measure, your doctor will be able to tweak your medication.
If the doctor dims it fit that you should be on medication during your initial assessment, your prescription will be filled and mailed to you during the first week. Your prescription will be filled and mailed to you monthly if you require further medication.
Medication and Therapy
According to Brightside, this option has a success rate of 60 percent.
Under this option, you will work with both a therapist and a psychiatric practitioner. You will enjoy a wholesome approach to your anxiety or depression. The doctor and therapist will work together to develop a treatment plan to see your symptoms improve. Separately, your therapist will teach you coping skills that will help you cope in a stressful situation. The therapist will also help you deal better with traumatic events, helping you face them and start your journey on healing.
On the other hand, a doctor will prescribe medicines to treat your symptoms, and you will be able to reach either round the clock via messaging.
In addition to this, you will schedule therapy sessions with your therapist, and your doctor will periodically check your progress.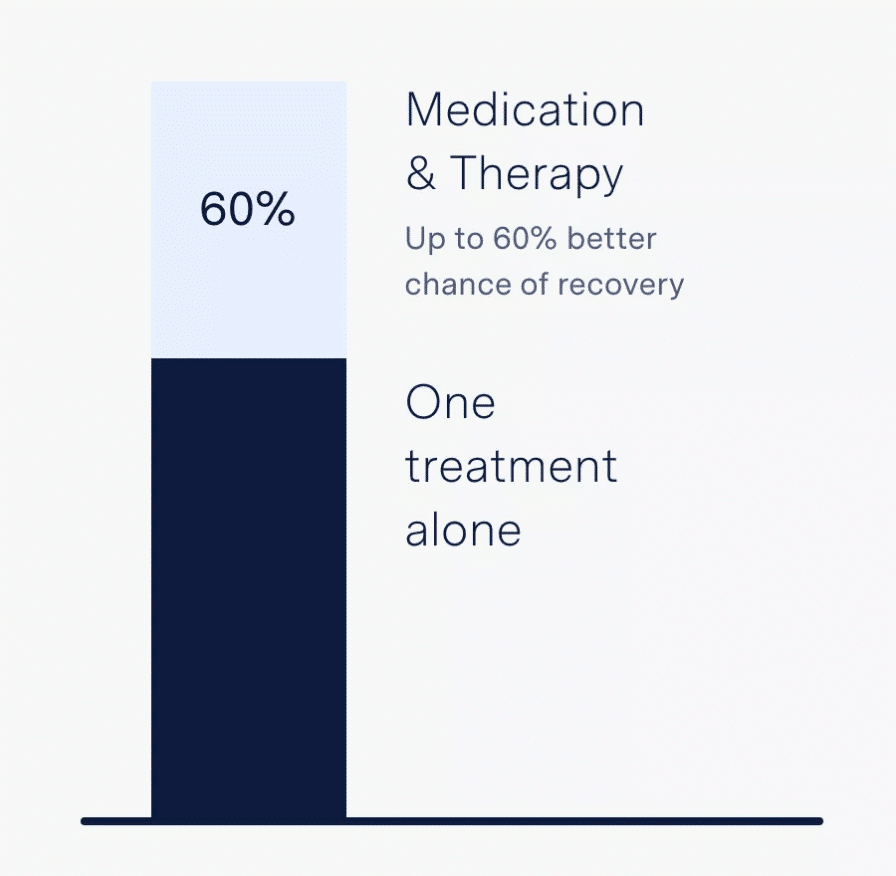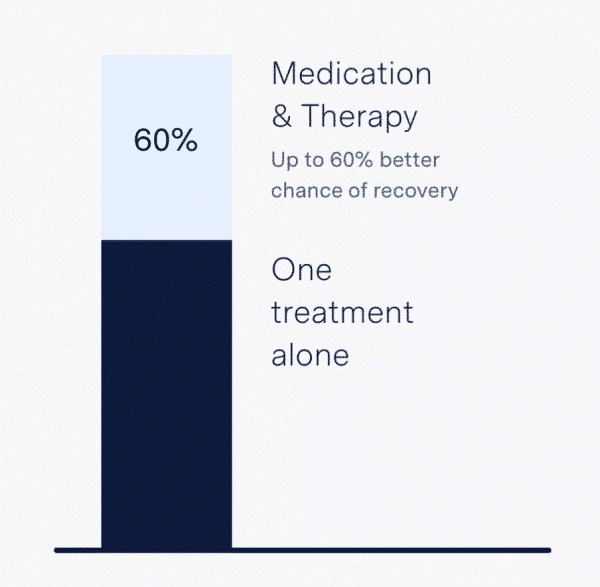 Brightside clinical studies, evaluation, and results 2023: Is Brightside Safe to Use?
Telehealth was especially effective during the pandemic, but telehealth provided an opportunity for health practitioners to reach more people even in periods preceding the pandemic. Brightside helps people afraid of reaching out for psychological support because of stigma. Platforms such as this allow people to access care in an environment they feel most comfortable. And since the services are accessed remotely, health care can be dispensed to those who cannot travel to a physical appointment.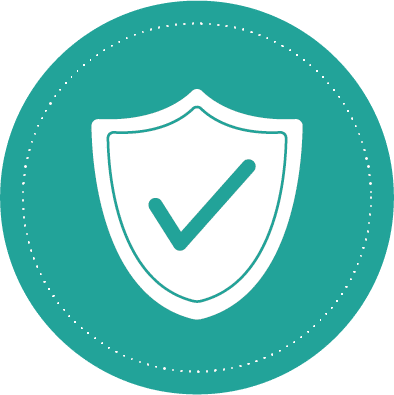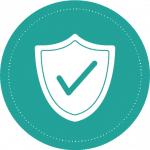 According to a publication, Telemedicine and e-health, telepsychology is as effective as face-to-face psychology. In a separate survey, the U.S. Department of Veterans Affairs conducted several trials that compared PTSD interventions delivered in person versus through video conferencing and found that both methods were equally effective.
It is perfectly safe to use Brightside; the founders of this platform understand that depression and anxiety are sensitive topics. They encrypt all data using 256 bit SSL and are HIPAA compliant. The only person with access to your information is your prescribing provider. All conversations with your therapist are confidential, but if either your doctor or therapist believes that you may have the intention to hurt yourself or others, they may share information in line with established Brightside protocols.
How do you use Brightside? Our recommendation.
If you want to start your wellness journey, Brightside is easy to use.
The first step will be to go on your browser and search for Brightside.com.
When you are on their website, you can read through what they offer, their treatment plans and most frequently asked questions. You will see three diagonal lines; you click on them and get a prompt to either log into your account or sign up.
You must fulfill three steps before signing up; they include; filling out a quick questionnaire, seeing your results, and starting on treatment. The questionnaire will take you an average of 4 minutes to complete. However, Brightside adds a disclaimer in this section "Brightside is for people 18 years and older".
Once you have successfully answered your questions, you will be able to review your results, and you will be prompted to pick a treatment plan. Once you complete this final step, you will have successfully created a Brightside account that will open you to a world of world-class healthcare.
For your first video call consultation, you will need to download Zoom on your device of choice. Log into your Brightside portal when your appointment is due and click 'Join Appointment .' You will be directly connected to your service provider. If you would like another review other than the initial assessment, you can request a review from your portal.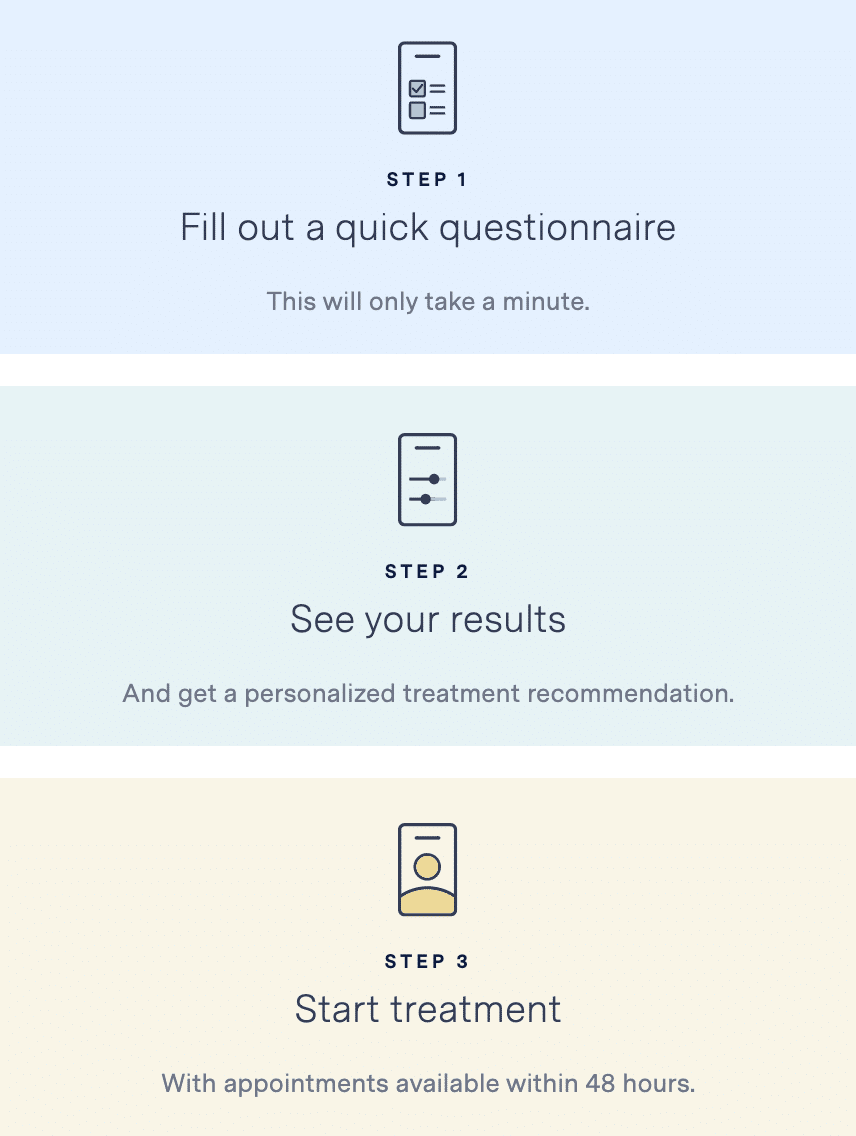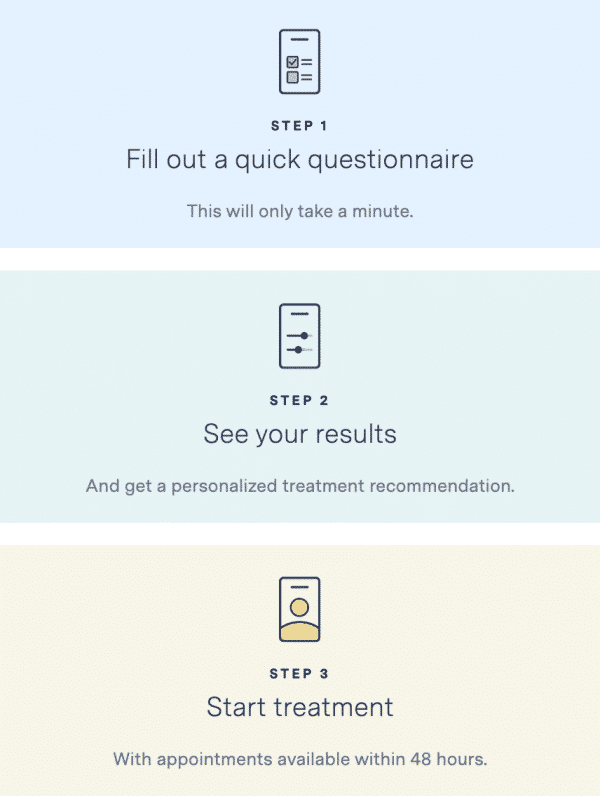 However, you should know that there are some limitations to using Brightside. Brightside is ideal for people with OCD, insomnia, social anxiety, panic disorder, major depressive disorder, seasonal affective disorder, generalized affective disorder, PTSD, and phobia. Brightside is not recommended for people who have had suicide idealization or previous suicide attempts, ADHD, self-harm behaviour, bipolar disorder, borderline personality disorder, eating disorder with high-risk symptoms, schizophrenia and for people with kidney or liver disease.
Our Brightside Review and Rating: Brightside Pros and Cons
Customer reviews on a product and service provide significant insights into the effectiveness of the service or product. Customer reviews on Brightside are mainly positive, and based on what they say, Brightside has transformed their lives. Here are some of the reviews:
Brightside Positive Review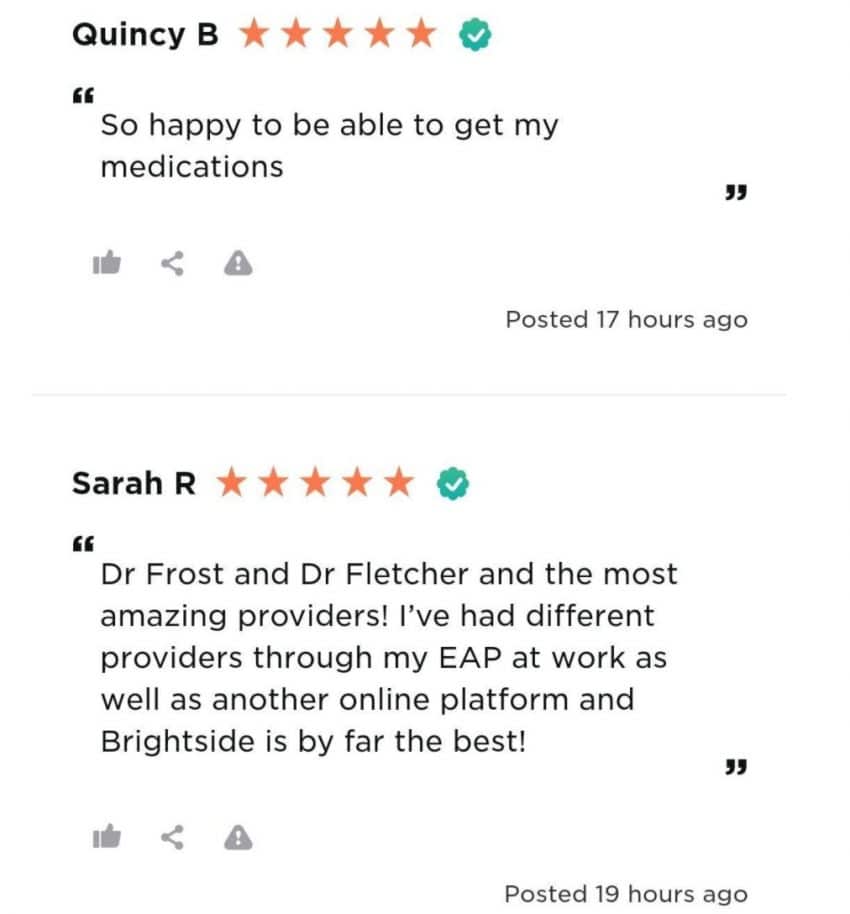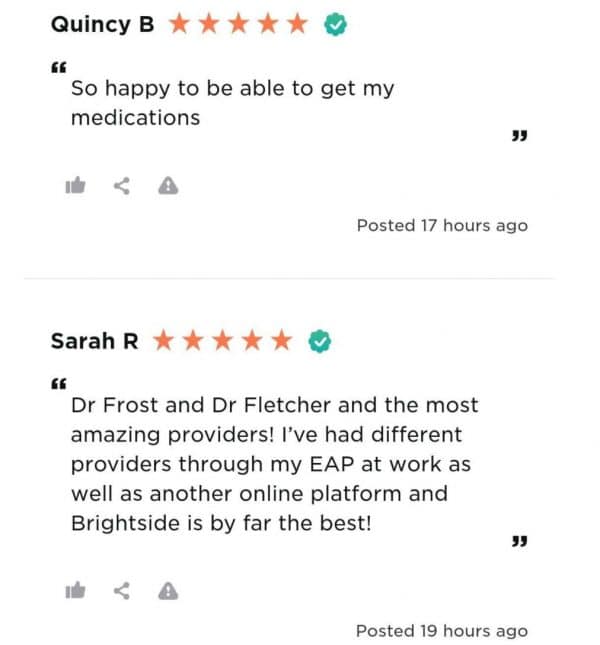 Brightside negative review
Even the negative reviews aren't on the quality of service but scheduling.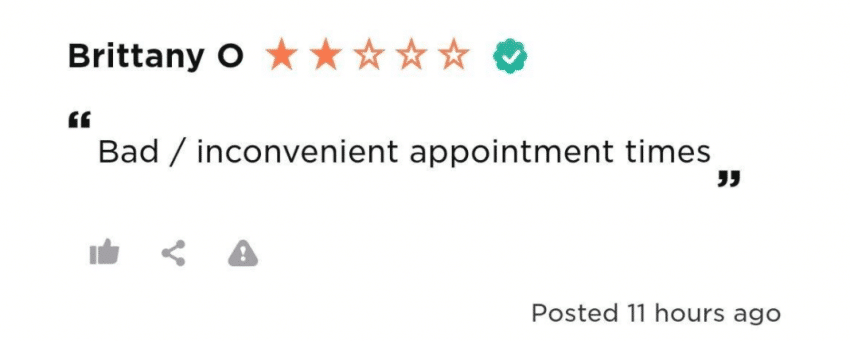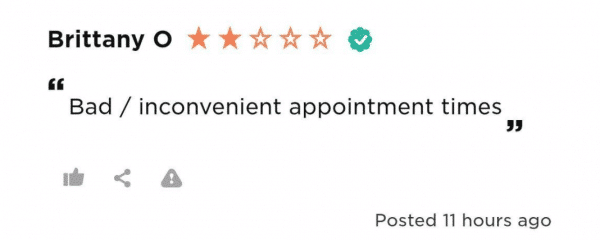 Pros
Remote access to licensed healthcare practitioners
Various treatment plans
Medication is delivered to your doorstep
Round the clock messaging services with your therapist
Easy to sign up
Personalized treatment plan
Free access to self-care resources
Multiple check-ins with your psychiatric practitioner
Cons
Expensive
You may receive too many appointment reminders via email and text messenger.
Not available in all states
Your therapist's booking schedule might not agree with yours
Not a platform for all mental health disorders
Brightside Results Before and After: Does Brightside Really Work, or is it a scam?
You have a pretty good idea of Brightside and how it works, but you might have some doubts on whether it works or it's all a scam. Brightside is a legitimate platform with a qualified and vetted psychiatric team that works to help people get the mental health care they deserve. While results may vary, Brightside boasts that 85 percent of those that use their platform get better within 12 weeks, and if customer reviews are anything to go by, that seems to be the case.
| | |
| --- | --- |
| | |
| | This will be around the time you will be signing up with Brightside. You will answer a concise and clinically based questionnaire, and you will be able to see your results and the available treatment plans. A doctor will contact you within 48 hours to evaluate you and recommend personalized treatment. Depending on the one you choose, you will be a signed therapist, and if medication is prescribed, you should receive it within the week. You should also have had two therapy sessions, and your wellness journey should have started. |
| | If you are on therapy, you should have had four sessions by now, and you should be able to tell if your therapist is a good fit for you. If you are on medication, your doctor should have checked in on you several times, and if there is a need, they should tweak your medication to fit your needs. Also, depending on your graph on Your Path, your doctor and you should be able to tell what is working for you and what is not. |
| | You should see changes, and Your Path graph will show an upward trend. Your therapist should have given you coping skills to help you face difficult situations. Additionally, you should be exploring your fears or any traumatic events. Generally, you should be feeling better. Regardless, you should continue your recovery journey even if you feel better. |
Brightside Reviews on the Internet and in Forum
Was Brightside on Shark Tank?
Brightside has never been featured on Shark Tank.
Is Brightside legit, or are there any warnings about Brightside on the Internet
Brightside is a legitimate innovative telehealth platform that brings mental health care right in your home virtually. All the therapists, doctors, psychiatrists and psychiatric nurses are qualified with master's degrees or higher. All the providers are vetted with thorough background checks done.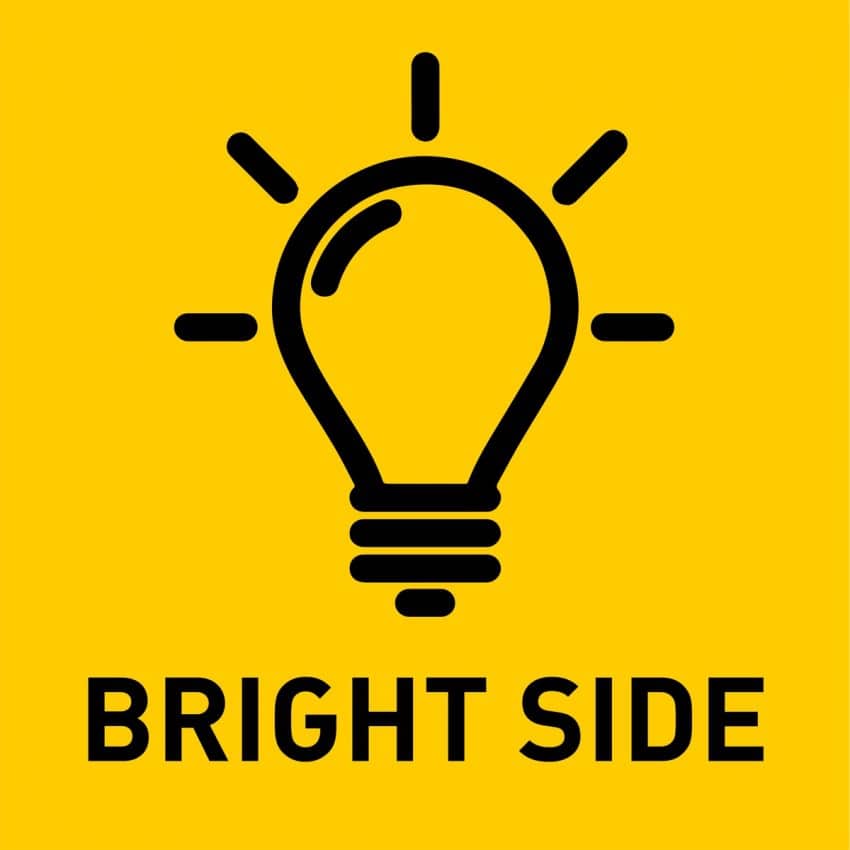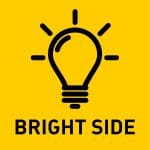 Brightside encrypts all your messages with the service providers, so your data remains confidential. This platform has overwhelmingly positive reviews, with 85 percent of those who use the app reporting that the platform helped them feel better. It takes on a multi-pronged approach that is primarily evidence-based and clinically proven. As such, it has no warning on the internet.
Brightside cost: Price comparison
Brightside's therapy treatment plan includes four 30-minute video sessions a month and unlimited messaging with a licensed therapist. For this treatment, you will pay $299 a month, and because in the first month, you get $50 off, you will pay Warnings about Brightside for that initial month. If you want additional therapy sessions, you will pay an additional $59 per extra session.
If you are on the medication plan, it will cost you $95 a month, exclusive of your prescribed medication. If you are on both medication and therapy, you will pay $349 monthly. Some insurance companies cover these services, so you might want to check if yours does. Some of the insurance companies covering some of Brightside services are; Cigna nationwide, Blue Cross/Blue Shield, Anthem. Humana, MHN, and Magellan.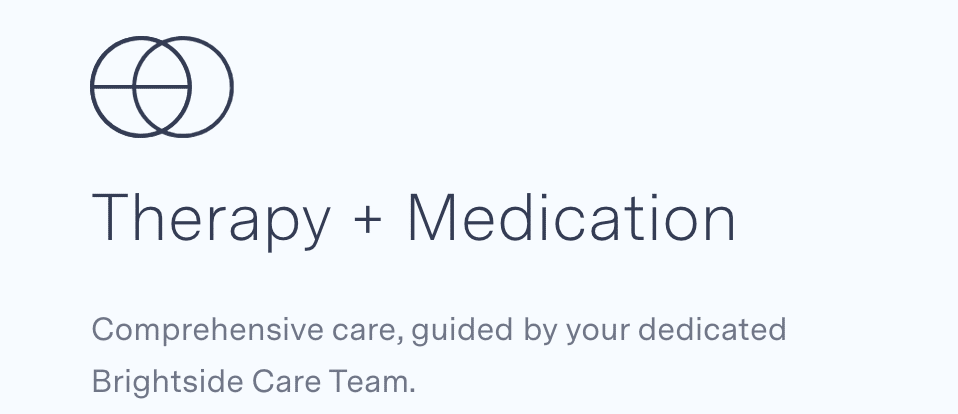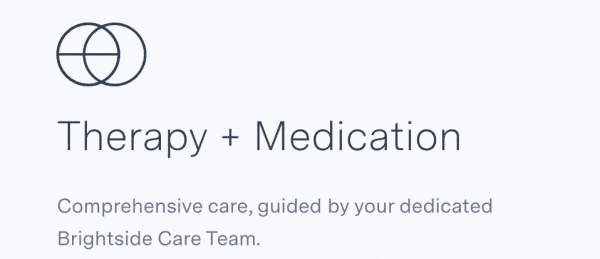 Brightside does not issue refunds if you fail to attend your appointment after it has started. However, if you wish to reschedule your appointment, Brightside recommends that you do so 24 hours before the scheduled session. This is recommended because Brightside psychiatric providers have other Brightside members that also require their attention, and rescheduling in advance will allow them to give you an appropriate time. If you fail to attend scheduled consultations after multiple attempts to reschedule, your care may be reassigned; you may be discharged from Brightside or be charged a $20 no-show fee.
What do I have to consider before discontinuing Brightside?
If for whatever reason, you would like to end your treatment plan, it is recommended that you have a 'termination chat' with your therapist. The chat will discuss why you would like to end your treatment plan, and your therapist will help you develop a plan that you will use once you have terminated the program. And in case the thought of having the 'termination chat' is making you uncomfortable, the platform has some reassurance for you "Don't worry; your therapist won't be offended.'
Brightside Review Conclusion: Our Experience and Recommendation
Conclusion
In part, stigma plays a role with people not seeking treatment and lack of resources and lack of trained health care providers. Telehealth platforms such as Brightside bring together mental health experts with years of experience and connect them with people around the U.S. who need the services.
Brightside combines psychiatry, technology and data to bring quality health care for Americans all across the nation. And while telehealth is not new, other platforms provide mental health, non-combine therapy and medication at a fair price. Brightside is designed in a way that you can track your progress through Your Path, so you celebrate every milestone you achieve. It is available in 40 states currently, but according to Brightside, there are plans to expand to the remaining states soon.
If you find it difficult to walk into a hospital to get mental health services, or you want to try a different approach to mental health, Brightside is the platform for you. You will get a chance to work with highly compassionate psychiatric practitioners that prioritize your wellness.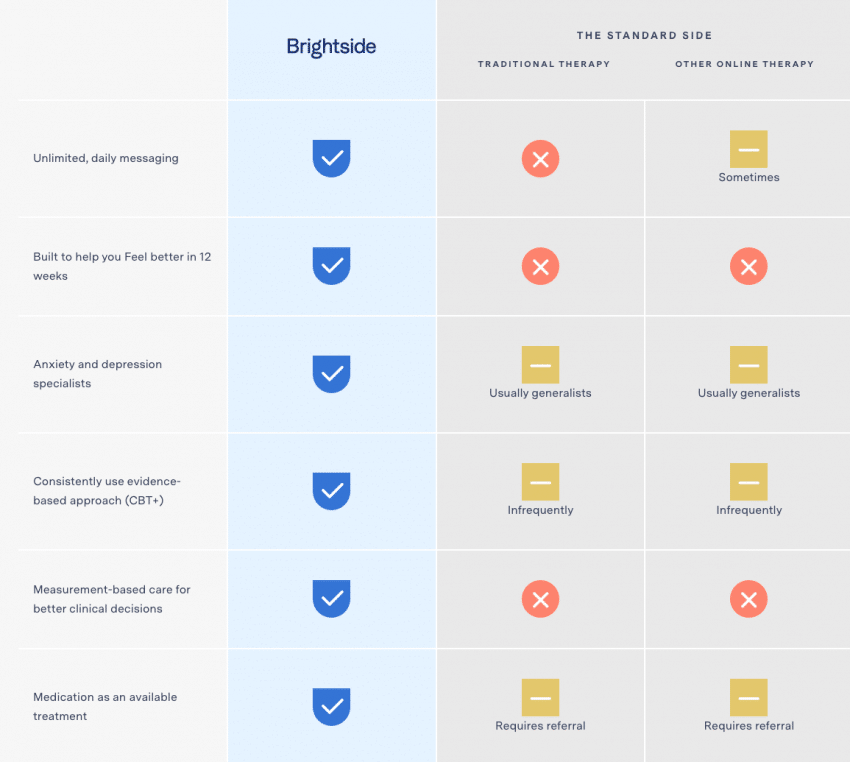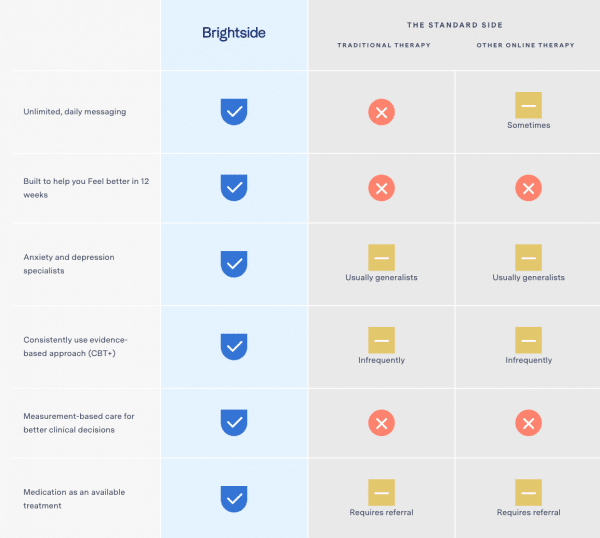 Frequently Asked Questions about Brightside
Is Brightside recommended, or are there any criticism
Are there any Brightside deals or coupon code
Who is behind Brightside?
Does Brightside have any risks or side effects?
Is the continuous use of Brightside safe?
Do I need a prescription on Brightside?
References
https://adaa.org/understanding-anxiety/facts-statistics
https://www.who.int/news-room/fact-sheets/detail/depression

https://www.forbes.com/health/mind/brightside-review/

https://www.apa.org/monitor/2020/07/cover-telepsychology

https://www.brightside.com/faq/

https://www.brightside.com/