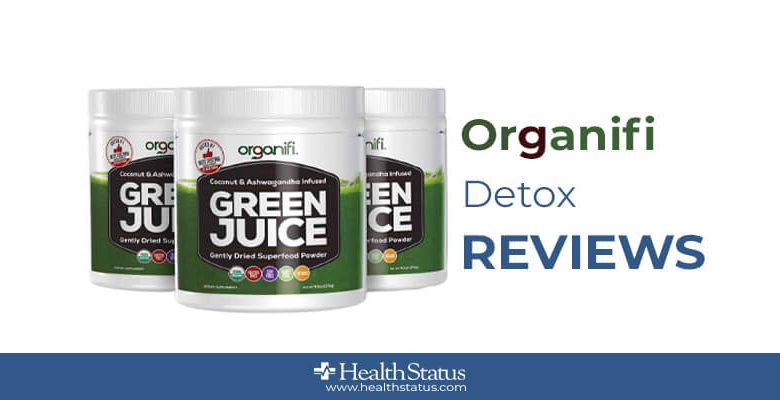 A recent study by the Center for Disease Control (CDC) shows that only one out of every ten Americans eat enough fruit and veggies. And even for those of us who place a premium on what we eat, getting all the minerals and vitamins our body needs can still be a challenge. 
Consequently, in a bid to eat healthier, most people often turn to green juices. And it's not difficult to see why. 
Green juices are convenient, easy to consume and provide lots of nutrients in a single gulp. More importantly, they are readily available and don't cost an arm and leg to sustain. Organifi is one of the most popular detox brands in the world of green juice. But questions still remain about the authenticity and efficacy of their green juice. 
In this Organifi Green Juice reviews, we try to address these concerns and see whether or not it lives up to the hype as the best green juice out there.  
What is Organifi Green Juice?
Organifi Green Juice is a premium superfood drink that provides several health benefits. It comes as a gently dried powder with organic greens that can be mixed with water and gulped down without any need for juicing. 
The proprietary blend is designed to provide plant-based nutrition that resets your body and boosts immunity. In other words, by using the supplement, you can get your daily greens without altering your daily routine too much. So, there is no need to buy fruits and make your own juice from scratch, which means no messy clean-ups. You can drink it at home (preferably in the mornings) or on the go. 
Organifi is mainly promoted as a detoxifying drink and packs no less than 11 superfoods, including vitamins, minerals and antioxidants. 
Besides "alkalizing" your system and enhancing your immune health, the formula also helps with weight management. Each serving contains 30 calories, 6g of carbohydrates, 1g of protein and 3g of fibre. You also get different daily values (DV) of calcium, iron and sodium. Altogether, there are 30 servings in each container, which covers the 30 days in a month.
Drew Canole, founder and CEO of FitLive TV, is the brain behind Organifi.
Produkt
Organifi Green Juice
Producent
Organifi
Main Functions

I mproves overall health and wellness
Helps to boost the immune system
Helps to enhance energy level and combat stress
Provides many superfoods benefits

Skutki uboczne

Nie ma poważnych skutków ubocznych

Składniki
Ashwagandha, mint leaf extract, coconut water, spirulina, beets, Moringa, chlorella, turmeric, match green tea, wheatgrass, coconut water and monk fruit (for sweetening)
Dawkowanie
One scoop of powder once/twice daily
Ilość
279g
Cena
$65.97
Wysyłka
Available worldwide
Recenzje
⭐⭐⭐⭐
What are the ingredients of Organifi Green Juice?
Organifi Green Juice is wholly vegan and includes only natural organic extracts. It is soy-free, dairy-free, gluten-free and doesn't contain GMOs. Here are the main ingredients. 
Moringa: Moringa is a plant native to India and Southeast Asia, so it's not something you would normally find in a grocery store. Even if you did find it, it would probably come with a heavy price tag. So, having in the green juice is a great deal for you.The plant contains all the nine essential acids that help repair and grow healthy cells. It is often called a "miracle detoxifier," and that is because it rids the cells of toxins. Other things found in the plant include Vitamin A, -B6, -C, -E, -K, iron, magnesium, calcium and antioxidants. Moringa can also lower inflammation, cholesterol and blood sugar levels.
Chlorella: Chlorella is a rich source of protein, polyunsaturated fats, and other vital nutrients. In fact, besides being abundant, it's a powerhouse of superfoods, more nutrient-dense than kale, broccoli and spinach. It has a greenish-blue color which stems from its high chlorophyll content. Like Moringa, it also contains antioxidants and thus is used for detoxification. Studies show that it can attach itself to heavy metals in the body and remove them. Chlorella is also employed in China as a traditional remedy to provide restorative and calming effects - also known as YIN energy.
Mint : Who doesn't know about mint? Apart from its refreshing smell and cool flavor, the leaf has very powerful antioxidant properties. For centuries, it's been used as an organic cure-all product. It is known to aid in digestion, pain relief, cramps, sleep, and teeth whitening. The leaf also contains rosmarinic acid, which is commonly used to treat cold and allergies. People with nausea and gastrointestinal problems can also take mint leaf or supplements containing mint. Overall, consuming mint regularly will help improve your overall well-being. 
Spirulina: Spirulina is laden with Vitamin E, which can help to improve insulin sensitivity, reduce stress and boost your energy levels. It's also rich in calcium, which puts it in the same category as milk, except it has 26 times more calcium. So, it's essentially milk on steroids!
Beets: Most people don't like to eat beets in its full form, which is understandable given the texture and flavor. However, it tastes a lot better when transformed into powder, especially when used in a drink blend. Beets is highly enriched with folate and manganese, which is great for the heart, pancreas, liver, and muscles. It also contains Vitamin C, fibres, and minerals like potassium, which help the nerves to function well.Research also shows that a diet containing beets can help improve the condition of patients with type 2 diabetes, hypertension, dementia, and atherosclerosis.
Match Green Tea: Match Green tea is well-known for its nutritional benefits and has been drunk in Japan for centuries. It is the highest quality green tea as it contains 100 times more antioxidants than regular green tea.The powdered tea is also rich in catechisms and helps to improve memory and concentration. It can also be used to detoxify the body and increase energy. Other benefits of Matcha include calming the mind, stress reduction, improved brain function and heart health, hormone regulation and reducing appetite.
Wheatgrass: Like Chlorella, wheatgrass is an excellent source of chlorophyll. It is known for its healing properties mainly because it contains a decent amount of almost every mineral known to man. It also contains vitamins (A, K, and B-complex) as well as protein with 17 amino acids.Talking about chlorophyll, wheatgrass contains about 70 percent chlorophyll, which helps build blood and slow down ageing.
Ashwagandha: Ashwagandha is another popular Ayurvedic medicine native to India but also cultivated in China and Nepal. It is also known as the "Indian ginseng."It is known to help the body fight stress. This includes internal stressors such as toxins, anxiety and nervous tension, as well as external stresses like fatigue and environmental toxins. It does this by reducing cortisol (stress hormone) production. The same hormone is also responsible for weight gain.Ashwagandha can also help to reduce inflammation and blood sugar levels and destroy tumor cells. 
Tumeric: You probably know turmeric as a yellow/orange spice with a distinct flavor. Beyond that, it's been used as a herbal remedy in Ayurvedic medicine for so many years. To this effect, it's commonly referred to as the "Indian saffron" and possesses strong antioxidant properties and is thought to help with arthritis, digestion and menstrual regulation. Tumeric is also believed to improve energy and dissolve gallstones and contains another miracle Indian ingredient - curcumin. Studies show curcumin offers many medical benefits, including boosting BDNF levels to combat regeneration, treating heart disease and easing symptoms of arthritis.
Lemon: The yellow citrus fruit is commonly used as an appetite suppressant to make you feel full. And it works by alkalizing the body, which is essential to stabilize blood sugar levels.There are other nourishing elements in lemon such as folate, vitamins, iron, magnesium, protein, riboflavin, niacin, calcium and many more.You will get a lot of health benefits by drinking a glass of lemon water every day, particularly in the mornings. Luckily, you can avail yourself of the same benefits and more by taking Organifi.
Coconut Water: You know this one. High in potassium, coconut helps all the ingredients in Organifi Green Juice to move throughout the body. In other words, it aids the transport of these ingredients through the bloodstream to get to their target organs or areas in the body.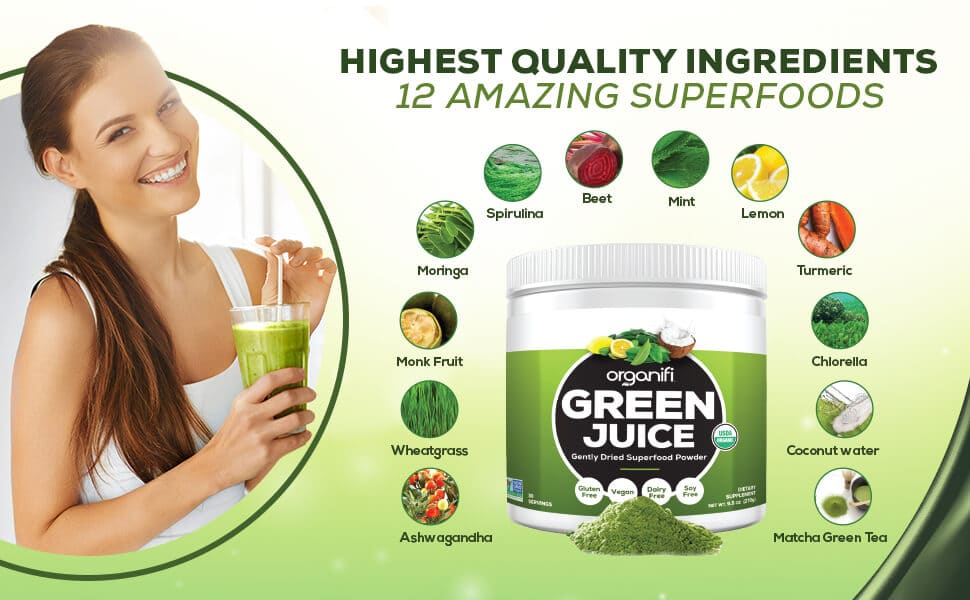 How does Organifi Green Juice work? How good is the effect of Organifi Green Juice for weight loss?
Organifi is pretty straightforward in the way it works. It's a healthy blend of nutrient-rich ingredients that provide a wide range of benefits. For example, it rids the body of toxins, which is essential to maintain balance. It is also known to boost the immune system and contains some powerful antioxidants. 
Matcha Tea extracts, one of its main ingredients, helps boost your energy levels, while another ingredient, ashwagandha, helps combat stress. If you haven't done so already, you can look up the previous section on the ingredient list to see other benefits.
One of the advantages Organifi has over other green juice is that it doesn't contain any stimulants (a good example is caffeine). So, you can use it for extended periods and not worry about experiencing unpleasant side effects. It mixes wonderfully well in water or smoothies and absorbs very quickly when ingested. This makes it a great option to start your day.
The ingredients in the formula have all been verified to be vegan and organic and don't include gluten, soy, or dairy products. It's basically a lot of healthy herbs in one place for a price that is hard to beat! We also recommend you to see our other product that is great for health Omega XL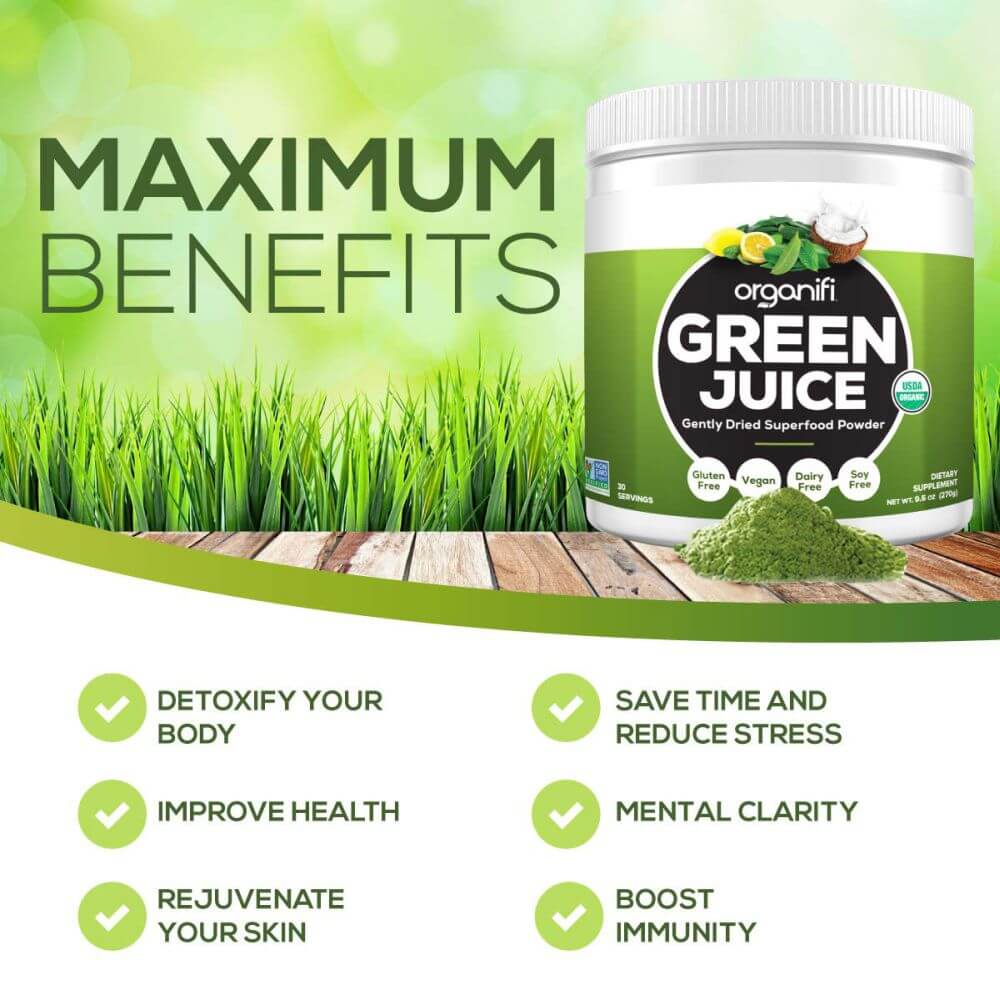 How do you use and dose Organifi Green Juice for best results? Our dosage recommendation – How much Green Juice should you take? 
Preparing Organifi Green Juice is very simple. For a single dose of the juice, just add one scoop of the powder to 8-12 oz. of cold water. You can also use your favorite beverage in place of water. But we recommend using water, so you can enjoy the natural flavor that comes from the superfoods in it. If you decide to use a beverage, then a good choice would be almond milk or some other smoothie.
According to Organifi, the juice is best taken in the morning, every day. In this case, you can make it a staple in your breakfast. But we prefer you take it without any infusions, to enable it to work faster and absorb quickly in the body. 
There are 30 servings in a bottle, and the recommended dosage is 1-2 servings per day.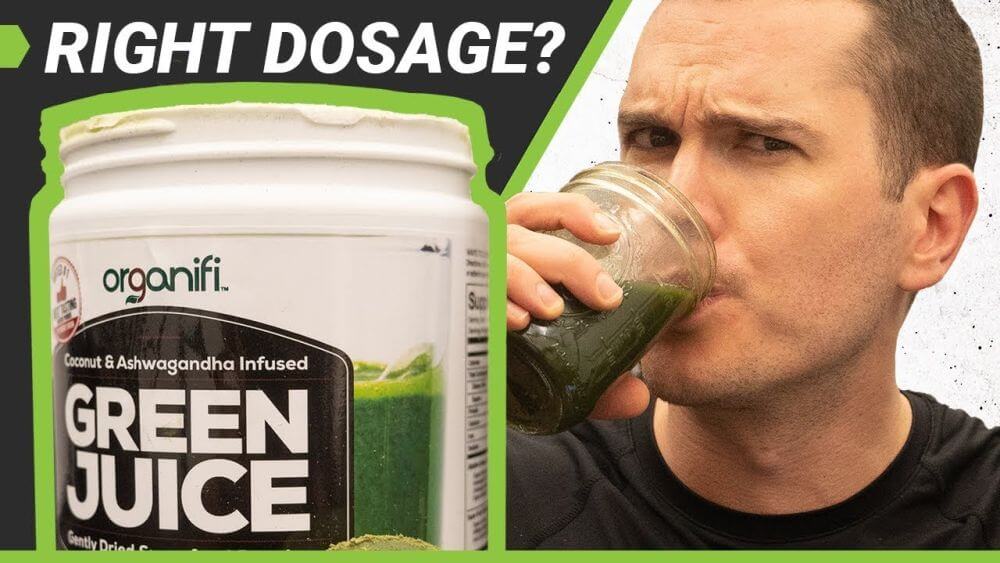 How long does it take for Organifi Green Juice to work?
When you take Organifi, you will experience a calming effect of peace and feel more relaxed. This usually happens after the first hour or two. However, it takes longer to reduce the stress indicators and other conditions. It usually takes a few days (3-7 days). It might take up to 2-3 weeks to see results in some people. Whatever the case, make sure you take it continuously; sooner or later, you will get the result you want.
According to the manufacturer, you should use the product for up to 60 days before making conclusions. You can ask for a refund if you're not satisfied.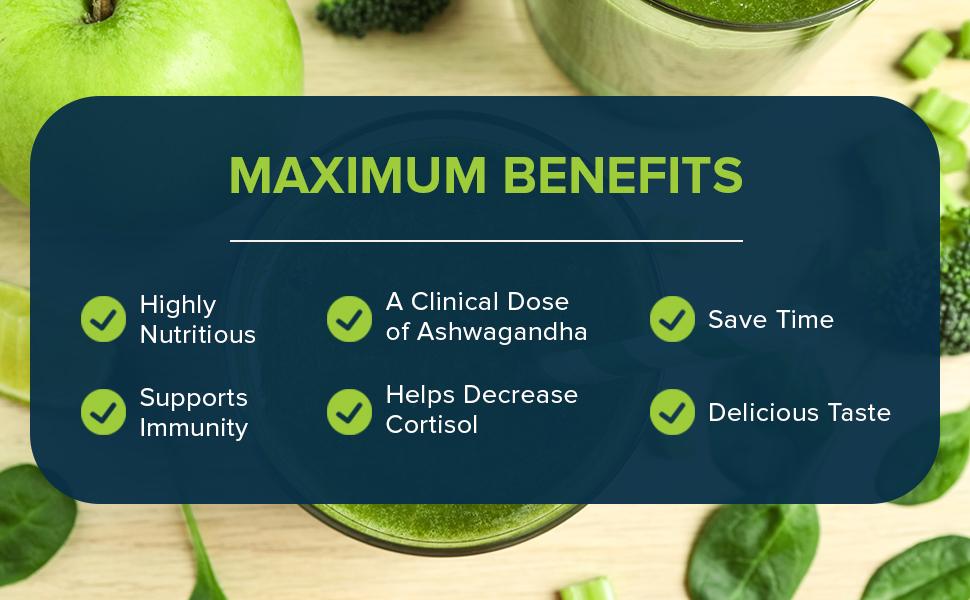 Organifi 2023 clinical trial assessment and results: Is Organifi Green Juice safe to use?
Organifi is generally considered to be safe for consumption. It is certified organic and authorized by the FDA, as well as all the ingredients. So, there's no question about its authenticity. Most people who use the proprietory blend don't experience any side effects or adverse reactions. 
While Organifi doesn't claim to have carried out any clinical trials, the Green Juice is made following strict quality control and production guidelines in an FDA-approved facility. The overwhelming positive feedback on the product online is a testament that it works.
The most noticeable effects of the juice are perhaps mental sharpness and increased energy. Many users also said it helped them lose weight and make healthier eating choices.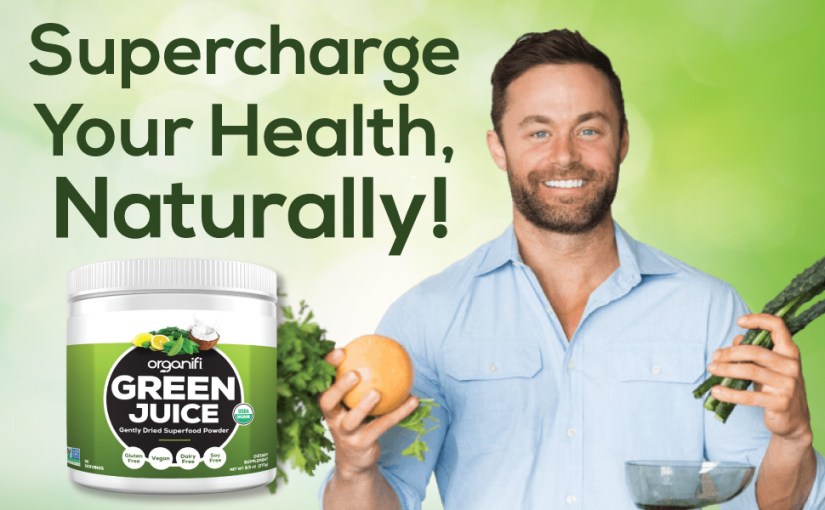 Organifi results before and after: does Green Juice really work, or is it a scam?
Yes, Organifi Green Juice does work, especially when used continuously and taken as directed. There are very few vegan products (if any) that are as much good sources of protein, fibre, and nutrients. Though the results vary with individuals, the table below should give you an idea of what to expect along the way. 
| | |
| --- | --- |
| Czas trwania | Wynik |
| Po dwóch tygodniach | After two weeks, you may notice an improvement in your skin texture. Most customers reported that their skin had more glow. Also, you should notice a difference in your weight. Specifically, the effect of the powder on weight should start showing.  |
| Po jednym miesiącu | At one month, the powder detoxifies the body, improving your gut health. You should also notice its effect on your mood. Specifically, you mood should lightened up.  |
| Po dwóch miesiącach | After two months, Organifi minimizes stress and increases calmness. Side effects experienced from the first week fade completely, and the usual state of the body is restored. |
| Po trzech miesiącach | By this time, you should have recorded incredible progress in mental health and overall wellness.  |
Our Organifi Green Juice review and rating: Zupoo pros and cons
Organifi Green Juice isn't perfect - no product is. Here are some of the most common upsides and downsides of the product.
Plusy
Made using only natural ingredients
Helps to boost immunity
Helps to keep the gut clean
Reduces feelings of stress 
Slows down ageing
Detoxifies the body
Supports nutrient absorption
Includes only natural flavors and sweeteners
Free of gluten, dairy and soy
Completely organic vegan product
Helps to control sugar cravings
Comes with a money-back guarantee
Cons
Might cause migraines in some people allergic to tapioca 
A bit expensive compared to other vegan juices
Not available in a local store and pharmacy
Some users might find it too sweet
Organifi Green Juice positive reviews
Organifi Juice reviews online have been mostly positive. Over 90 percent of the customers who used the product have expressed their satisfaction. These include feedback on the brand and those gathered from several retail stores like Amazon, eBay, and Walmart. In fact, the brand has an A rating from the Better Business Bureau, which is a big deal. The best part is that you can return it and receive a refund if you're not satisfied. 
Organifi Green Juice negative review
The pricing is quite high when stacked against other green juices on the counter. But this is only because it's very effective. However, you can still get a special discount if you purchase through our partner vendor. 
Another negative aspect of the product is that it isn't available offline, so you have to get it through the official site or a retail store online. Some users may also experience some minor side effects, but this should subside after a few days or weeks of using the product.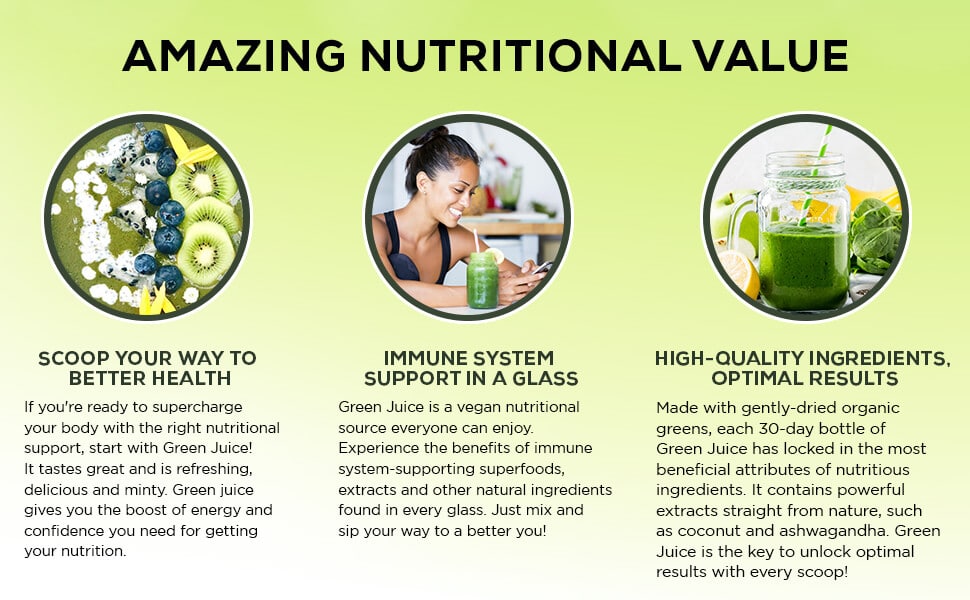 Organifi reviews on the internet and forums like Reddit or Consumer Reports:
Most customer reviews about Organifi on the internet and forums are largely positive. In fact, the 5-star ratings are more than what you will find for any other green juice. 
In fact, the majority of people on Reddit and Quora recommend it as a daily supplement. They believed it helped improve their mental health and maintain a healthy diet. They also said it has a palatable flavor and seems to mix wonderfully compared to other superfood drinks in the market. 
However, few customers complained of the bottle not being full; however, it's worth noting that the product is sold by weight. There were also complaints of a few side effects, such as stomach discomfort and diarrhea, but these are usually mild and minimal and don't happen with everyone. 
Was Organifi Green Juice in the Shark Tank?
No, Organifi Green Juice is yet to be featured on Shark Tank. So, it doesn't have any connection with the reality TV show.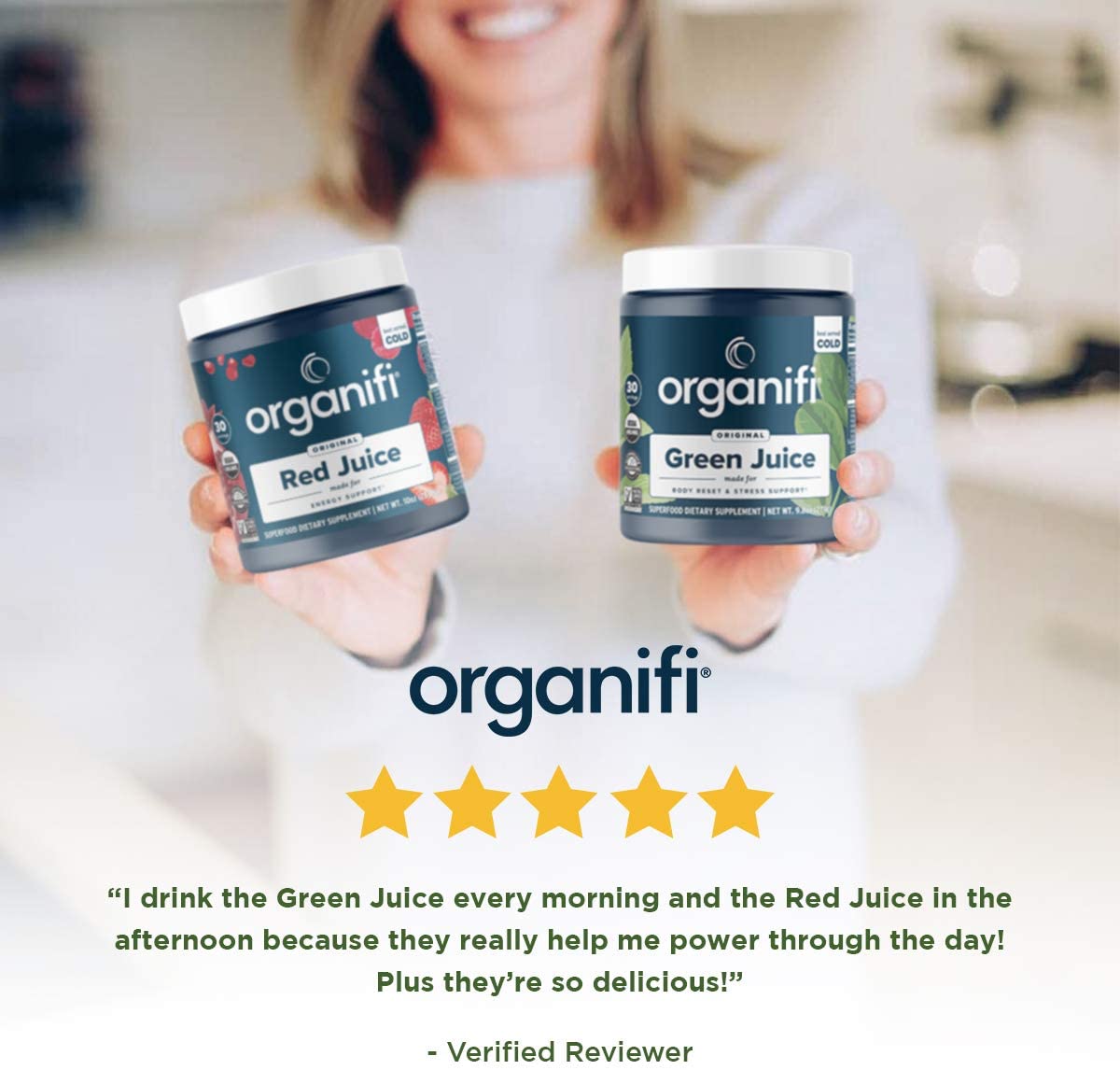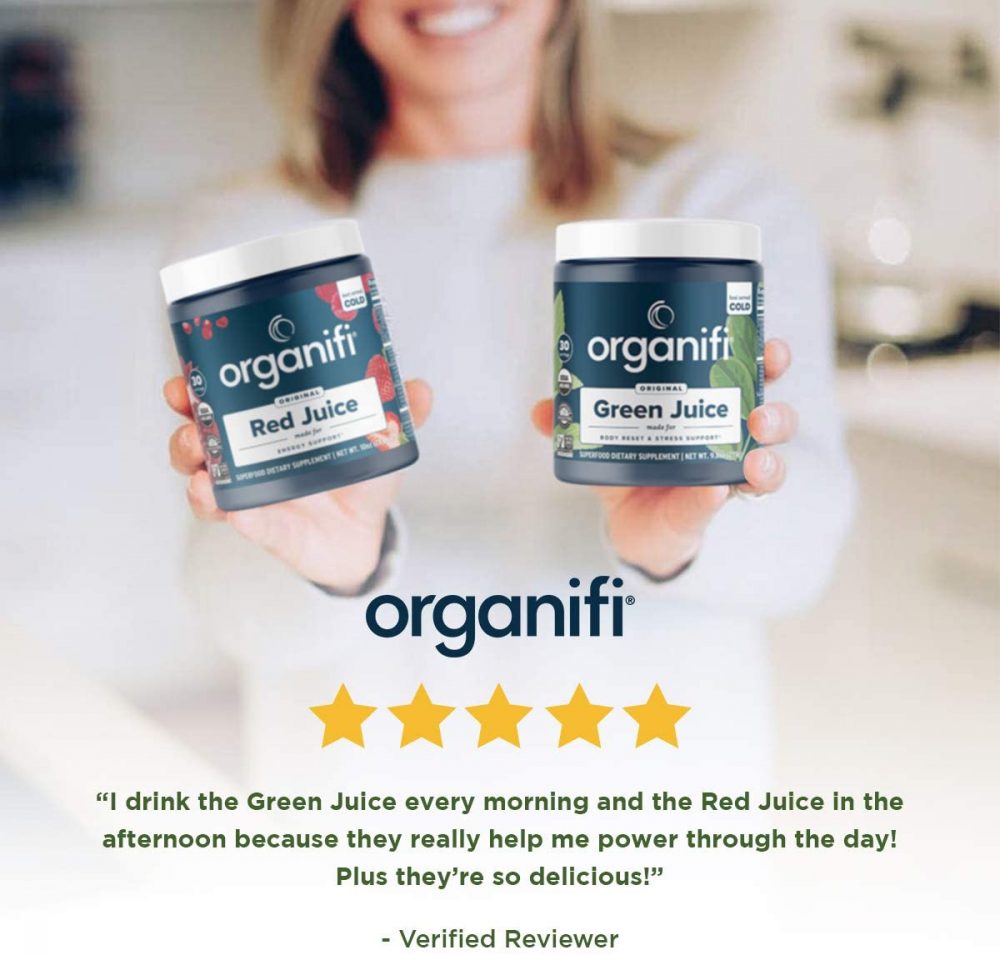 Is Organifi Green Juice reputable, or are there any warnings about Organifi Green Juice on the internet?
From all the evidence available online, Organifi Green Juice is LEGIT. This can be easily seen in how it surged in popularity. The majority of the reviews online are in favor of the product, which proves its legitimacy in helping users achieve physical and emotional wellness without any adverse side effects.
Interestingly, Organifi offers a 30-day money-back guarantee on the supplement, which is great! So, you can try it out, and if you're not satisfied with the results within the first month, you can ask for a refund. Thus, the odds are in your favour, and you have nothing to lose!
What do I need to consider if I want to discontinue Organifi Green Juice? 
Organifi Green Juice is made using natural ingredients that are beneficial to your health in many different ways. There's no single preservative or chemical in the product, so it doesn't pose any serious health risk. In other words, you don't need to worry about any withdrawal symptoms if you decide to stop using it. On the brighter side, taking the juice regularly will help improve your health. 
Where can you buy Organifi Green Juice? Organifi price comparison & deals for sale
If you're an ardent online shopper, your first impulse might be to head over to Amazon or Walmart to purchase Organifi Green Juice. But that wouldn't be the best move. Although the product is available on Amazon and other retail sites, the best place to get it is directly from the manufacturer through our partner vendor. This way, you will save up to 8% on the bottle and be sure you're getting the original juice. You can also qualify for some special discounts and offers.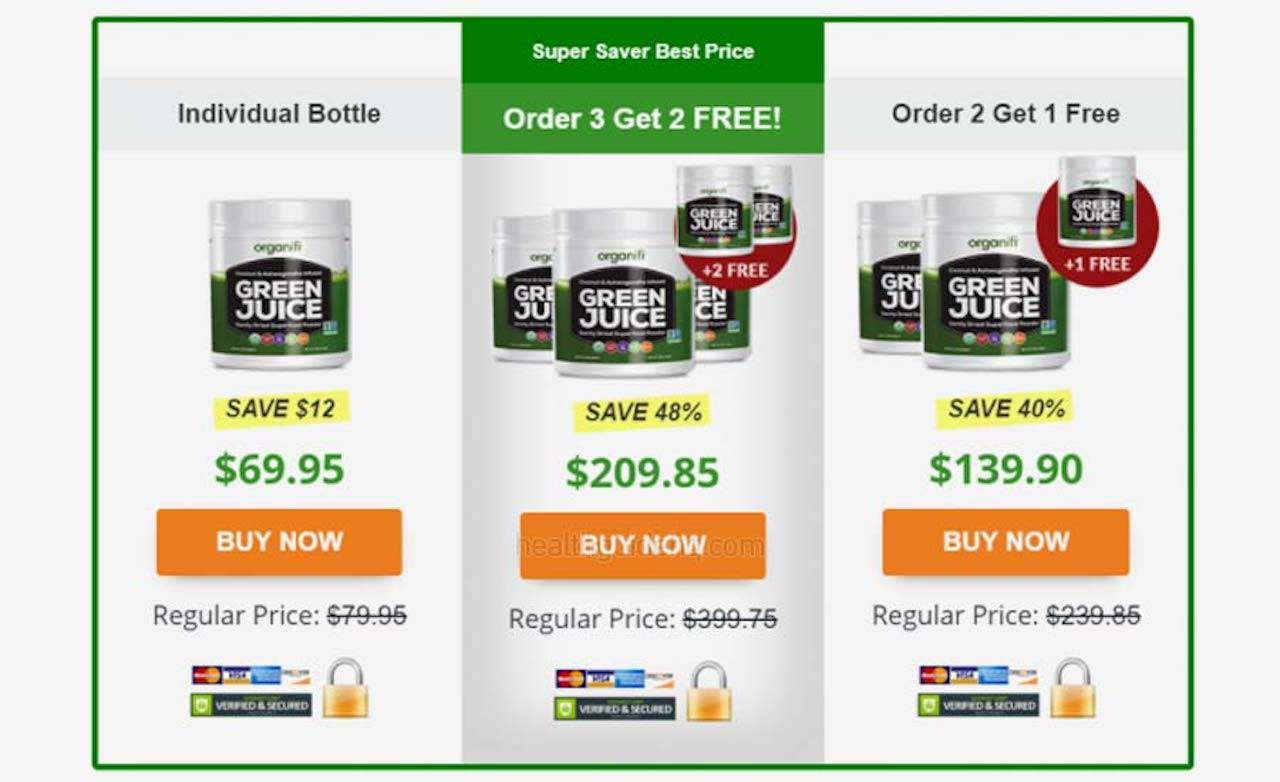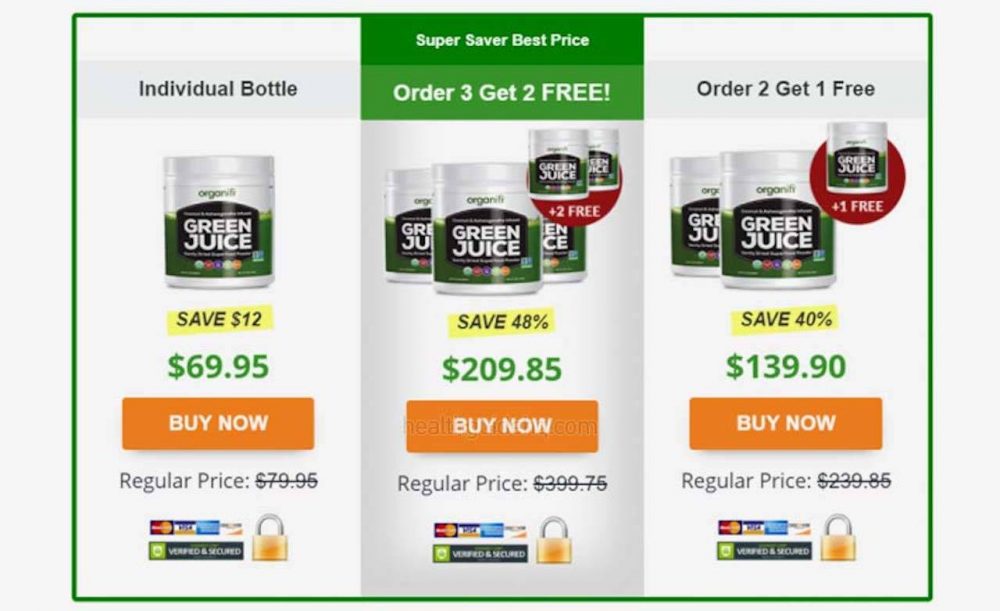 Can you buy Organifi Green Juice in a pharmacy?
No, you won't find the juice in a local store or pharmacy. At the moment, you can only get it online; this helps to reduce duplicity of the original product. 
Organifi Review Conclusion - Our experience and recommendation
If you're the busy type and want an easy and effective way to supplement your diet, then Organifi Green Juice is formulated for you. There are three main reasons why we recommend the product: First, it's convenient and saves time. If you don't always have time to prepare and eat a proper meal, the juice will come in handy. It is simple and quick to prepare; just add a scope in cold water and get the daily nutrients you need.Second, it will help improve your energy levels and mental clarity. This is usually experienced after the first month of usage. Third, it has a great taste, much better than many other green juice powders. In fact, some people might find it "too sweet."However, it's worth noting that Organifi juice is not a meal replacement, nor is it meant to replace the fruits and vegetables you are meant to consume daily. It's just a supplement, which means it is used essentially to "fill in the gaps" for what you're meant to eat and to make up for those days you miss the important bits, like when you have a busy schedule.Having said that, it contains many special ingredients you may not get from your normal homemade green smoothie. When taken consistently, you can expect a huge improvement in your overall health. 

Frequently asked questions about Organifi Green Juice.
How much does Organifi cost, and where can I buy Green Juice for the cheapest price?
Are there any Organifi deals or coupon codes?
Is it possible to buy Organifi Green Juice on eBay and Amazon?
Are there any criticisms of Organifi Green Juice, or is it recommended to take Green Juice?
Does Organifi Green Juice have any risks or side effects?
Is it safe to take Organifi Green Juice continuously?
Who is behind the manufacturer of Organifi Green Juice?
Do I need a prescription to buy Organifi Green Juice?
Recenzje użytkowników