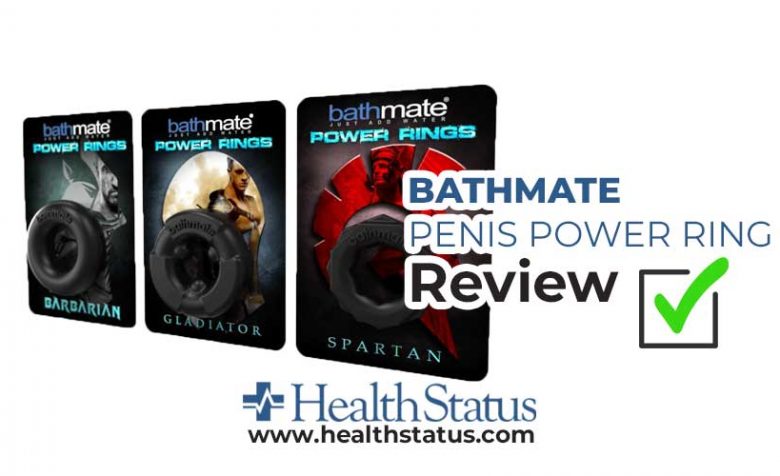 Failing erections and premature ejaculation are some of the most disturbing problems for many men. Let's face it: struggling for several minutes to get an erection, only to ejaculate and lose it soon after starting intercourse with your partner, can be frustrating. 
What if there was a way to prolong that erection? After researching this topic, we learned that you could use penis pumps to get an erection and then sustain that erection using a cock ring. While many penis pumps and rings exist, Bathmate hydro pumps and Power Rings seem to stand out for various reasons. This review looks at the Bathmate Power Rings; what they are, how they work, whether safe, and whether they are worth trying. 
What are Bathmate Power Rings?
Bathmate Power Rings are the brand's proprietary cock rings and the latest addition to their range of male enhancement products. 
The power rings are made from a unique blend of TPR (thermoplastic rubber) and TPE (thermoplastic elastomer). The company refers to this unique blend as Elastomex, a trademarked name. 
Elastomex is a phthalate-free material with a porous characteristic. It is tough and highly flexible. The material is considered the strongest and most flexible of its kind in the market, making Bathmate Power Rings a market leader today.  
The blend has jelly-like porosity but without the nasty chemicals associated with jelly. It is also stretchy and medical-grade like silicone, except silicone, is non-porous. The rings are flexible enough to fit comfortably over a wide range of penis sizes with these characteristics.
The company sells the Power Rings in packs of three rings, each with a distinctive characteristic. The three available designs include the Gladiator, Barbarian, and Spartan. 
Gladiator—has three nubs on the inside of the ring. This design is intended to add pleasure by pressing specific target spots on the penis shaft. 
Barbarian—is a smooth, rounded cock ring with no additional modifications to its design. The round design is meant to ensure maximum surface area comes in contact with the penis to prolong the erections.
The Barbarian design is excellent for people with no previous experience using cock rings. 
Spartan—the last one on the list; Spartan ring features an attractive octagonal design. The ring is designed to provide the tightest fit of all three power rings. This grip should result in stronger, harder erections. 
With the varying ring designs, each ring has a different diameter and potential grip on the penis shaft. They also vary in width, making them suited to people of different penis sizes. Here is a summary of the shared aspects of the three rings.
Product

Bathmate Power Ring

Features
Thick and Flexible
Where to use
Penis
Price
$25.00
Shipping

Free Shipping

Rating
⭐⭐⭐⭐⭐

5/5

Refund Policy

60 Days
How do Bathmate Power Rings work? Do Bathmate Power Rings really work?
By design, an erection occurs when more blood enters the penis than leaves. When the erectile tissue inside the penis carries more blood for longer, it results in a prolonged erection. However, if the blood leaves the penis sooner, the erection is lost. This is where penis rings come in. 
The power rings create a tight grip around the base of the penis, helping keep the blood from leaving the penis prematurely. By helping to keep the blood responsible for an erection inside the penis, the manhood can remain erect for much longer.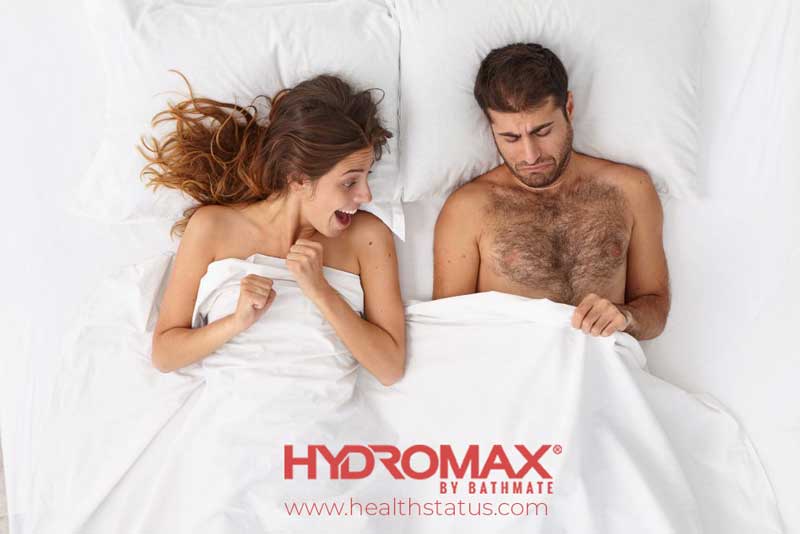 The different power ring designs can also stimulate the penis to get a firmer, harder erection. They can also add to the pleasure the female partner feels as they form an added ring of stimulation rubbing against their organ during intercourse.
With all these rings in your possession, you can opt to use them simultaneously to add a whole new dimension to your sex experience. 
For persons with erectile failure, the rings can be a great way to ensure the penis does not lose its firmness and instead remains erect and improves their sex life. You can use them alongside penis pumps that help create an erection, then switch to the rings to maintain that erection. 
How do you use Bathmate Power Rings for best results? 
You can use the Bathmate penis rings on their own or alongside a penis pump. Most people, however, prefer to use the rings with one of Bathmate's penis pumps. The pump helps you achieve an erection effortlessly; then, the ring helps keep the penis from getting soft.
How to use the Bathmate Power Ring on its own
Whether you prefer to use all three rings or just one at a time, the procedure is straightforward. 
Start by placing the ring over the head of your flaccid or partially erect penis. Then apply generous amounts of a skin-safe, water-based lubricant on your penis shaft to allow for smooth rolling of the rubber against the skin. 
Once that is done, roll the ring down to the base of the penis. You can do all these things independently or let your partner do it. 
Many men find it more pleasurable to let their partners put the ring for them. The partners tend to get lots of pleasure in rubbing the water-based lubricant on the penis. Even better, your partner will most likely savor rolling the ring down the shaft and watching the cock get rock hard while doing so. 
Once the ring is in place, you can then proceed with stimulation and intercourse. For many people, the entire experience is mind-blowing. 
Using Bathmate Penis Ring with a penis pump
The best way to use the cock rings is perhaps in conjunction with a penis pump. This is especially helpful for people experiencing soft erections or erectile failure. 
If you have difficulty getting an erection or maintaining one, you can use one of the Bathmate hydro pumps to draw blood into the penis and make it erect, then place the power ring at the base of the penis to keep it from getting soft.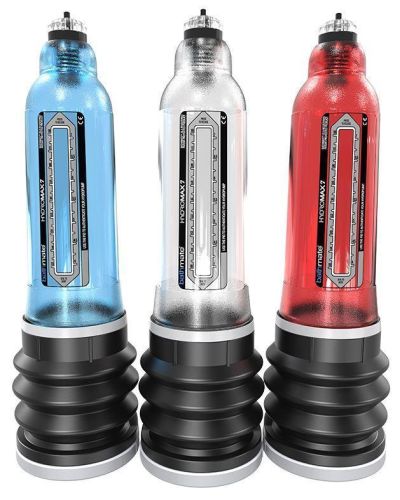 This combination can significantly improve your stamina and sex life overall. Just ensure you slide the ring onto your erect penis immediately after pumping, so it doesn't get soft. 
Many men who use this approach report bigger erections than usual. The cock ring also helps keep the erections longer, leading to more satisfying intercourse. 
An ideal way would be to stretch the ring over the chosen Bathmate hydro pump base while setting it up. This way, you would simply slide the right onto the shaft after achieving an erection. Unfortunately, the Bathmate penis pumps are not designed to accommodate the ring at the base, so you must use them separately, one after the other. 
Choosing your Bathmate Power Ring
Bathmate power rings are available in three different designs and sizes. 
The largest of the three is Barbarian. It features a smooth circular design, excellent for men with no prior penis ring experience. Ideally, it is an ideal choice for someone just starting out with cock rings.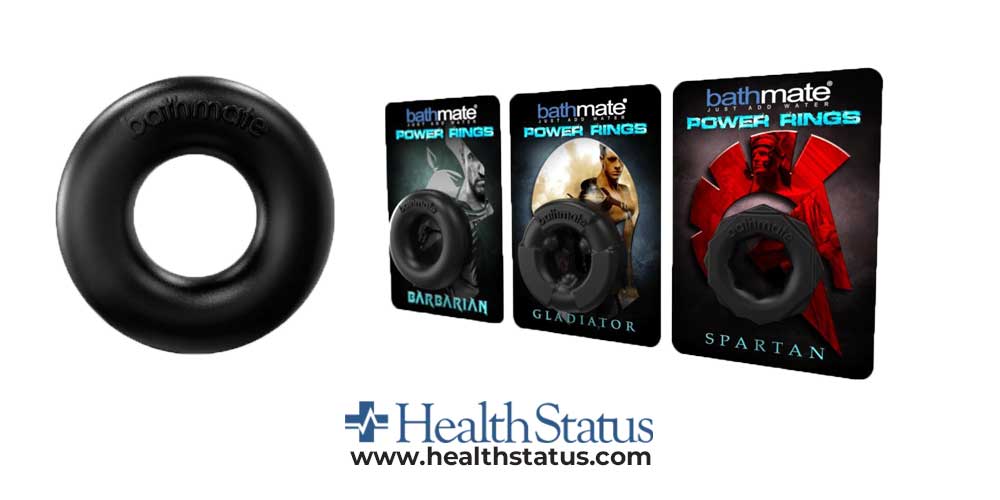 The Gladiator is a smaller ring and features three internal nubs that let you adjust the pressure on different parts of the penis shaft. In other words, this cock ring is designed with a customized sexual experience in mind.
The Spartan is a mid-sized ring and features an octagonal design. This cock ring offers the tightest fit, responsible for much longer, harder erections. 
Being tight, the Spartan might be more comfortable for men with previous penis ring experience or those with smaller girths. 
The Barbarian, which is a much larger penis ring, might fit better on someone with more girth on their penis. Alternatively, you could use it on both the penis and balls together if you have an average or smaller-sized shaft. 
The Barbarian ring is pretty stretchy, so you do not necessarily have to select your ring based on a correct fit. However, you may want to go for the smaller rings (the Spartan and Gladiator) for use on the shaft alone. If you want to use the ring over the penis and testicles simultaneously, consider the Barbarian. 
How long does it take for Bathmate Power Rings to work?
The power rings simply sit on top of the penis, so they do not require time to work. Once you have an erection, place the ring tightly but comfortably on the base of your penis, and the effect should be immediate. The ring will instantly stop blood from flowing out of your erectile tissue, giving you the desired prolonged erection. 
How big can you get from using the Bathmate Power Rings?
The Bathmate Power Rings allow you to reach the maximum length of your erect penis. If used alongside a penis pump, the fully erect penis can be a few inches longer and thicker than when you do not use any ring.
What is the packaging of Bathmate Power Rings?
When you buy your penis rings from the official Bathmate site, you get a pack of all three power rings at a reduced price of only 25 dollars. In the packaging, you find the following three different power rings:  
Barbarian—is a smooth circular ring, the largest of all three rings. It measures 0.8 inches in diameter (the hollow inside diameter) and 0.6 inches in thickness. 
Spartan—is a textures ring with an octagonal shape. The Spartan is one of the two smaller Bathmate rings, measuring 0.75 inches in diameter. While the Spartan may look different from two other penis rings, it does not feel much different when you wear it due to the flexible material.
Gladiator—is another smaller ring from Bathmate. It features three internal nubs for extra pleasure and measures 0.7 inches in diameter and 0.5 inches in thickness.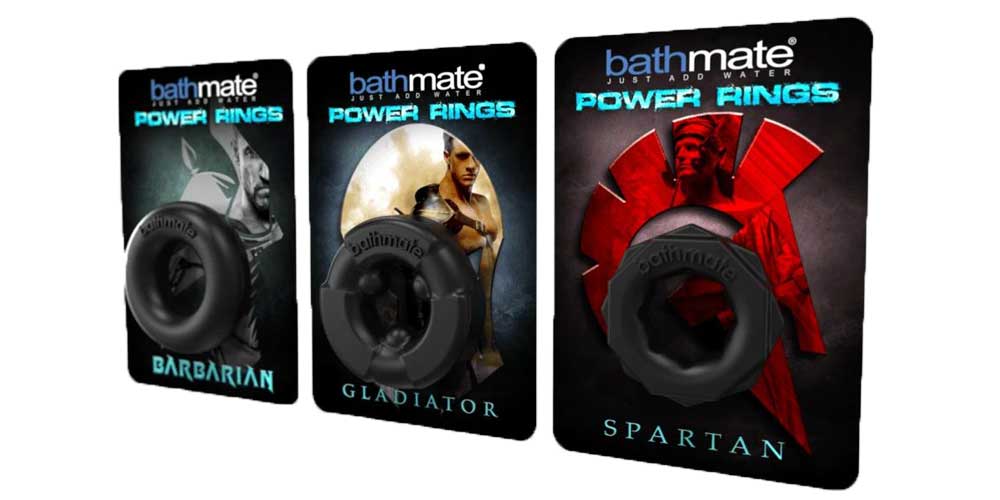 Bathmate Power Rings 2023 clinical trial assessment and results: Is Bathmate Power Rings safe to use?
According to recent studies, bands or rubber rings that fit around the base of the penis, such as Bathmate Power Rings, can help people maintain an erection. The clinical studies note that such rings may support the treatment of erectile dysfunction and other similar erection-related issues. 
If you are new to penis rings, you may feel reluctant to try them on, but this is completely a natural reaction we have to most new experiences.
However, once you start using them and noticing their numerous benefits, you may soon be immersed in the experience, wanting to use them with each intercourse. Both men and women tend to benefit and enjoy intimate relations when the rings are involved. 
According to the company manufacturing the power rings, the products are made of a patented material comprising a unique blend of TPR and TPE. 
TPR is an abbreviation for thermoplastic rubber, and TPE stands for the thermoplastic elastomer. According to a medical journal, TPR and TPE are materials with excellent elasticity and mechanical properties. More importantly, they have low inherent toxicity and comply with medical and food contact regulations. As such, they are a safe choice for use on the body. 
Bathmate's unique blend known as Elastomex is, therefore, a safe material that should not pose any health risks to the users. It is proven phthalate-free and is tough, and highly flexible.
Features of the Bathmate Penis Rings
They are durable
Skin-safe
Phthalate-free
Designed for external use hence non- invasive
Smooth and comfortable
Flexible and soft to the skin
Compatible for use with the complete range of Bathmate hydro pumps
Bathmate Power Rings results before and after: do Bathmate Power Rings really work, or is it a scam?
Feedback from most users indicates that the rings do what their maker claims they do: enhance the quality of erections and help support therapy for erectile dysfunction. 
We found all three rings to fit perfectly well on the same person from our tests. Each ring did an excellent job of prolonging the erection by holding blood inside the penis. Our experience was consistent with that of several other users we received their feedback.
Bathmate Power Rings results after two weeks:
After two weeks, you will find yourself comfortable using Bathmate power rings to improve the quality of your erections. You may find the rings slightly uncomfortable initially. But after using them for a few instances, you should find that changing and you getting ever more comfortable using the penis rings. 
Bathmate Power Rings results after one month:
After one month of using the penis rings during your intercourse, you should expect to be fully comfortable using them. Your erections will be strong and lasting longer than before you started using the power rings. 
Bathmate Power Rings results after two months:
Two months is plenty of time to get used to penis rings. It should no longer feel like a separate object from your body at all. With that much practice, you will ideally feel no difference having the rings on. They will be like an extension of your body. 
Bathmate Power Rings results after three months:
After using Bathmate power rings for three months, you should be so used to the rings that you do not enjoy sexual intercourse without them on. The more you practice using the penis rings, the more they become an inherent part of your sex life.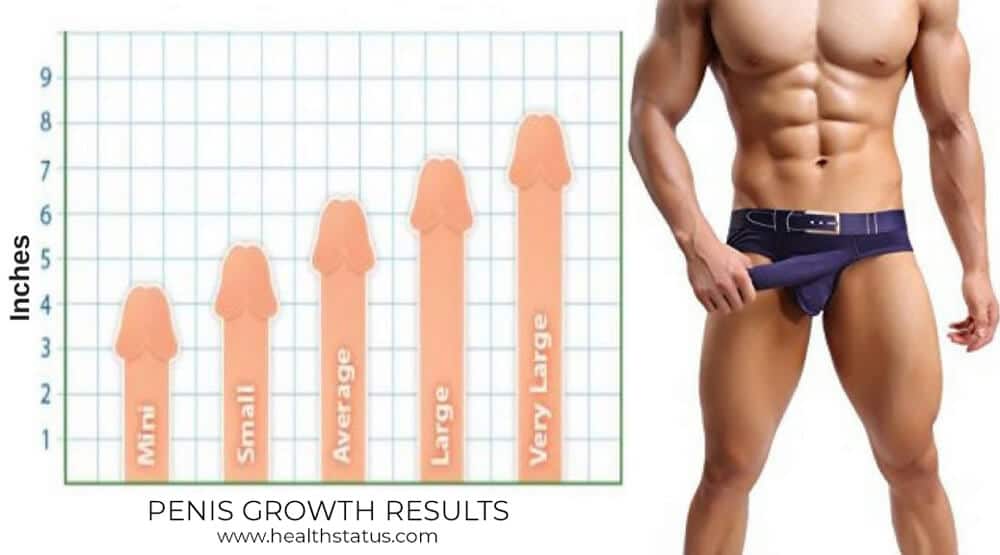 Our Bathmate Power Rings review and rating
The Bathmate power rings are truly some of the best in the market today. They feel very soft and smooth against the skin, making them comfortable to wear. 
While each ring has a different shape from the other, all three penis rings feel very comfortable to wear. If you want to prolong your erections, each of the two smaller rings does an excellent job keeping blood from leaving the penis to let it get soft. 
Bathmate Power Rings pros and cons
Here is a rundown of the strengths and limitations associated with these penis rings.
The pros
They prolong your erection
They help you get bigger and harder erections
Bathmate penis rings may support therapy for erectile failure, according to clinical research.
The rings can help your partner enjoy more pleasure during intercourse
The rings are made of skin-safe material
They are flexible enough to fit a wide range of penis sizes
They come in three different designs for versatile sexual experience
They are soft and feel comfortable against the skin
The rings are easy to use and safe
They are affordable
The cons 
The rings may emit an oily odor when new
They may feel uncomfortable for first-time users
Bathmate Power Rings reviews on the internet and forums like Reddit:
The Bathmate power rings are a recent addition to their range of male enhancement solutions, but they have garnered significant popularity due to their effectiveness. Many users seem to get a kick out of the rings.
This is the possible reason why so many people have something positive to say about the rings on different internet forums, including Reddit.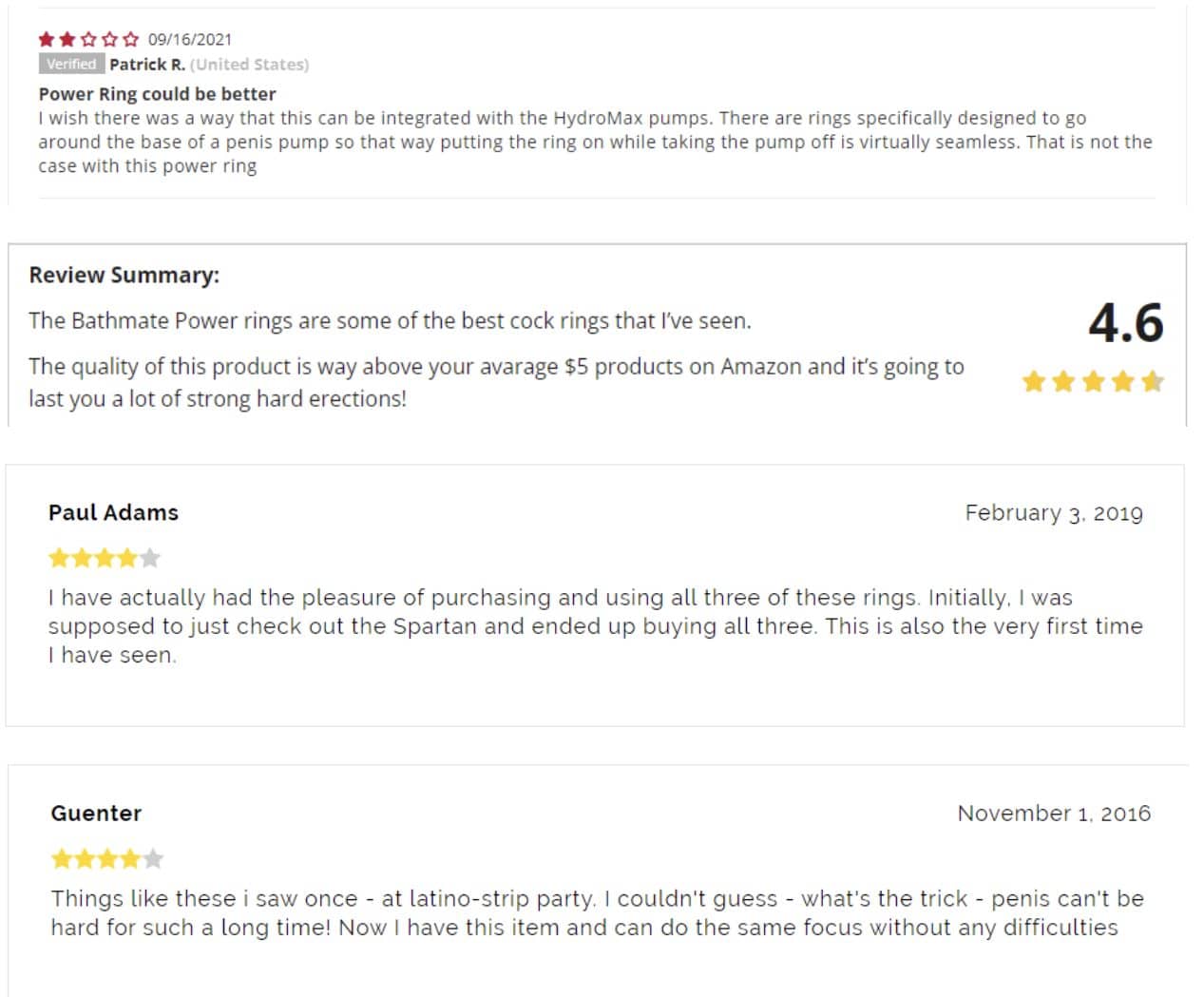 Like any popular product, the Bathmate rings also have a few people who are less than impressed with their performance. One user complained about his ring tearing apart soon after buying it. We find this to be a rare scenario because our experiments with the rings revealed them to be highly sturdy and durable due to their exceptional elasticity. 
Is Bathmate Power Rings reputable, or are there any warnings about Bathmate Power Rings on the internet? 
We did not find any warnings about Bathmate power rings, and our research did not reveal any reason to worry about the rings. 
We are convinced the rings are reputable based on the many positive customer feedbacks on different online platforms. The Bathmate penis rings are also certified and approved by a reputable research body in the United States. Such certification would not be associated with a non-reputable product. 
What do I need to consider if I want to discontinue Bathmate Power Rings? 
Bathmate power rings do not cause any withdrawal symptoms if you discontinue their use. They are meant purely for external use, and that means you can use them when you want and stop when you want.
The only thing that happens when you discontinue your use of these rings is missing out on their numerous benefits. Your erection may not be as hard or last as long as they do when you work with the rings.
Where can you buy Bathmate Power Rings? Bathmate Power Rings price comparison & deals for sale
Bathmate's best-selling cock rings, referred to as Power Rings, are available on the company's official website. The company sells the rings in packs containing all three rings; each pack getting you the entire collection at $25.00  
Can you buy Bathmate Power Rings in a pharmacy?
Bathmate Power Rings are not available for purchase in pharmacies or local drugstores. To buy your pack, better head over to the Bathmate site and get your purchase at the lowest prices. Also, buying directly from the manufacturer ensures you get the original quality guaranteeing the expected results. 
Bathmate Power Rings Review Conclusion - Our experience and recommendation:
Bathmate penis rings are ideal for adding another dimension to your intimate moments. The better erections you get from using penis pumps can be an excellent way to make your partner happier and yourself proud. 
When used alongside penis pumps, the rights go a long way in prolonging an erection and keeping the penis from getting soft, which we found particularly essential for people with weaker erections. 
The company sells all three rings at just 25 dollars, which is such a good value for money in our opinion. 
Do we recommend the Bathmate power rings? Indeed we do. For any man who wants to improve the quality of his erections, the power rings can be a valuable addition to your list of valuable possessions. Consider grabbing the pack of three or get yourself any package you prefer from the company website. 

Frequently Asked Questions About Bathmate Power Rings
How much do Bathmate Power Rings cost, and where can I buy Bathmate Power Rings for the lowest price?
Are there any Bathmate Power Rings deals or coupon codes?
Is it possible to buy Bathmate Power Rings on eBay and Amazon?
Are there any criticisms of Bathmate Power Rings, or is it recommended to take Bathmate Power Rings?
Do Bathmate Power Rings have any risks or side effects?
Is it safe to use Bathmate Power Rings continuously?
Who is behind the manufacturer of Bathmate Power Rings?
How to clean Bathmate Power Rings?
When should you use Bathmate Power Rings?
Sources
https://www.medicalplasticsnews.com/news/stretching-the-boundaries-termoplastic-elastomers-safety-per/
https://www.ebay.com/itm/353169353874
https://int.officialhydromaxpump.com/products/power-rings
https://thegrittywoman.com/bathmate-power-rings/
https://aiclegal.org/bathmate-power-rings-review/
User Reviews