Many people are familiar with the debate about the medical uses of the cannabis sativa plant products. 
What few people may know is that these medical uses do not only apply to humans but also to pets. Cannabidiol or CBD oil, which has become a significant trend in medical supplements, is derived from the Cannabis sativa plant, or simply cannabis or hemp.
While this product has a huge fan base for its wide range of uses, few people know the full range of its uses. 
This article provides information about CBD oil for dogs, reviews the five best CBD oils for dogs 2022, and compares them to help you decide what might be best for your pet. 
Read along to learn about the benefits of CBD oil for dogs, including alleviating anxiety, pain, nervousness, and seizures. Also, read through our detailed list of the best CBD oils to buy in 2022 to help cut your research work by finding all the information you need in one document.
Why and How We Made a List of the Best CBD Oil for Dogs?
Our Reason for Writing This Article
All of us here in HealthStatus are animal lovers and pet parents. Although each of us cares for a unique animal species, we all agree on one thing 一 We always want what's best for our dogs, cats, reptiles, amphibians, birds, pigs, fish, ferrets, rodents, marsupials, you name it.
Our pets can suffer from various physical, emotional, and mental conditions. Most of the time, their problems come with old age. Sometimes it's caused by the environment we share with them and the lifestyle we live. Then there's the chance of accidents.
It breaks our hearts to see our pets suffer from pain, and it's even more heartbreaking to deal with the fact that there's nothing we can do to lessen or make the hurt disappear. But one team member shared a bittersweet experience of her dog and CBD oil in our Skype discussion of pet owners:
"Sunnah, our dog before, was suffering from arthritis and kidney disease in her last eleven months. She couldn't stand straight for long, walked weirdly, vomited a lot, peed in places where she should not, became bedridden, and lost her appetite. The vet told us there was nothing that could be done, and she had more or less three months left to live. Her medications no longer worked, and increasing her doses of pain relievers would cause liver damage, amplifying her suffering and accelerating the countdown of her remaining days."
"The only option left was that she had to be put down to stop prolonging her pain. We were devastated, especially my daughter, who Sunnah was very fond of as they grew up together from baby and puppy to college student and a Jack Russell Terrier mother of 33. We said we'd think about it and went home together. In our heads, Sunnah was really old. Nineteen years of being a source of joy to our home were more than enough for her. But we just weren't ready to say goodbye. At least not yet for the moment."
"She was getting more and more emaciated as the days went by. Sunnah couldn't fully stand up to eat her meals. We had to spoon-feed her and use a watering tube every day so she wouldn't starve and thirst. Even so, she only ate a few chunks of her food and drank a few ounces of water. That's when we decided to have her put down because we could no longer stand to see her condition worsening every day. We called the vet and got a schedule due in five days."
"Fortunately, two days after calling the vet, a close friend of mine with her daughter visited our place to ask for my help finding a buyer for their property in Winnipeg. I could never forget that fateful visit. She immediately noticed how gloomy our home and expressions were and that there wasn't a lively Jack Russell Terrier that greeted them. We told her about Sunnah's condition, the decision we've made, and the incoming schedule with the vet."
"But before my daughter and me burst into tears after sharing such a grim reminder, my friend interrupted us with, 'Hold your tears, it isn't too late. You haven't tried giving Sunnah CBD Oil for dogs, haven't you?' I just looked at her with furrowed brows. I didn't know what this CBD oil she was talking about. Then my daughter had this 'eureka!' moment. She, my friend, and her daughter took turns explaining what CBD oil is and its benefits."
"I'm familiar with the use of cannabis plants for medical and recreational use among people, especially in cancer patients. But I have never heard that it has a specific compound that can benefit animals medically. It was even more dumbfounding that CBD oil products are mainstream, widely available, and mostly legal in countries where cannabis plants of any sort are viewed negatively."
"I was immediately sold, thinking that there was nothing to lose aside from a few dollars. The way they explained CBD oil for dogs to me sounded so promising. I made my daughter order two oil tincture bottles from CBDistillery right away before proceeding to the discussion about my friend's Winnipeg property."
"The day before Sunnah was scheduled to be euthanized, I called the vet to cancel our appointment and told him we intend to try giving our dog CBD oil as her food supplement. We then did our best to keep her alive until the bottles arrived. Fast forward a week after we've received the oil tinctures and giving Sunnah regular doses, we noticed an improvement in her eating and drinking."
"At first, Sunnah was eating more than just a few chunks of her high-calcium food compared to when she was badly emaciated, but she immediately drank a lot of water due to thirst, a side effect of taking the Oil. She eventually regained her appetite and weight. Her vomiting lessened and stopped. On the second week of taking CBD oil, Sunnah tried to stand on her front legs to eat from her bowl. But she could only hold the position for a few minutes."
"The third week of regular CBD consumption was when we saw some significant improvements. She could stand on her front legs and hold the position as long as she wanted. Then Sunnah started to move her hind legs. There were times when she could fully stand but would immediately sit out of pain. So we increased her dosage."
"After a month, Sunnah could walk around the house, but she couldn't run. Her walking posture wasn't that normal yet, but it also improved in the following days. A month and a half of taking CBD oil have allowed her to walk casually. She can also jump from the floor to the sofa at times. The vet called out of curiosity about Sunnah's current condition one day. We scheduled a routine checkup."
"The vet was astonished to see Sunnah appearing to be in good condition. Like me, he also didn't know about the wonders of CBD oil for dogs. However, there was still nothing we could do about Sunnah's kidney disease. We were instructed to continue giving the Oil as her food supplement as it showed to be an effective dog pain reliever and appetizer. Sunnah died in her sleep last November 7, 2021, just the day before she came into our lives back on November 8, 2001. Our last memory with her was all of us cuddling while watching a standup of Bill Burr about dogs on YouTube. Although it was sad for my daughter and me to see our little angel go, it brings us comfort to know that her last eleven months after being diagnosed with arthritis and kidney disease wasn't spent in agony."
"We were able to see Sunnah walk again and cuddle with us in the living room as she did during her younger years. I'm very thankful that my close friend was able to introduce CBD oil to us on that fateful day. She's one of the reasons Sunnah died happy and in peace. I'm also thankful to scientists, researchers, CBDistillery, and other CBD oil makers for their discoveries and for creating products that helped humans and animals with medical conditions live without chronic pain. Lastly, to our dear Sunnah, we love you, little lady. Run free!"
No dog deserves to die sad and in pain, and no dog owner deserves to be heartbroken knowing that their companion died suffering. While it's true that we cannot relieve the pain of all the animals with medical conditions in the world, we can still do better by not giving up on our dogs when they get sick or are terminally ill. Even if not giving up involves the use of non-conventional medications and supplements.
Among those non-conventional treatments is the administration of CBD oil. We feel the desperation of canine owners when the vet says they can do nothing to treat or make the dog's condition manageable. Not everyone is as lucky as our colleague to have a friend introduce a product their dog needs the most on-time. This is why her story has inspired us to make a product comparison and review of CBD oils for dogs.
This article aims to help canine parents and lovers make the best and fastest decision when buying CBD oil for their dogs. We intend to spread awareness of CBD oil benefits for dogs so that more owners can help their companions receive a natural alternative treatment before giving up on their furry loved ones.
We apologize for such a lengthy article and asking you to share this blog post through your social media. With your patience, understanding, and help, we hope to have our piece appear first and be advertised on Google's top search pages when people make future queries about CBD oil for dogs. We also hope to have this article be suggested on the homepage of Google's smartphone apps.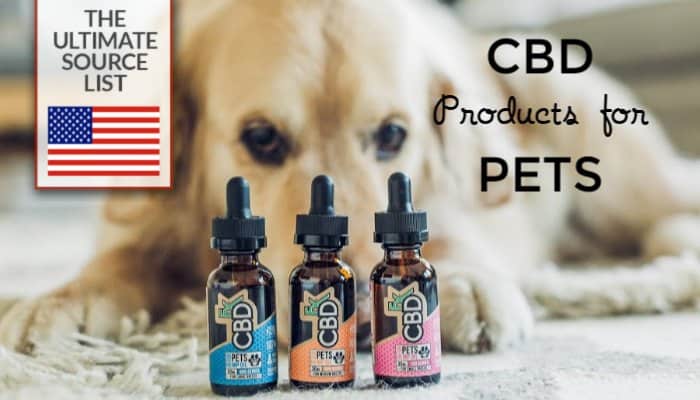 Our Methods for Writing This Article
Information is essential for making the best purchase decision among customers. Although we aren't makers of CBD oil products and will not benefit from endorsing the brands on this list, we follow a strict code of diligence and fairness in our research. This allows us to deliver authentic, unbiased, understandable, comprehensive, and complete information. These are the research methods we abide by in making this list of the best CBD oils for dogs:
Review of third-party test results

– We visited the websites of every brand we put on this list. Then, we looked for studies and tests conducted by third-party laboratories. Brands that failed to provide third-party data only showed data based on their testing and claimed to have their products tested by a third-party lab with no proof are not included on this list. Other grounds for brand disqualification are the lack of certifications from hemp authorities, government agencies, and if a product's lab test results did not reach standard compliance.

Review of farming, production processes, and cruelty-free testing

– Brands that conduct animal testing for their products are disqualified from this list. This business practice shows that the manufacturer has no chemical knowledge, lacks the instruments and equipment to create safe CBD oil formulations, is unassured of their products, or has no general idea for making CBD oils.
How the hemp plant is grown before undergoing the CBD extraction process determines the safety of the Oil for consumption by dogs. Brands that have been found using pesticides or other harmful chemicals during the hemp farming phase are disqualified from this list.
Aside from safe hemp growing practices, brands must also have proof of compliance with the USHA's standards for clean, safe, and modern production laboratories. Those who don't comply will not receive a certification from the USHA or any other hemp standard organizations are disqualified. This rule will ensure that all CBD oil products are not contaminated with microbes and other materials that would cause disease or harm to a dog.
Overall, we choose brands that value transparency. The more transparent a CBD company is, the more you can trust its products for your dog's treatment in terms of efficacy and safety.
Review of opinions and testimonies from experts in the pet industry, influencers, content creators, and customers –

We scoured the web for the opinions of experts in the cannabis and veterinary medicine industry regarding the use of CBD oil for dogs. Their views are vital to answering the questions of "How does CBD oil work for dogs?", "Is CBD oil safe for dogs?", "What is the right CBD oil dosage for dogs?", "What are the benefits of giving dogs CBD oil?" and "Are there any side effects of CBD oil for dogs?"
Influencers and customers are the best sources for the first-hand effects of CBD oil for dogs. After all, they're the actual testers of the products from the brands featured in this list. We have collected and carefully examined their reviews from social networks like Reddit, YouTube, Twitter, and Facebook while following the rule of verifying the reviewer's account first.
We don't want to take random strangers for their word as they might be bots created to boost a brand and product's rating. Influencers and content creators with views a thousand and above are exempted from our thorough background screening. All reviews presented in this article have been carefully handpicked and prioritized based on recency.
If we find unsatisfactory, lacking, and few testimonies and opinions in the aforementioned social networks, we will supplement the insufficiencies by providing screenshots from reliable, unbiased, and incorruptible customer-review platforms like the Better Business Bureau (BBB), Consumer Reports, Trustpilot, and REVIEWS.io
Review of National Institutes of Health publications and top-performing publishers

. When it comes to providing scientific facts, research, and studies about the effects of CBD oil on canines, we used the published journals provided by the National Center for Biotechnology Information (NCBI). It is a part of the National Institutes of Health's (NIH) United States National Library of Medicine (NLM) branch.
Other scientific and medical information is taken from peer-reviewed, fact-checked, and credible publishers such as Healthline, WebMD, and The New York Times. We used the data available from the sources mentioned above as references to ensure that the crucial information you'll find in this product comparison is truthful, unbiased, and impartial.
Review of non-sponsored experiences from HealthStatus staff members.

Team members of HealthStatus who acquired canine CBD oils with their own money and used them on their dogs were asked to provide a non-biased and unbiased review on their purchased tinctures. We chose to do this because we can get additional and honest data regarding rules on how to give a proper CBD oil dosage to a dog, how long the extract will take effect, and the results one can expect in days, weeks, and months of regular CBD oil use.
We acknowledge that our staff members' honest answers won't be enough to provide you with accurate dosage measurements. The same goes for their dogs' before and after data after daily CBD oil consumption. However, we'll run a comparison of our teammates' experiences to the instructions of the CBD oil manufacturers, discussions of social network users, and the clinical trials conducted by third-party testers. This will help us find the standard variables that you can use for precise dosages and the results of CBD oil to your dog that you can expect.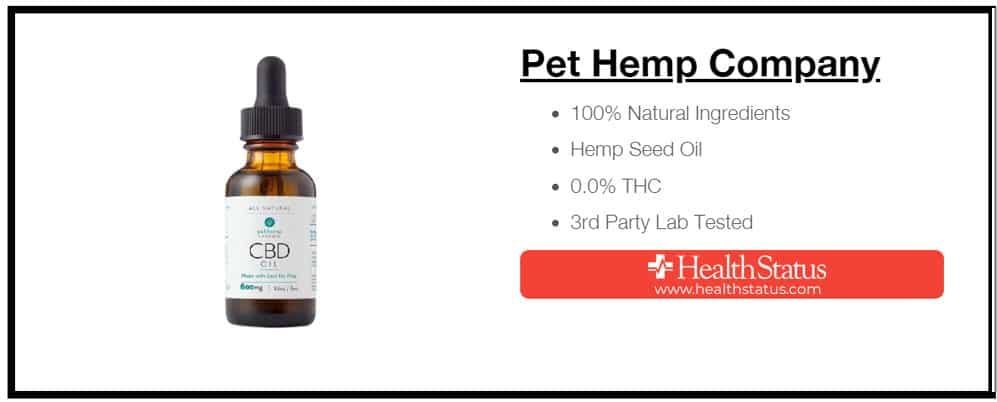 How Effective is CBD Oil for Dogs?
As mentioned, dogs are part of the animal classification that hosts endocannabinoid receptors. This means if dogs were to ingest CBD oil, they would experience a calming and pain-relieving effect. Not only that, but CBD oil also changes their appetite, metabolism, mood, and sleeping pattern — mostly for the better.
All in all, CBD oil is an effective and safe plant extract to consume for your dog. The only time a cannabidiol oil product won't yield therapeutic benefits to your canine is when the potency of the Oil you bought is too weak for your dog's needs, or you bought a bottle from an unreliable brand/scammer. But don't worry, we'll also provide details on how to avoid being tricked.
In the reviews and rating section below, we've included screenshots from comments and discussions of verified users who have given positive and negative reviews about the general use of CBD oil for dogs. The screenshots are taken from Reddit, Twitter, and Facebook. We have also included negative and positive testimonies about the different CBD oil brands for dogs found on this list.
Just a quick reminder, CBD oil doesn't have any properties for curing diseases in dogs. It's a natural alternative if conventional medications no longer work to provide canines with pain relief, seizure reduction, anti-inflammation, immune system support, and anxiety reduction. If you stop giving your dog CBD oil in the future, the symptoms of their condition will return.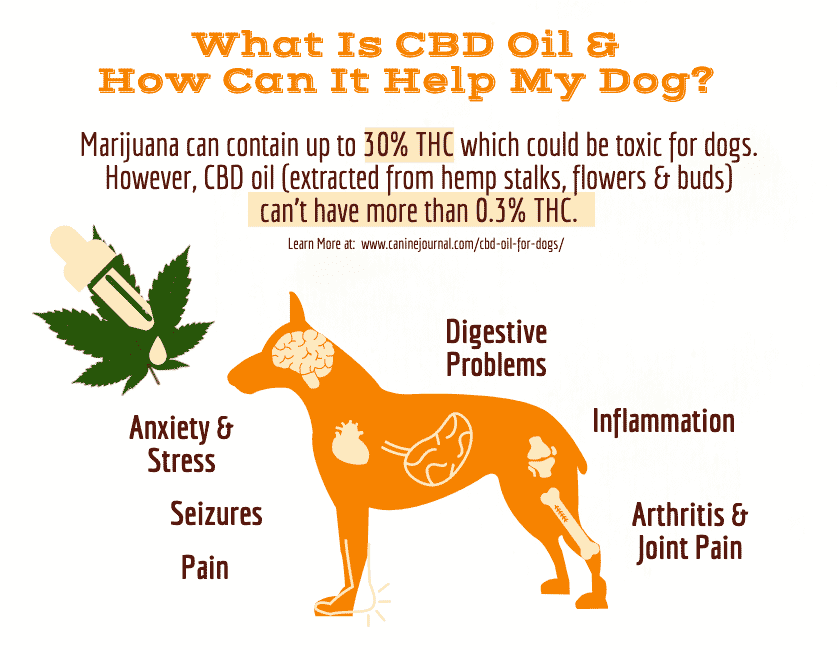 10 Factors We Used to Pick the Best CBD Oils for Dogs
1. Price and Discounts Available
Not all of us can easily afford CBD oil. It's not cheap despite being mainstream, and one small bottle is usually consumed before the end of the month. But that doesn't mean you have to sacrifice your other necessities just to get your dog a cannabis-based treatment. Only a few brands offer low-value oil tinctures, and we've made sure to include them in this product comparison.
2. Transparency of the Manufacturer
We have mentioned in our methods for writing this article> This includes how we carefully evaluate manufacturer/brand transparency because we care for your experience as a customer.
This list does not include brands that are not transparent or lack vital information regarding the ingredients, manufacturing practices, lab results, and pricing of their products.
3. Customer Service Review of the Brand's Official Website
Manufacturers can produce high-quality or unique CBD oil formulas but negatively affect their customer pool. However, we made the decision to include them on this list as there are many factors that would cause delivery and customer service problems. We will still issue a caution under each brand's review so you can avoid the hassle of dealing with problematic sellers.
4. Purity of the CBD Oil and the Overall Formula
Each CBD oil maker differs from one another regarding the formulas they use. One might follow a more potent CBD concentration (measured in milligrams), while the other uses a higher vitamin to CBD ratio. There are also those who create products with just the cannabidiol compound diluted in pressed hemp seed oil. This factor will help us create a diversified list of CBD oil for dogs which you can peruse depending on your canine companion's needs.
5. Company Policies
The policies of a CBD oil company regarding shipping, return, and refunds show how committed and how far it's willing to go to serve and keep its customers happy. Although brands that do not have the aforementioned policies do not give customers a feeling of security in their purchases, we still give them the benefit of the doubt. There are companies that are highly confident in their products and services.
We still aim to reduce the risk of readers experiencing future dissatisfaction. In order to do that, we included cautionary signs regarding company policies for each canine CBD oil brand/product.
6. Lab Results
CBD oil makers that underwent clinical testing from reliable third-party laboratories and shared the results publicly were top priorities when we made this list. We then analyzed each of their products to label which bottles are the best for each type of canine medical condition. Aside from that, we carefully examined every test result and disqualified products that were found to have dangerous concentrations of tetrahydrocannabinol (THC).
7. Size and Potency Variations
Like humans, canines come in different builds and can suffer their own sorts of medical conditions. This is why we considered the different potency and size variations of canine CBD oil products when we made this list. The dosage of CBD oil for a dog is determined by its size, weight, and condition severity.
Larger dogs might require small doses of high potency oil, while smaller ones would need small doses of low potency oil. Some dog owners might want to buy a bigger bottle to save on shipping fees and avoid the hassle of frequent checkouts, while other dog parents would prefer to buy a small bottle first to try the efficacy of the product themselves.
8. Isolate
Isolate is about how many manufacturing processes the cannabis plant underwent to remove all compounds leaving only the cannabidiol. Considering isolate levels of each canine CBD oil bottle is very important as THC — the psychoactive compound found in cannabis plants is toxic to dogs, especially in high amounts.
9. Hemp Source, Growth, and Production Quality
Where the hemp came from, how it was grown, and the quality of process it had undergone before it took the oil form is vital to the efficacy and safety of CBD oil for dogs. Canine CBD oils made from hemp grown outside the US and Canada are disqualified from this list due to the environmental impact of shipping, the risk of the hemp's overall quality being altered during transit, and who knows what kind of hemp growing practices outside sources follow.
It's legal to grow hemp in Canada and the US, where most CBD oil makers are regulated and monitored by trusted organizations and government agencies like the U.S. Hemp Authority and Canada Health. There is no need to outsource the raw ingredient.
10. Spectrum Types
CBD oil products are made and marketed in two different spectrums: Broad and Full. Broad-spectrum CBD oils undergo minimal processing and, on average, contain less than 0.3% of THC per bottle.
Dog owners choose broad-spectrum oils for their pets as there's a heightened effect caused by other compounds found in other cannabis plant parts. In summary, a broad-spectrum canine CBD oil is the best choice if your dog suffers moderate levels of symptoms.
Full-spectrum CBD oil is the least processed. You can even see some plant particles remaining if you closely inspect a full-spectrum CBD oil inside a medicine dropper. This spectrum class has the strongest heightened effect.
Despite being the least processed CBD oil type, full-spectrum oils still follow the "less-than-0.3% THC" standard making it safe for your dog's consumption. Full-spectrum CBD oil is the best choice for dogs with severe symptoms and medical conditions.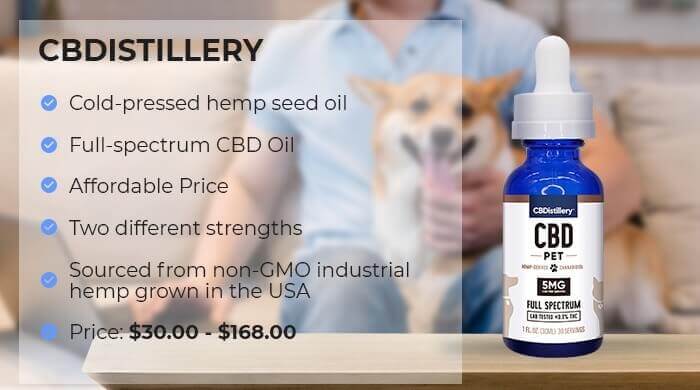 What is the Best CBD Oil for Dogs 2023: Top CBD Oils for Dogs in 2023
1. CBDfx's Dog Tincture – the best overall
CBDfx's dog tincture is one of the company's signature products. The company has been in operation since 2014, registering year over year success mainly due to the superior quality of its products. 
All of CBDfx's hemp comes from a state-of-the-art farm in Kentucky. This hemp is grown organically without the use of pesticides and other potentially harmful chemicals. This approach allows them to maintain a specific level of quality unbeaten in the market. 
Once the hemp plants are ready, the company extracts cannabidiol from the plants using an eco-friendly single-pass CO2 method. This special extraction method results in pure, premium-quality CBD that keeps some 23,000+ customers happy.
Buying CBDfx CBD oil for your dog allows means getting the same quality CBD oil the company uses in its products for humans. This means getting the very best on the market for your best furry friend.   
CBDfx's dog tincture has been tested by SC Labs, a verified third-party laboratory, to guarantee the finest quality. 
Pros of CBDfx's dog tincture
Various options are available to suit every dog type and breed—from 250 mg of CBD for small breeds, through 500 mg for medium breeds, to 1000-2000 mg of CBD for larger breeds. 

Various discount options with associated discount codes are available on the company website when you purchase three or more CBD products. 

The company also offers exclusive loyalty discounts to customers 

They have highly responsive customer service 

A 60-day return policy is available for unopened products.

The product is made from top quality human-grade ingredients

The tincture is gluten-free and non-GMO, making it safer for your dog 
Cons of CBDfx's dog tincture
Some customers, especially from outside the US, complain of opened packages, damaged goods, and unfavorable return policies.
2. CBD American Shaman—runners up
This is a gluten-free, ultra-concentrated hemp oil supplement rich in terpene. The CBD American Shaman dog oil is derived from all-natural, superior quality industrial hemp and manufactured through special proprietary nanotechnology.
The special manufacturing technology makes CBD American Shaman the only hemp extract soluble in water. 
This CBD product is available in two options for dogs. The first option is the canine CBD hemp oil tincture, and the second one is the water-soluble canine CBD and terpene-rich option.
Both options are ideal for a pup in need of support for mobility on one experiencing lots of stress.  
The nanotechnology used in the manufacture of CBD American Shaman makes it a fast-acting product that is up to ten times more bioavailable than standard hemp oils. As such, it can give your dog the quickest relief when he most needs it. 
The water-soluble option is designed to be more bioavailable, fast-to-absorb, and long-lasting in the body. It is ideal for revitalizing all stages of your pup's life and contains 300 mg of CBD in every 30 mL bottle. 
The other option (CBD oil tincture) comes in a cheese and beef flavor and contains 300 mg of full-spectrum hemp extract. It is formulated to promote well-being in dogs of all ages.
Pros of CBD American Shaman
This CBD oil is water-soluble, the only one of its kind for dogs 

The products are available at competitive prices 

Each purchase is backed by a full money-back guarantee

Depending on what you want for your dog, you can choose between a full-spectrum option and a fast-acting, water-soluble option. 
Cons of CBD American Shaman
The product does not offer a range of CBD concentration options to choose from.  
3. Lazarus Naturals—best money-back guarantee policy
Lazarus naturals is a fast-growing organic products company with over 120 acres of farmland dedicated to their organic products. 
The company sources 70 percent of its hemp from a company-owned farm in Central Oregon. The remaining 30percent of hemp supply is outsourced from farms certified through the Oregon Department of Agriculture Hemp Research Pilot Program.
As the company confirms, all Lazarus naturals' line of pet offerings uses all-natural, human-grade, functional ingredients proven to support joint health, digestion, and an active lifestyle. This is to ensure your furry friend lives their best lives just as humans. 
Their full-spectrum CBD oil is independently tested and certified as safe and effective. The product is an excellent combination of rich, whole plant hemp extract and organic coconut oil.
The latter is a known source of fatty acids, which promote coat and joint health in your pups. It also speeds up digestion of the active cannabis ingredients in the product. 
Independent lab tests for Lazarus Naturals' CBD product reveal a wide variety of natural cannabis compounds. The CBD oil is enriched with Cannabigerol (CBG), a nonpsychoactive cannabinoid known to have strong anti-inflammatory properties.  
Pros of Lazarus naturals CBD
The products are backed by a 90-day full money-back guarantee

Buyers enjoy free shipping on all purchases worth 50 dollars and above. 

The company offers its full range of products at competitive prices. 
Cons of Lazarus naturals CBD
There is no free shipping for purchases under 50 dollars. 
4. HolistaPet—broad-spectrum CBD oil formula
This is a broad-spectrum CBD oil specially formulated for dogs with pure hemp containing all of the cannabinoids your buddy needs. You will be happy to know it does not have THC, the substance responsible for addiction in cannabis. 
The Oil is loaded with vitamins that can significantly boost your dog's immunity and overall health. It is also an excellent source of essential amino acids and minerals such as iron, calcium, magnesium, zinc, and phosphorus.
The product is available in different concentrations; you can buy a 150 mg option for pets weighing under 20 pounds or go for 3000 mg of CBD for a dog weighing more than 160 pounds.
You can use the CBD oil by adding it to the pet's food or place it directly into his mouth instead. You can also apply the CBD oil topically to the dog's body to soothe his dry skin. 
Pros of HolistaPet
Formulated with 100-percent natural ingredients

The product is lab tested and the results are made accessible on the website  

It contains no THC

It comes with a 30-day money-back guarantee

You can subscribe and enjoy a 25 percent discount 
Cons of HolistaPet
The company does not offer any flavored CBD oil options for your dog  
5. CBDistillery—non-GMO industrial hemp
CBDistillery boasts a line of non-GMO industrial hemp products formulated to be among the best for pets. The organization does its own natural farming to source the hemp used to manufacture all its CBD products. 
This approach helps guarantee the finest quality CBD products for your pet. The products are excellent for pain relief and putting dogs in a relaxed mood.
Depending on your pet's needs, you can choose between two of their main CBD products—a full-spectrum CBD oil tincture made out of cold-pressed hemp seed. This option gives your dog a 600 mg concentration. 
Alternatively, you can go for the 150 mg tincture for relieving mild symptoms in your furry friend. 
The company also offers another pet CBD oil specifically designed for offering relief and relaxation. The latter is equally available in 600 mg and 150 mg bundles. 
Pros:
The company offers a variety of bundles at different price levels, allowing you to save money off your purchases. 

All product formulations are independently lad-tested, with the results easily accessible 

You can subscribe and enjoy up to 20-percent savings. 

The tinctures are made from non-GMO hemp oil
Cons:
Free shipping is only available with a subscription or $75+ purchases. 
How to Use CBD Oil for Dogs? How good is the effect of CBD Oils on Dogs?
Various CBD oil products are loaded with varying concentrations of essential minerals, amino acids, and vitamins that can benefit your dog in various ways. 
If your dog exhibits excessive chewing and barking or suffers from anxiety, hyperactivity, or some other aggressive behavior, you can treat them to a suitable CBD oil and see the symptoms disappear. 
The Oil has a soothing effect on pets that can come in handy in different situations. 
You can administer your chosen CBD oil by putting it in the dog's food or directly into his mouth. If your dog has dry skin, you can always apply the product directly to his skin to soothe the dryness. 
CBD oil for dogs with arthritis
CBD oil has the potential to reduce inflammation and ease the pain. Though there is still a lot to learn about CBD and its effects on dogs, early evidence is extremely positive. Because arthritis causes inflammation and chronic pain, CBD could offer your dog some much-needed relief.
CBD oil for dogs with anxiety and aggression
CBD oils such as HolistaPet help ease all types of anxiety in dogs, including separation anxiety and aggression. The Oil helps induce a sense of calmness in the pet. 
CBD oil for dogs seizures
CBD oils such as CBD American Shaman have been found to reduce the frequency of seizures in dogs. Scientists have found that a large percentage of dogs who receive CBD in various clinical studies experience a reduction in the frequency of seizures. 
CBD oil for dogs with hip dysplasia
Dogs with hip dysplasia require 1-2mg CBD per kilogram of weight. This dosage is essential to the success of the treatment against hip dysplasia. 
CBD oil for vestibular disease in dogs
CBD Oil has been shown to treat both central and peripheral Vestibular disease. Following the dosage recommended on the CBD product label will typically lead to positive outcomes. 
CBD oil for dogs with cancer
Multiple CBD oils contain essential minerals and vitamins that boost your dog's immunity and help to alleviate symptoms of autoimmune disease and cancer. 
Benefits of CBD Oil for Dogs
Here is a list of potential benefits of CBD oil for dogs 
Anti-inflammation, helping alleviate signs of hypersensitivity or dermatitis in dogs 

Pain reduction for dogs with injuries

Boosting the immune system, helping to alleviate symptoms of autoimmune disease and cancer

Reduction in convulsions and seizures in dogs

Reducing anxiety

Offering nervous system support

Offering circulatory system support

Ensuring a healthy digestive system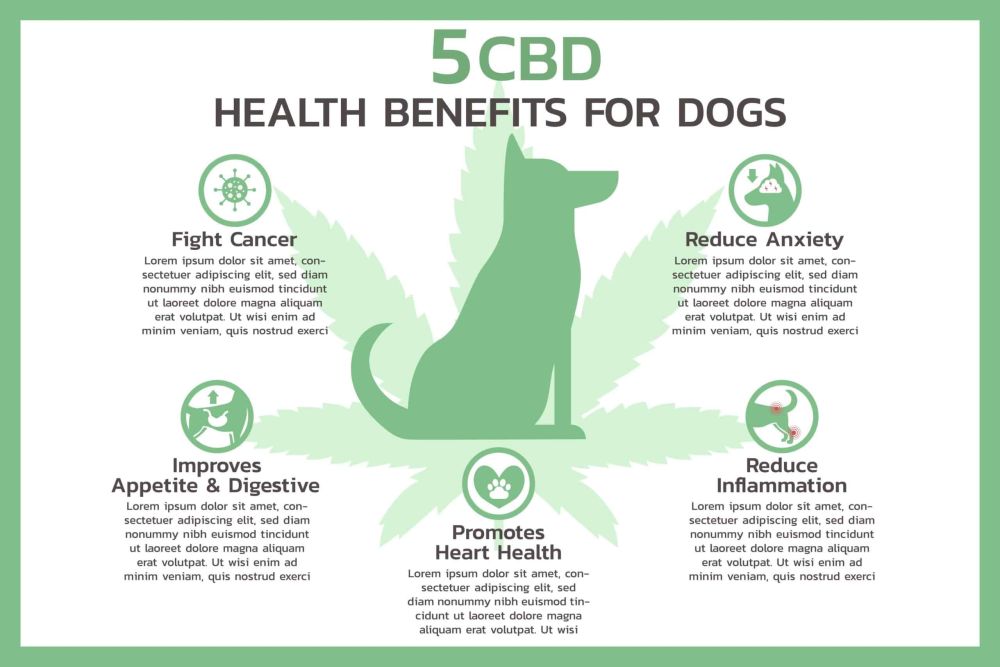 CBD oil dosage for dogs
The basic dosing rule for dogs is 1 to 5 mg of CBD for every 10 pounds of body weight. Since various CBD oils have different CBD concentrations, it is essential to read the product label for specific use instructions from the manufacturer. 
How long does it take for CBD oil to work on dogs?
CBD oil typically takes 30 to 45 minutes to start working in dogs. Notice that oils typically kick in relatively faster than treats or biscuits because there are fewer ingredients to break down first. 
Is CBD Oil safe for dogs?
Yes, CBD oil is generally safe for dogs. World Health Organization (WHO) research shows no abuse or dependence potential for pets using CBD. The research also determines that CBD may be a valuable treatment for a number of medical conditions, including anxiety and nausea.
CBD Oil for dogs side effects
While CBD is safe for dogs, it may sometimes occasion mild side effects, including dry mouth, lethargy, dizziness, increased tremors, itchiness, low blood pressure, upset stomach, and vomiting. 
However, note that these side effects are extremely rare.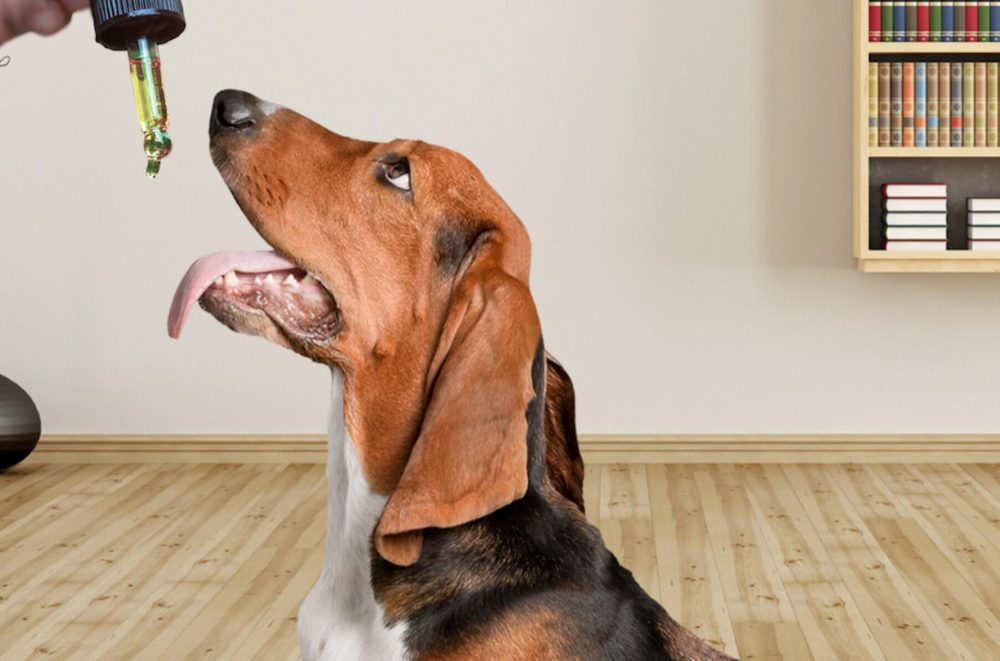 Ingredients of the Oil for Tetrahydrocannabinol
Tetrahydrocannabinol, or THC, is the chemical responsible for the characteristic psychological effects of recreational marijuana. The other compounds unique to marijuana are called cannabinoids.
CBD OIL FOR DOGS RESULTS BEFORE AND AFTER:
The fur of dogs before taking CBD oils:

Dog fur can be characteristically dry before taking CBD oils. However, the Oil moisturizes it, making it supple after CBD use. 

Metabolism of dogs before taking CBD oils:

Metabolism of dogs is normal before taking CBD oils. However, metabolism tends to increase after taking CBD. According to preliminary research, CBD may promote weight loss by reducing food intake and boosting metabolism.

The energy of dogs before taking CBD oils:

Dogs that display signs of anxiety before taking CBD oil tend to become tranquil after taking the Oil. This is because CBD stimulates receptors that act on relaxation. These receptors are located in the brain, central nervous system, organs, and immune cells.  

The mood of dogs before taking CBD oils:

A dog with signs of distress tends to be calmer after taking CBD oil. The product soothes the dog, putting him in a relaxed mood. 
CBD Oil for Dogs Reviews and Rating: Pros and Cons
The pros of CBD oils for dogs
Anti-inflammation, helping alleviate signs of hypersensitivity or dermatitis in dogs 

Boosting the immune system, helping to alleviate symptoms of autoimmune disease and cancer

Reduction in convulsions and seizures in dogs

Reducing anxiety

Pain reduction for dogs with injuries

Offering nervous system support

Offering circulatory system support

Ensuring a healthy digestive system 
The cons of CBD oils for dogs
The Oil can cause dry mouth in dogs by reducing saliva production 

High doses of CBD can cause a temporary drop in blood pressure. 

CBD can induce drowsiness in dogs.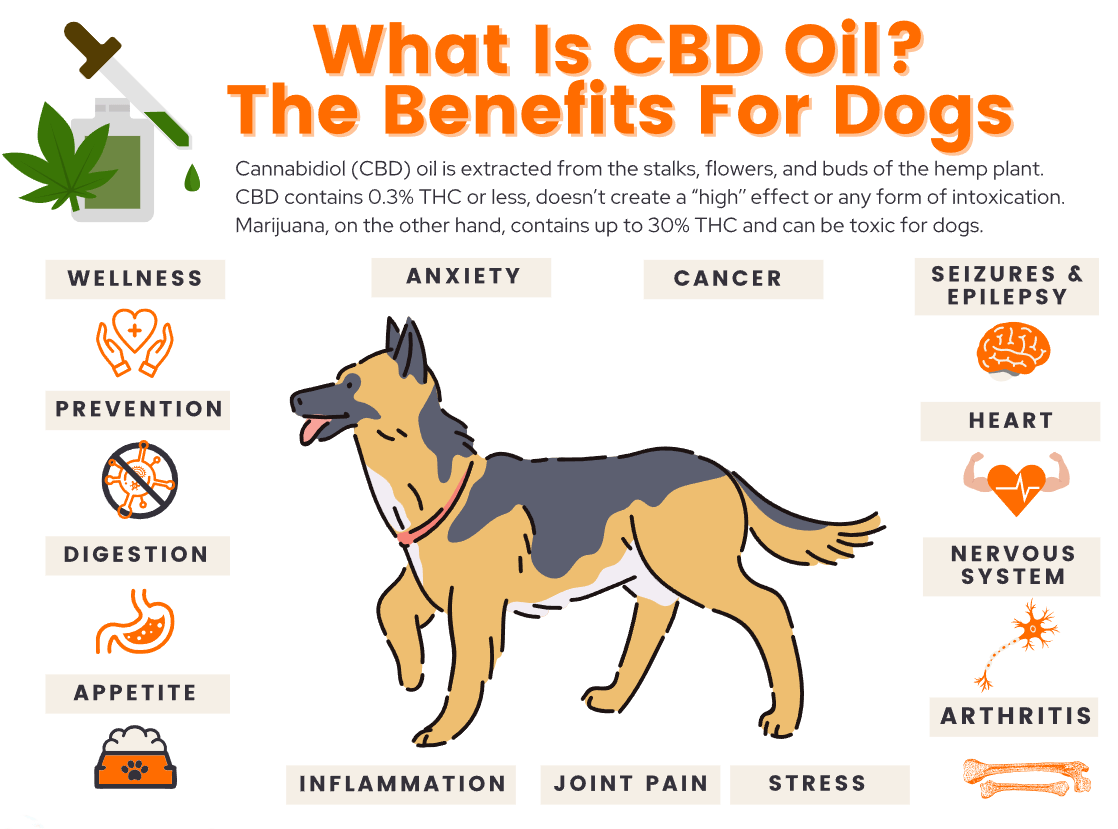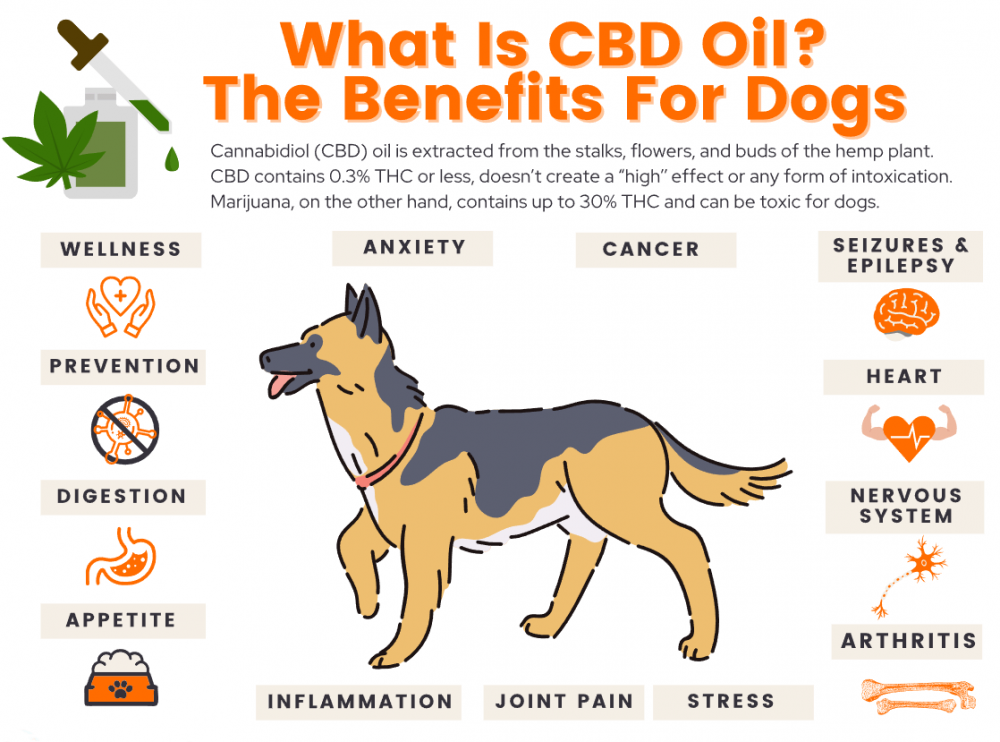 Is it recommended to use CBD Oil for dogs?
Yes, CBD Oil can benefit dogs in several ways. So using CBD oil for dogs is highly recommended. Nonetheless, always consult with a veterinarian before buying CBD Oil for your dog. 
Where can you buy CBD Oil for dogs?
CBD oil is available for purchase on this company website. If you want to buy it at the lowest prices, just head over to the website and place an order. 
CBD Oil for dogs Conclusion - Our experience and recommendation:
CBD oil is a miracle solution to many dog problems. We particularly love how the product relaxes and soothes dogs in distress. We found that it has a magical calming effect on dogs that could not stop barking before taking CBD oil. 
We love the experience and highly recommend CBD oil for any dog owner who wants the best for their furry friend. 

FREQUENTLY ASKED QUESTIONS ABOUT CBD OIL FOR DOGS:
What does CBD Oil do for dogs?
What is the best CBD oil for dogs?
Where to buy CBD oil for dogs?
How much is CBD oil for dogs?
What is the best CBD oil for dogs with arthritis?
How long does it take for CBD oil to work in dogs?
Where to buy online CBD oil for dogs?
Are there any CBD oil for dogs deals or coupon codes?
Is it possible to buy CBD oil for dogs on eBay and Amazon?
Does CBD oil for dogs have any risks or side effects?
References:
https://www.nytimes.com/2019/10/16/style/self-care/cbd-oil-benefits.html

 

https://www.ncbi.nlm.nih.gov/pmc/articles/PMC6770351/

https://www.ncbi.nlm.nih.gov/pmc/articles/PMC6065210/

https://pubmed.ncbi.nlm.nih.gov/11447587/

https://www.ncbi.nlm.nih.gov/pmc/articles/PMC2931553/

https://www.akc.org/expert-advice/health/cbd-oil-dogs