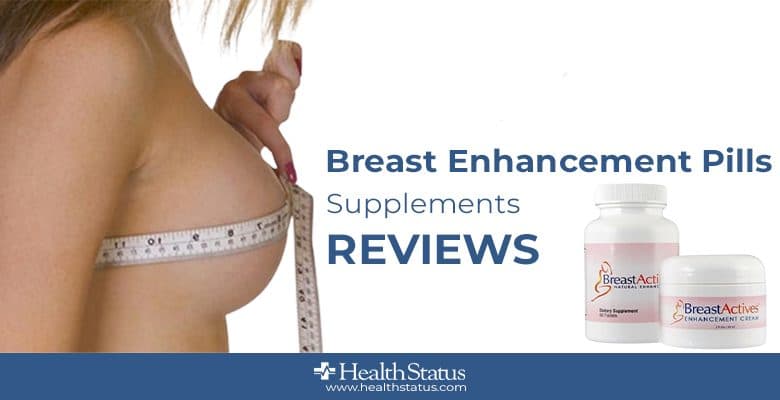 It is common for women to feel insecure about their breast size. Primarily women face these concerns about childbirth, weight loss or the removal of breast implants. The women are pretty particular when it comes to their bodies and their looks. They are well aware of how they want to look. Not everyone can afford the costs of surgeries to get a voluptuous look. To enhance their breasts, many women have to rely on push up bras or the latest creams and potions. 
Well now you have got a solution for enhancing your breasts; let us introduce you to Breast Actives. It works towards enhancing your breasts naturally.
What are Breast Enhancement Pills?
As the name suggests, the breast enhancement pills are the one that are used to enhance the breast volume and will also make you feel more confident. Breast Actives is one such product that is available in the form of natural breast enhancement pills and cream. The breasts of women change overtime due to aging, chidbirth and menopause. Many women think of having breast surgery but they are way too costly. If you are tired of using the products that are showing non significant effects in enhancing your breast size, consider Breast Actives.
Breast Actives contain high quality pills and cream that provide a firmer and enhanced breast that will make you feel good. 
What are the Breast Pills ingredients?
Ingredients are the soul of any product. Breast Active contains 100% natural ingredients that are completely safe for the customers. This product is a 3-part breast augmentation system that contains all natural breast enhancement formulas and also offers many health benefits to the overall health. It is important as a user of these pills and cream that you must be aware of what you are intaking and using on your body. Also if you are aware of the ingredients of any product, you can also seek advice from the doctor to verify if the product is good for your health. In the package you will order from the official website, you will get breast enhancement pills, a topical cream and an online exercise plan.
Following is the list of ingredients available in Breast Actives pills:
✅ Fenugreek Seed Extract: It is a natural herb extract that contains high levels of phytoestrogens including diosgenin, tigogenin, gitogenin, and yamogenin. This component is also frequently used in alternative medicine for the treatment of various skin problems and health conditions. Fenugreek herb contains plant estrogens that mimics the body estrogens and helps your breasts grow in size and fullness. This herb stimulates the hormones responsible for breast growth. 
✅ Fennel Seed: It contains flavonoids that have mild estrogenic properties. This component is commonly used by the nursing mothers as it promotes the breast milk production and stimulates the growth of the breast tissue. It also increases the hormone levels in the body that results in larger breast size.
✅ Dong Quai Root: This chinese root is a natural remedy for treating infertility, hypertension and even anaemia. This root also helps in easing the symptoms of menopause as well as menstrual cramps. The Dong Quai Root extract supports the estrogen regulation in the body that is  key to breast tissue development.
✅ Blessed Thistle: This component has been in use for centuries to support breast milk production in new mothers. It contains phytoestrogens that are responsible for breast growth and makes them firmer. The strong estrogenic properties of the Blessed Thistle triggers the production of female hormones for breast growth as well as milk production. 
✅ Dandelion: Similar to the blessed thistle, the roots of Dandelion contain phytoestrogens that enhance your breast. The Dandelion is used for blood pressure regulation and maintaining sugar levels. The supplements with Dandelion root extract should be avoided if you're allergic to Dandelions, Ragweed, Marigolds, Daisies or Iodine. 
✅ L-Tyrosine: It is an amino acid that serves as the building block for dopamine, epinephrine, and norepinephrine. This also contributes to the improved function of adrenal, pituitary, and thyroid glands that controls the hormone levels.   
Because of the improved functioning, this helps to regulate the release of progesterone. Progesterone is one of four mains involved in lactation.  

✅ Kelp: Kelp is rich in iodine and high in fibre that converts by the thyroid into the hormones T3 and T4. The involvement of this ingredient causes the pituitary to respond by releasing prolactin. Prolactin signals milk production in the breasts during lactation. When this process takes place, the amount of fat stored in the breast tissue increases to support the production of milk, that in turn makes the breasts grow larger.
✅ WaterCress: These watercross leaves are a good source of Vitamin E that can strengthen the blood vessels that carry necessary nutrients for breast tissues. This leaf also boosts the milk production in breast-feeding women.
✅ Vitamin E: The breast active capsules contain Vitamin E as the ingredient which is considered excellent for the skin. This ingredient is also vital for other organs of the body to function properly. Being an antioxidant, Vitamin E slows down the process of cell damage, which is important when stimulating breast tissue growth.
The above mentioned ingredients are the part of Breast Actives enhancement pills. All the components these pills contain are formulated using natural compounds which is why regular intake of these pills is considered safe. Each ingredient of this pill works in breast enhancement in women. 
Coming to the breast actives cream ingredients, it contains components that are considered great for skin (such as aloe vera extract, safflower oil, and borage oil). But among them the primary ingredient of the Breast Actives cream is Pueraria Mirifica. Let us discuss some of the most significant ingredients of this cream.
✅ Pueraria Mirifica: It is a plant that is native to Thailand and also grows in some parts of Southeast Asia. Pueraria Mirifica is a highly estrogenic herb that is used as an herbal estrogen replacement. This root has been in use for over hundreds of years in Thailand for different rejuvenation purposes. A study revealed that pueraria mirifica contains around 17 different kinds of phytoestrogens that are proven effective in treating symptoms associated with a lack of estrogen in menopausal women. This component acts similar to other estrogenic ingredients in stimulating breast growth.
✅ Wild Yam: It is the plant extract that is used for natural estrogen therapy. This component supports the effects of Pueraria Mirifica. When wild yam is converted into a concentrated extract it can be scientifically transformed into different compounds like DHEA and estrogen that support female body functions. 
✅ Saw Palmetto Extract: Saw Palmetto is a natural herb that is found primarily in the South American and Caribbean region. This component has been initially used to treat various digestion issues, male impotence and female libido. Saw Palmetto extract is a herb that enhances your breast size by stimulating the production of Prolactin. It is the hormone responsible for the production of milk in the breasts that will ultimately cause them to be bigger.  
Some other ingredients that the Breast Actives cream contains include Damiana, Fennel and various oils that condition, moisturise and heal the skin making breast tissues more supple and elastic.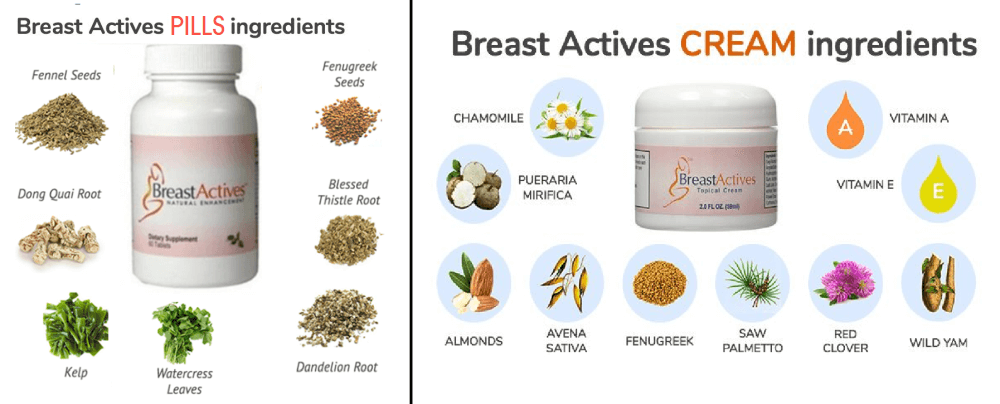 How do Breast Enhancement Pills work? How good is the effect of Breast Enhancement Pills?
Breast Active is one of the effective products that is formulated for bust size and shape enhancement. It is made using all natural ingredients that are balanced to deliver the best of results. The breasts of women develop throughout her life. From birth till body reaches menopause, the breasts of women goes theough various phases. During the menopause phase, the body is unable to produce as much estrogen as before that results in decrease of breast tissue volume that leads to sagging breasts. 
Here Breast Actives come to your rescue. The capsules and cream contain natural ingredients that contain phytoestrogens. Phytoestrogens are substances that are found in plants and plant based foods. Its chemical structure is quite similar to that of estrogen that is made naturally in the body. Though the diet we intake might contain phytoestrogens as this substance is commonly found in vegetables and fruits like apples and carrots. But the amount in which we get them is not balanced. The phytoestrogens mimics the hormones like estrogens, progesterone and prolactin  that can trigger breast growth. The estrogen and prolactin signals the body to grow breast tissue and retain fluid and prepare for lactation.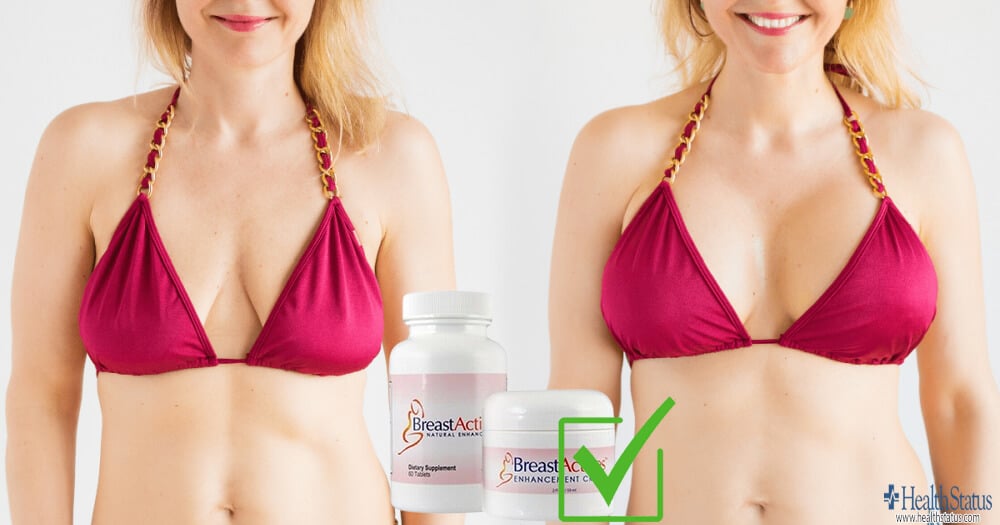 How to use breast enhancement pills for best results?
Breast Active is one product that promises women a larger, firmer and lifted breasts. The experts recommend taking a Breast Actives pill once a day. You must intake one pill daily with water before or after your first meal of the day. 
Well according to the manufacturer you can intake these pills twice a day. Some people take one pill after having breakfast and another after dinner. Apply and massage breast active cream on your breasts daily in the morning. You just have to use cream once a day. It is not at all greasy so you'll not feel uncomfortable after using it. Apart from the pills and cream, an exercise booklet is also there in the package you'll order. You can follow the exercise plan mentioned in the booklet.
How long does it take breast enhancement pills to work?
Well going by the reviews of the women over the internet, we found out that some started seeing the effects of pills and cream within two weeks. Although there has never been a clinical trial to prove that these pills work, or how long they will take to work. Majority of the reviews for Breast Actives on the internet suggest that this product works and helps females attain larger and firmer breasts.

Breast Enhancement Pills 2023 clinical trial assessment and results: Are breast enhancement pills safe to use?
We all want to be sure that the product that we are using will do no harm to our health. Talking of the breast actives, the product has reported mild side effects in some of its users while the majority reported that they experienced no adverse effects on the regular usage of the product. Scientifically it has been proven that the herbs breast actives pills contain are safe, but there is no research into how safe these herbs are when combined with others.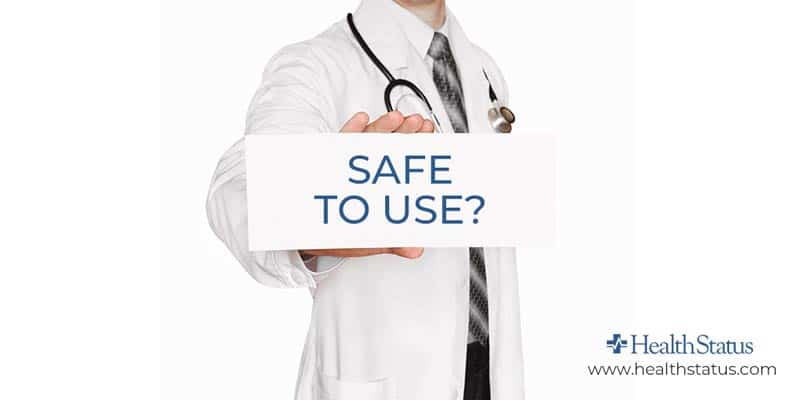 Breast Enhancement Pills Side Effects
Some people have reported that they felt some side effects in the initial days of intaking Breast Actives pills. Females may feel these side effects in their bodies due to the inclusion of the following components:
Vitamin E – It is advised that vitamin E must not be used in conjunction with ginkgo biloba, aspirin or Coumadin. All of these are blood thinners and their combined usage may result in the possibility of internal bleeding.
Dandelion Root – If you're allergic to dandelions, ragweed, daisies or iodine, the product with dandelion root extract as their ingredient must be avoided.
Fenugreek can cause diarrhoea or worsen asthma symptoms.
Dong Quai slows the blood clotting so it should be avoided if you are suffering from any blood disorders or planning to have a surgery. 
Chasteberry interferes with the birth control pills or also with hormone replacement therapy. 
The important thing here to keep in mind is that it is not necessary that every individual will face side effects. The manufacturer has mentioned ingredients on the Breast Actives packaging so that you can consult your doctor and find out if the ingredients are right for you. 
Breast Enhancement Pills results before and after: Does Breast Enhancement Pills really work or is it a scam?
The bodies of women's develop at different ages. Starting from the birth till the body reaches menopause, there are various phases of breast development. When the body hits menopause, your body will not produce as much estrogen as before that will result in decrease of breast tissue volume and will lead to sagging of breasts. By intaking breast active pills on a regular basis your body will start getting phytoestrogens that are similar to estrogens. Intaking these pills will have the same effect on your body that estrogen has. It will trigger breast growth in your body.
Breast Actives is one great product for the individuals looking for genuine and effective breast enhancement pills. Anyone who wants to firm up their sagging breasts or looking to increase your breast cup size must give this product a try. These natural breast enhancement pills are safe for most of the users. These supplements are formulated using natural ingredients that are found in the foods you eat everyday. 
Following are the results of breast actives pills and cream:
| | |
| --- | --- |
| Duration | Result |
| After two weeks | ✅ After using breast actives pills and creams for two weeks, some of the users reported that they start seeing the growth in their breast size. However by this time only few individuals will start seeing the effects. Others will have to continue their dosage and apply cream regularly to get the desired results. |
| After one month | ✅ After intaking the pills for one month, you will start witnessing the noticeable results in your breast size. You will firmer breasts and also observe that your body is getting into shape. |
| After two months | ✅ By intaking breast actives pills and massaging cream on the breasts regularly for 2 months you will start noticing the significant improvement in your breasts.  |
| After three months | ✅ After three months of daily usage, you will get the desired results you are looking for. Your breast size will increase significantly and you'll get fuller, and firmer breasts. |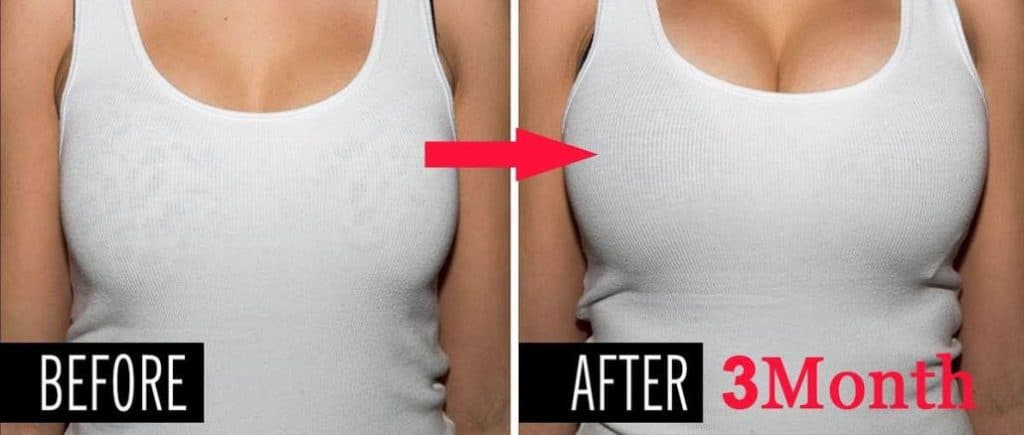 Our Breast Enhancement Pills reviews and ratings: Breast Enhancement Pills pros and cons:
| | |
| --- | --- |
| Pros | Cons |
| ✅ It is a proper 3 step program that comprises pills, topical cream, and exercise. This complete package boosts the process of breast enhancement in women. | ❌ The product is quite pricey if you're short on budget. |
| ✅ The ingredients used in the formulation of this product are proven naturally safe. | ❌ Exercise plans are difficult to follow for the customers who have a shortage of time. |
| ✅ All the components of the pills and topical cream promote breast tissue growth. | ❌ The formulation of the ingredients is not unique. |
| ✅ In case you're not satisfied with the results, the company offers a 90-day money back guarantee.   | ❌ Many products are available in the market that consist of the same ingredients but cost less. |
| ✅ The manufacturer also offers free shipping on select packages. | |
Breast Enhancement Pills positive reviews
Before buying any product we look out for their reviews on the web. Although there are mixed reactions for the Breast Actives pills and cream on the internet, most of them are in favour of the product. Let us give it a look what females have to say of the Breast Actives pills:
Esme C. ⭐⭐⭐⭐⭐
I give it a five star! I love these pills, I'm a B size now and They are rounder. I'm a Transgender and this pills are better than breast success. I get compliments of my boobs, all natural grown.
Sandra from Atlanta, Georgia ⭐⭐⭐⭐⭐
"I'm from Atlanta, Georgia, USA and I have just completed 6 months on Breast Actives and the results have been amazing! I have actually grown from an A cup to a C cup, which is way more than I had ever expected. So, I am happy…but I read somewhere that to keep this size I have to keep taking a maintenance dose of BA every 2 months or so. Is this right? If I stop, will I then go back to my original size?" Isn't that amazing!
Be-a-uty on Amazon ⭐⭐⭐⭐⭐

It is amazing, but I think this product really works!!

I breastfed my three boys for more than three years (the youngest is 2 now), so my breasts after the last one looked like those infamous "rocks in the socks". Not that I would be desperate because of that, they did great job :o), but they didn't look nice in the swimming wear :o). An augmantation hurts, and you have to maintain it, plus not everybody likes the result. So I encountered with this product by googling some breast enhancing stuff and Breast Actives significantly led all the reviews and tests. So I purchased them. Both Pills and Creams. After one month of using them, my breasts feel much firmer and fuller. Really! I can't say whether they will also grow a lot, but from size 34A I had to switch to 34B two weeks ago. So probably it is working on this field too. I recommend this product! Also I stopped having pain during my periods (I had two so far and I was surprised how smoothly I got through them).

Isabel Peterson on Amazon ⭐⭐⭐⭐⭐

Working for me just 2 weeks in!!!

Honestly I was very skeptical about trying these, but since it's all natural ingredients I figured what's the harm and that this would be my last straw on trying to increase my breast size (i used the suction pumps which worked but only for one size up). Literally two weeks in my boyfriend was saying my boobs look huge and I wake up every morning with them feeling swollen, but not too painful. I use the cream too. I think the main important thing is that I stopped drinking caffeine, which has been extremely hard, but if you drink caffeine you will NOT SEE ANY RESULTS!!! Now I'm just wondering if they'll stay big or if you have to take them for the rest of your life:/

Myra N. on Amazon ⭐⭐⭐⭐

So far I like it, I ordered it from their website
So far I like it, I ordered it form their website, not Amazon. I wish I ordered it from Amazon though, it seems like a better price! Anyways I got my 3 month supply and I have been using it for a week now. I know it's to early to say anything but I already see the difference. Ladies I have no idea if this is permanent changes or temporary , but I like it. The lotion makes my breast look firm and shapey, my breast actually looks like a female breast now, not a dude's chest. I have no idea if anything will grow, but something is happening, they look better and thats enough already to make me a happy customer. I figured I should leave review since its so hard to find any real breast actives reviews out there, all of them either seem to be too good to be true or too terrible (not working for women at all). So I will post updates, but for right now Breast Actives do boost confidence, firm the breasts and as far as I know seem to have no side effect. I hope i will see some growth by the end of the month but I swear the breasts are already looking more feminine (Im 34A cup that starts looking like 34B).

Melissa Devis on Amazon ⭐⭐⭐⭐⭐ Apparently they don't work for everyone…

I was apprehensive about the product after reading the mixed reviews. Funny how you see where people either love them or hate them. I am no rocket scientist, but common sense is telling me that we are all different and products respond to our bodies differently. I have been taking the product for 3 weeks. I am a 39 year old mother of two, and breast fed one of my children. My breast definitely lost their volume and perkiness. Well, I am happy to say that after 3 weeks my breast are a lot firmer and perkier! Not sure that they are larger yet, but they sure do look good now! My husband noticed the difference too! I can't wait to see what the end result will be! I am a very happy customer! :)
Breast Enhancement Pills negative reviews
It is important to share the negative reviews of the product as well. Following are some of the negative reviews on the internet in which people stated why they were not satisfied after using the Breast Actives pills and cream.
Mira on Amazon ⭐: I took a 6 month supply combo with cream the difference is nearly null to weak ....you should take it for at least 3 years to see slight difference as I have purchased it before it was much more effective the pills was much more darker and effective at that time which is not the case now ... the old breast actives has a strong smell of herbs it stays in your hands after you touch the pill even if you washed it several times and the cream also the same its color is darker has a strong smell of herbs which is not the case now....it is not good as before this is for a fact....or maybe this is a copycat which I don't think so.... I think it is not good anymore....search for another alternative if you need results...and also don't leave your review in the 1st month cause these supplements usually have a effect the 1st month it swells your breasts a little and as soon as you stop it it goes away fake effect so if you want to see the real effect wait till the 4th to 6th month and stop it for one month to see if the effect has gone away
bottom line ....about breast actives combo it is no good anymore....to bad to sad
Crystal Draleau on Amazon ⭐: Very dissapointed in this product. Not finished fully with the 6 month supply, but have noticed no change at all. Pretty sure the product had a guarantee, but can not figure out how to contact the seller
Lynette M. Kelleher on Amazon ⭐: I used both the pills and cream for 4 months and absolutely no results. Exactly as I started.
After reading the negative reviews of the users, you could easily figure out that some of them didn't even complete their course. Some women feel that these breast enhancement pills do not work up to its standards. However, it is essential to know that not all supplements are made for everybody. Also, these pills might take some time to work on a few users while others get instant results.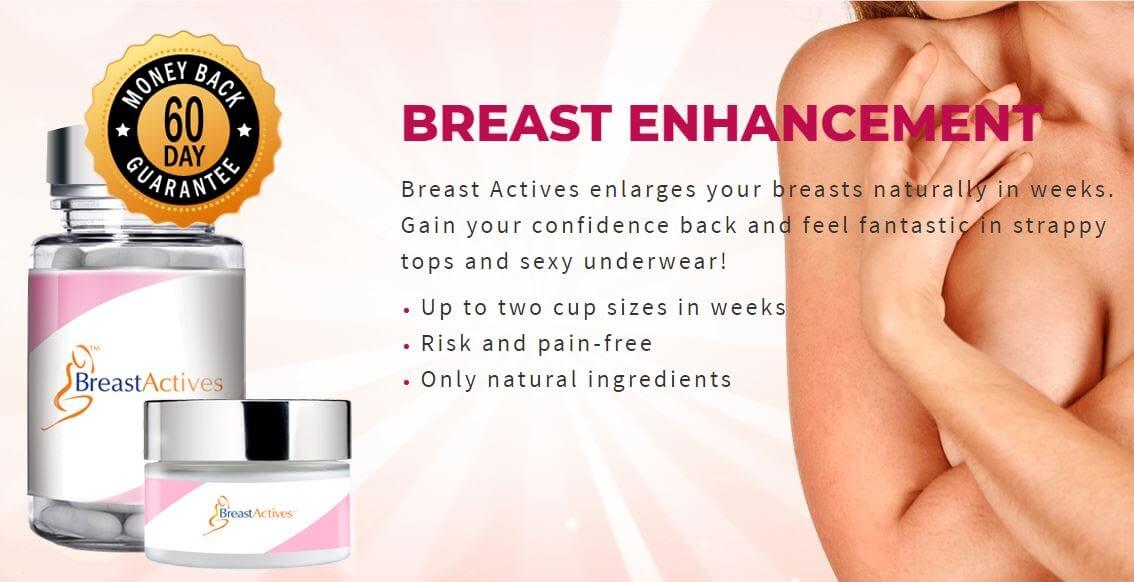 Breast Enhancement Pills reviews on the internet and forums like Reddit or Consumer reports:
Many users have reviewed the Breast Actives on various platforms on the internet. They have talked about their experiences after using the pills and topical cream. Majority of the reviews on the internet state that this product delivers what the manufacturer claims. Breast Actives is a carefully formulated natural supplement that contains a blend of herbs and essential nutrients that work together to enhance breast size. 
Are Breast Enhancement Pills a shark tank product?
No, Breast Actives never appeared on the famous Shark Tank show. However if you search the web you will see some results. Well if anyone is claiming that Breast Actives have appeared on the show, they are misleading you. Although this product wasn't featured in the show it is a great product that has been known to deliver the results it promised.
Are Breast Enhancement Pills reputable or are there any warnings about Breast Enhancement Pills on the internet?
Yes Breast Actives is one reputable product in the market that has been known to deliver commendable results. Many testimonials over the internet have confirmed the effectiveness of breast actives pills and cream. Just keep in mind to take the complete dosage as recommended by your doctor. To get the best results, you need to stick to the schedule and follow a proper diet routine.
Regarding warnings, It is better to consult a doctor before you start intaking these breast enhancement pills. In case you are suffering from any underlying medical condition or intaking any medication, seeking medical professional advice will assure you that you will not feel any side effects or so.

What do I need to consider if I want to discontinue Breast Enhancement Pills?
Nothing you don't need to consider if you wish to discontinue the usage of Breast Actives. There is no prescription required by the medical professional before using Breast Actives pills so you can discontinue them at any time. If you are following proper dosage and start noticing results then continue the intake of the pills. These pills are not addictive and hence will not have any adverse effect on the body if discontinued.
Where can you Breast Enhancement Pills? Breast Enhancement Pills price comparison and deals for sale:
Breast Actives is easily available online on various eCommerce sites and online retailers. This gel is available on Amazon, eBay, Walmart, and the product's official website. The best place to purchase Breast Actives pills and topical cream is from the manufacturer's website. Also, there are various deals and coupon codes that you can avail while buying this product. At the time of writing this article, Breast Actives was not available on eBay but you can buy it from Amazon, Walmart and the product's official website. The main benefit of buying directly from the official website is staying assured that you got the right product.
Can you buy Breast Enhancement Pills in a pharmacy?
No, you cannot buy this product from a pharmacy as it is only available for sale on the eCommerce platforms and the product's official website. If you're considering buying Breast Actives, buy it directly from the manufacturer. The reason is you will stay assured that you are receiving the right product as there are many unscrupulous sellers on the internet. Also this product has many counterfeits available on the web so it is better to buy it directly from the manufacturer.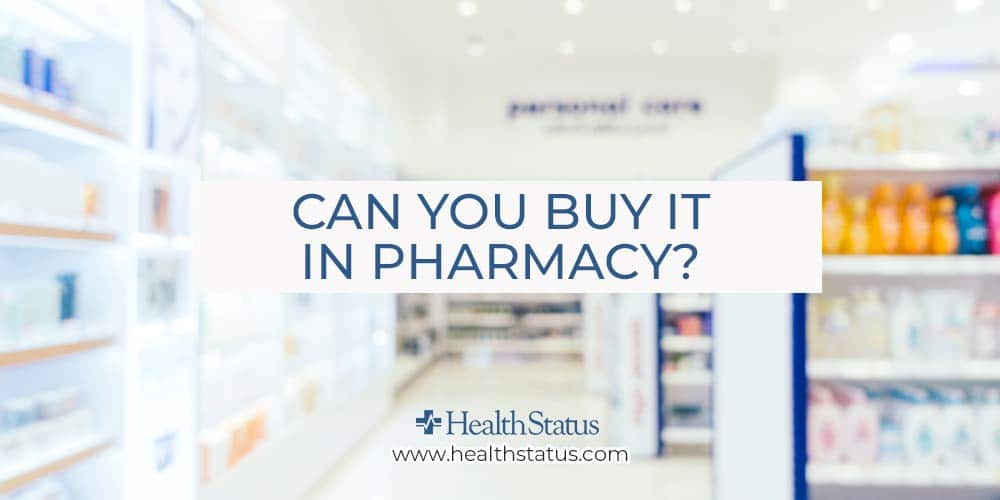 Breast enhancement Pills Review Conclusion - Our experience and recommendation
Going by the reviews of the people over the internet, Breast Actives is the product that has delivered results it promised. Many people have reviewed on the web that they were considering having a breast implant and breast surgery. But they were afraid to pay the hefty amounts required for the surgery. That is when they considered giving Breast Actives a try. This product has displayed commendable results to the women who were expecting gains in their breast size and firmness. 
Also, Breast Actives is one of the safest Breast Enhancement Pills and cream because of the ingredients it contains. Majority of women have reported on the web that these pills have done miracles for them. Many individuals claim that before using breast actives they have never felt so confident. Just follow all the instructions given on the product to get the best results. Keep in mind that these pills are just a supplement. They are fulfilling the needs of the nutrients that your body is not getting properly. Intake a healthy diet and follow a decent but consistent exercise routine to get the desired results.

Frequently asked questions about Breast Enhancement Pills:
What are the best Breast Enhancement Pills?
How to take Breast Enhancement Pills?
What are the best Breast Enhancement Pills that work?
What stores sell breast enhancement pills?
Where to buy Breast Enhancement Pills near me?
Are there any Breast Enhancement Pills discounts or coupon codes?
Is it possible to buy Breast Enhancement Pills on eBay and Amazon?
Are there any criticisms of Breast Enhancement Pills or is it recommended to take Breast Enhancement Pills?
Does Breast Enhancement Pills have any risks or side effects?
Is it safe to take Breast Enhancement Pills continuously?
Do I need a prescription to buy Breast Enhancement Pills?