From the moment the food hits our mouths, our body relies on enzymes to help with the breakdown of these foods. Depending on the kind of food we have eaten, the body produces specific enzymes to help with the digestion of these foods. Enzymes work as catalysts that speed up digestion by breaking down large and complex molecules that make up proteins, carbohydrates and fats into smaller molecules that can easily be absorbed into the body.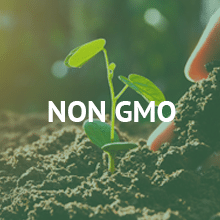 We eat a lot of different foods, and sometimes our body struggles to digest it all, causing gas, bloating, heaviness and stomach upset. And in some instances, our body doesn't produce enough enzymes to properly digest the food. Digestive supplements such as VitaPost Digestive Enzymes support your body's digestive function, ensuring that you longer have any indigestion issues.
As earlier mentioned, different digestive enzymes (amylase, maltase, lipase, proteases, sucrose and lactase) target specific foods (protein, carbohydrates, fruits and vegetables and fats) and break them into smaller absorbable pieces. VitaPost Digestive Enzymes has these and more enzymes to make sure your digestion is smooth and healthy.
Product

Product
VitaPost Digestive Enzymes Reviews
Effects

All Natural Ingredients
Helps Break Down Food
Effective Formula
No Prescription Required
Safe to Use

Side Effects

It does contain certain allergens
Expecting mothers and children under the age of 18 years should consult doctors before taking the supplement

Package
60 capsules per bottle
Dosage
2 capsules a day
Supply for
30 days
Price
$24.80
Shipping
Free shipping
Review
⭐⭐⭐⭐
What Is VitaPost Digestive Enzymes?
VitaPost Digestive Enzymes is a dietary supplement with a carefully selected blend of enzymes that supports digestion and nutrient absorption. The unique combination of enzymes is naturally sourced from papaya and pineapple fruits.
This dietary supplement has a broad-spectrum enzyme formula that supports the digestion of proteins, starches, sugars, lactose, fats, nuts, plant and fungi fibres, and gluten. In total, VitaPost Digestive Enzyme has a total of 18 active enzymes, some of which work together and are each matched with a certain kind of food to support the digestion of the food. Besides supporting digestion, VitaPost Digestive Enzymes support nutrient absorption from the food we take, something that ensures that we enjoy our meals wholly.
VitaPost Digestive Enzyme is not FDA approved as the FDA does not certify dietary supplements. However, this supplement is manufactured in an FDA-registered facility that aligns with GMP. This is a dietary supplement, and as such, it does not prevent food allergies or intolerances or cure any disease. Its core purpose is to support healthy digestion in healthy people.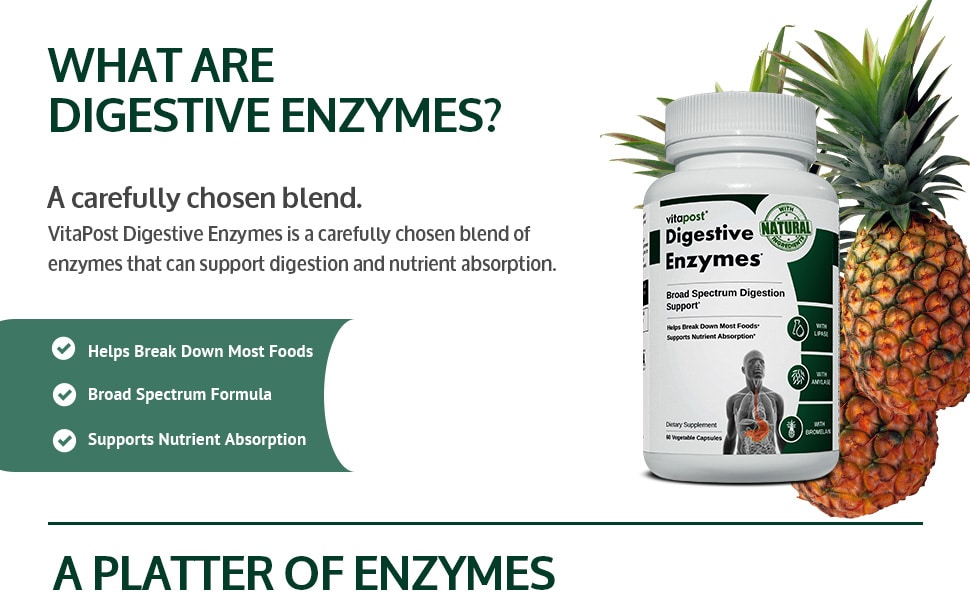 What are the ingredients of VitaPost Digestive Enzymes?
When you want to establish whether a product is good for you, the best place to start is at the back of the pill bottle where the ingredients are. We understand what they are and how they work, appreciating that each works to benefit the consumer by looking at the ingredients. They also provide a benchmark to compare with other products or clinical studies.
As earlier mentioned, VitaPost Digestive Enzymes has 18 active enzymes that support healthy digestion. These enzymes can be grouped into protein, carbohydrate, and other valuable enzymes.
The protein enzymes present in VitaPost Digestive Enzymes include protease 1, protease 2, papain, bromelain, peptidase, and aspergillopepsin. Besides the protein enzymes, the VitaPost Digestive Enzymes formula has carbohydrate enzymes: amylase, Glucoamylase, Lactase, Beta-Glucanase, and Invertase.
This digestive enzyme has additional enzymes; Lipase, Cellulase, Hemicellulase, Xylanase, Pectinase and Phytase. It is important to note that it contains dairy, soy and wheat (from a fermentation process of the ingredients mentioned).
Manufacturers of VitaPost Digestive Enzymes are very forthright with the ingredients present in their dietary pills. While that is a good sign, the company doesn't specify a daily ingredient intake. Regardless, the enzymes present in VitaPost Digestive Enzymes work to support nutrient absorption and digestive function in different ways, which are discussed below.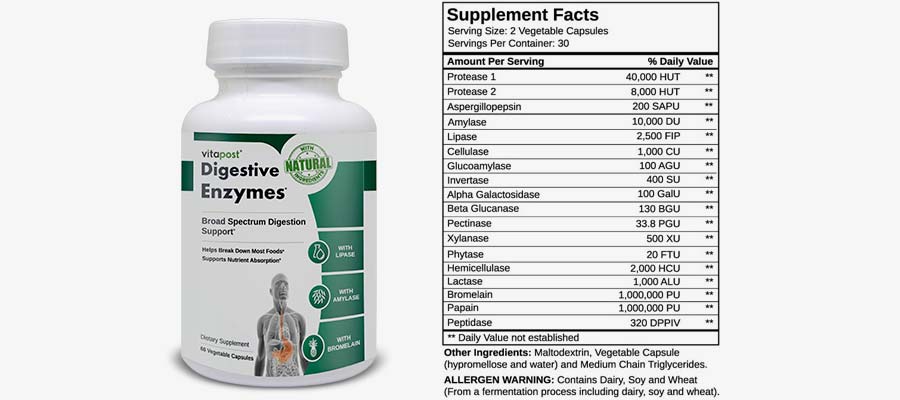 How does VitaPost Digestive Enzymes work? How good is the effect of VitaPost Digestive Enzymes?
Now that we know what is in VitaPost Digestive Enzymes let us see how each ingredient supports absorption and digestive health. 
Bromelain is an enzyme extract from the stems of the pineapples, although it is also present in the fruit's flesh. It belongs to a group of protein-digesting enzymes that work by attacking the internal peptide bonds of the peptide bonds. Bromelain contains proteolytic enzymes called cysteine proteinases, which break down protein and help with digestion. The body readily absorbs it in the gastrointestinal tract.
In the same vein, papain is also a proteolytic enzyme extracted from the raw fruit of the papaya. It works by attacking the peptide bonds in proteins, thus breaking them down into smaller proteins fragments known as peptides and amino acids. 
A protease is a group of enzymes that help break down proteins by hydrolyzing the peptide bonds holding these proteins together. These enzymes break down protein into amino acids that the body can then use for energy. Moreover, protease alleviates indigestion symptoms like the loss of appetite, bloating and abdominal discomfort. Besides playing a digestive role, protease enzymes are essential for processes such as blood clotting, cell division, recycling of proteins and immune support. 
Peptidase is also a proteolytic enzyme that breaks down the long chain of protein (peptide) into smaller chains (amino acids) that are used to fuel the body. Aspergillopepsin works the same with other proteolytic enzymes, and once ingested, they remain functionally intact. 
Humans ingest large amounts of carbohydrates rich in starch; our bodies, however, cannot break these carbohydrates without the help of enzymes. Amylase is a digestive enzyme primarily produced by the pancreas and salivary glands. VitaPost Digestive Enzymes supplements in its formula, helping you hydrolyze (convert complex carbohydrates to simple sugars). On the other hand, Glucoamylase (also known as amyloglucosidase or AMG) help the body not only break down starch but also aid in the absorption of nutrients. Besides that, it helps with common digestive issues such as heaviness, lethargy, bloating, gas and loose stools.
Lactase is the VitaPost Digestive Enzymes formula that helps the body digest the sugar in the milk known as lactose. This is especially recommended to African-Americans and Asian-Americans who have low intestinal lactase levels. If left undigested, lactose gets fermented by bacteria present in the digestive tract resulting in gas, bloating, cramps, and diarrhea. Invertase helps your body break down sucrose into glucose and fructose.
Lipase present in the formula helps your body break down fats in food for easier absorption by the intestines. On the other hand, cellulase, Hemicellulase and Pectinase help your body digest fruits and vegetables. Phytase is an enzyme that breaks down phytic acid and also helps in the absorption of iron.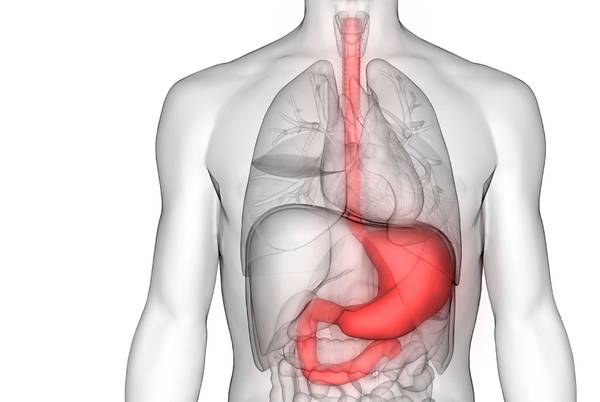 VitaPost Digestive Enzymes clinical studies, evaluation, and results 2023: Is VitaPost Digestive Enzymes safe to use?
Clinical studies and evaluations provide an objective insight into whether a product is effective, could adversely affect us and whether there are any side effects that we should look out for. VitaPost Digestive Enzymes is made from natural ingredients in an FDA-approved facility making it perfectly safe to use.
VitaPost Digestive Enzymes help your body down almost all foods. The dietary supplement is essential when your pancreas cannot produce adequate enzymes to help with digestion. Deficiency of sufficient enzymes can result in bloating, flatulence, abdominal cramps and diarrhea. That is not to say that only those with enzyme deficiency can use the product; absolutely anyone can use it.
While there isn't a clinical study done on VitaPost Digestive Enzymes, individual studies of enzymes present in its formula have shown promising results. For example, a small study of 50 IBS patients received the dietary supplement.  Compared to the 40 in the control group, the results indicated that the supplement reduced symptoms.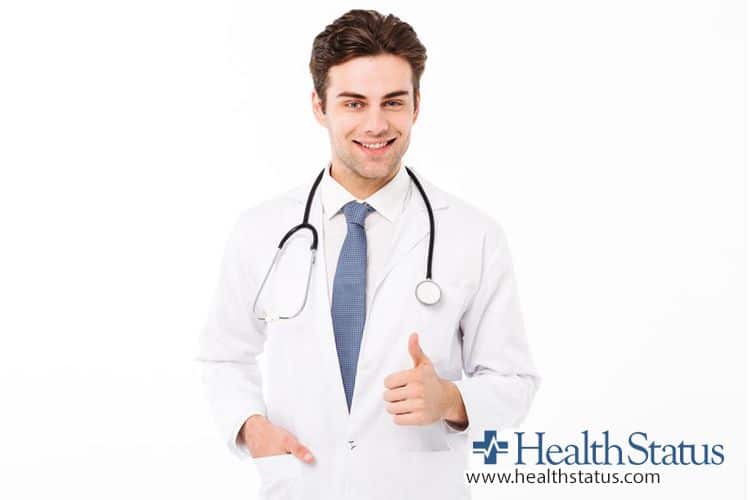 How do you use and dose VitaPost Digestive Enzymes? Our dosage recommendation
This dietary supplement comes in capsule form in a bottle of 60 vegetable capsules. The manufacturer recommends that you have 2 capsules a day, making a bottle of VitaPost Digestive Enzymes enough for a month. You should take each capsule before a meal or with the meal. There will be no results if taken on an empty stomach as the supplement relies on food to kick start digestion. In addition to this, it is recommended that you swallow it whole without taking it apart, as the enzymes should be slowly absorbed into the body.  
As much as these supplements support digestion and nutrient absorption, you also have a role to play when it comes to your diet; a good diet will improve your overall gut health. You should, therefore, take healthy foods rich in fibre and vitamins. And to enjoy the maximum benefits from these digestive supplements, you should take them consistently without skipping days. Additionally, remember to stay hydrated as this too will help you maintain healthy and smooth digestion.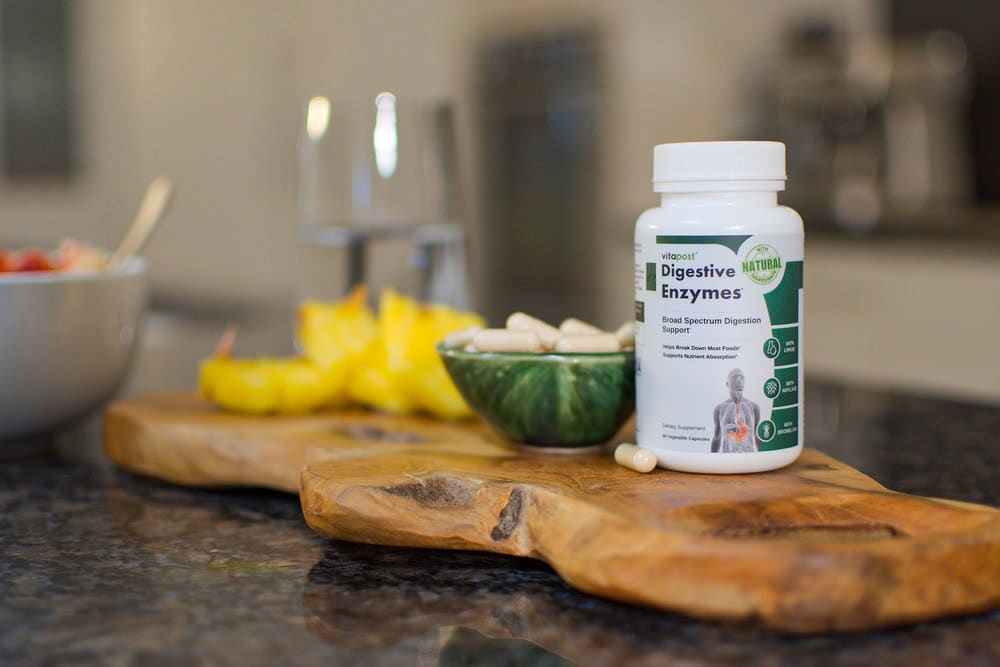 Our VitaPost Digestive Enzymes Review and Rating: VitaPost Digestive Enzymes Pros and Cons
Another excellent source for objective insights into a product's effectiveness and side effects is customer reviews. VitaPost Digestive Enzymes has largely positive reviews speaking to the product's effectiveness. It is a product that can be used for anyone who wants to give their digestion a little more support. Here are a couple of customer reviews.
VitaPost Digestive Enzymes Pros
You do not require a prescription for this supplement

It is made from natural ingredients

The formula makes it that they work for almost all foods

It also helps alleviate indigestion symptoms such as bloating, heartburn and discomfort in the stomach.

It also supports nutrient absorption in the body.

Gluten free and non GMO
VitaPost Digestive Enzymes Cons
VitaPost Digestive Enzymes is only available online.

It lacks a daily consumer intake.

A consumer may have to take the supplement long-term to continue enjoying the benefits.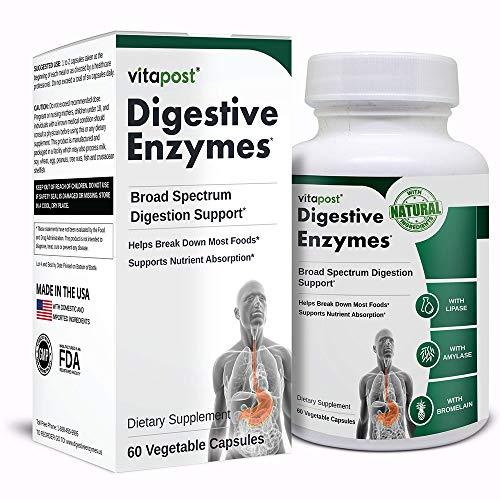 VitaPost Digestive Enzymes Results Before and After: Does VitaPost Digestive Enzymes Really Work, or Is It a Scam?
VitaPost Digestive Enzymes is a combination of enzymes that work so that you can have more from your meals. This supplement helps break down most foods, and it has a broad-spectrum formula that helps with digestion and nutrient absorption.
| | |
| --- | --- |
| VitaPost Digestive Enzymes after 2 weeks: | At this point, you have been taking VitaPost Digestive Enzymes for a couple of days, and your stomach is still adjusting. You may get a little uncomfortable around the stomach, but this is a good sign; the enzymes are working. However, if you experience any allergic reaction, stop taking the pills and see the doctor. |
| VitaPost Digestive Enzymes after 4 weeks: | Your stomach at this point is used to the supplements, and you should be feeling a lot less bloated, gassy and any abdominal cramps you might have had should have resolved. |
| VitaPost Digestive Enzymes after 6 weeks: | If you have been taking the supplements consistently, your overall gut health should be feeling excellent—your digestion should be smooth and healthy. |
| VitaPost Digestive Enzymes after 8 weeks: | Your digestion should be unstoppable with a good diet rich in fibre and vitamins! |
VitaPost Digestive Enzymes Reviews on the Internet and in Forums:
Was VitaPost Digestive Enzymes in Shark Tank?
VitaPost Digestive Enzymes has never been featured on Shark Tank, and only a few dietary supplements have ever made it on the show, with only one managing to get an endorsement. With that said, there have been false reports that VitaPost Digestive Enzymes has been on the show. These are inaccurate advertisements by scammers who want to hinge their credibility on the company behind this product and Shark Tank to convince people to buy the product. Buy VitaPost Digestive Enzymes from the manufacturer's website to ensure that you get the legitimate product.
Is VitaPost Digestive Enzymes or are there any warnings about VitaPost Digestive Enzymes on the internet?
The company behind these supplements warns consumers not to exceed 6 capsules a day. It also advises pregnant and lactating mothers to consult with their doctors before taking these supplements. However, it is not recommended for them or for people other than the age of 18. In addition to this, the product does have allergens such as soy in the product's formula. Although the supplement is made from natural ingredients, it is not recommended for people with diabetes or people on blood thinners.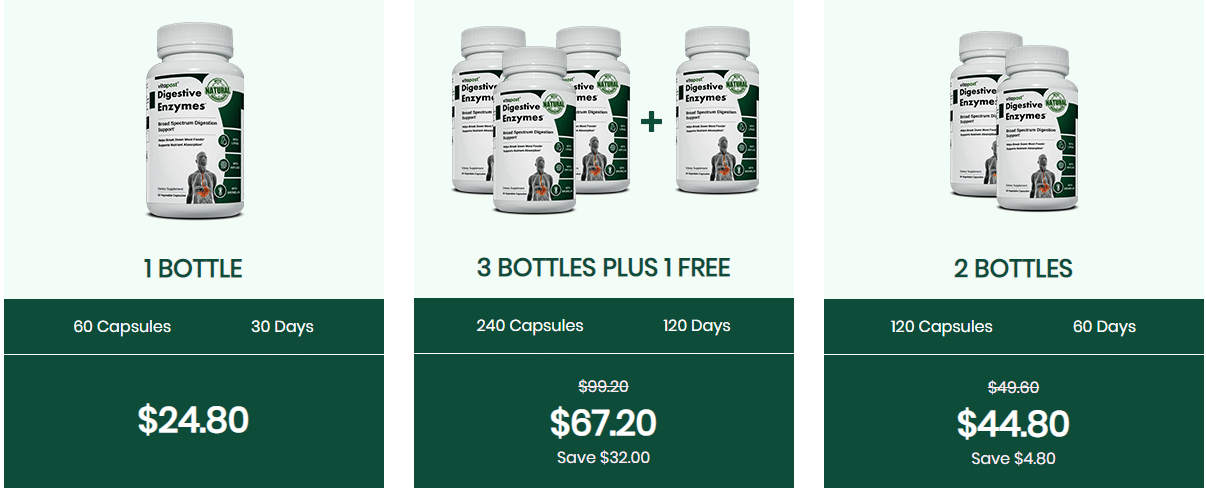 Where to buy VitaPost Digestive Enzymes? Garcinia Cambogia Veda for sale Offer and Price Comparison:
Can you buy VitaPost Digestive Enzymes in the pharmacy?
No, this product is only available for purchase online and not in any physical store. You can buy it from the manufacturer's website at a discounted rate or at Walmart for a slightly higher price. The product is also available for purchase on Amazon, but it is currently out of stock because of its high demand. The company's website remains the number one place to get good deals and authentic supplements.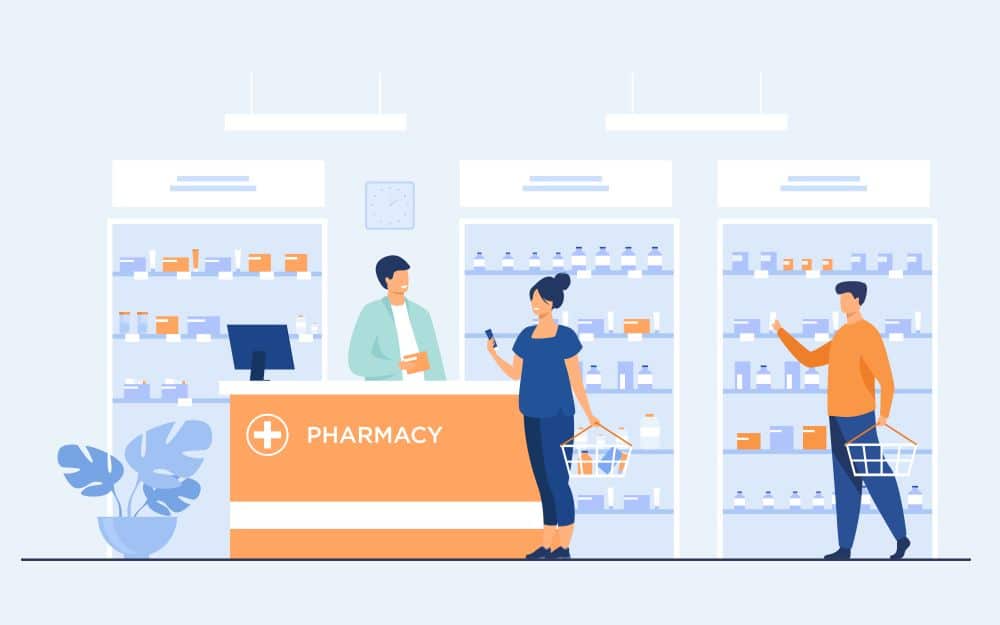 What Do I Have to Consider if I Want to Discontinue VitaPost Digestive Enzymes?
If you would like to stop taking this supplement, consider weaning your body slowly off it. Digestive enzymes help supplement your body's natural enzymes, and as a result, your body gets used to these secondary enzymes. Therefore, your body will need time to adjust to not having the extra help. 
What are the best alternatives to VitaPost Digestive Enzymes?
Some companies purport to do what VitaPost Digestive Enzymes does.
Double Wood  Essential Digestive Supplement
It is a dietary supplement that helps support the proper balance of enzyme activity in the digestive system. The formula for this dietary supplement contains ten enzymes to promote easy and good digestion. The product's manufacturer claims it alleviates indigestion that causes the feeling of fullness, swelling, gases, stomachache, constipation, diarrhea and more.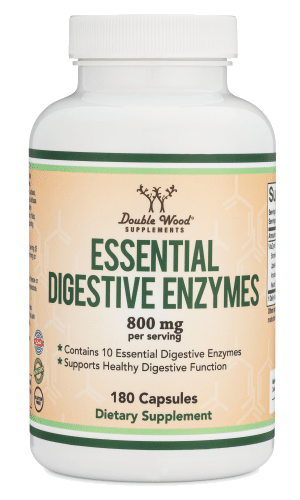 Besides, the manufacturer of the product claim that it helps reduce food allergies prevents the development of diseases in the digestive tract and promotes the absorption of nutrients from foods. 
The key digestive enzymes in Double Wood essential supplements are; bromelain, Lactase, Invertase, lipase, papain, Glucoamylase, amylase, maltase, Cellulase and neutral protease. The company, unfortunately, does not provide a detailed breakdown of how each of these ingredients will work to promote gut health.
According to its manufacturer, the supplement should be taken twice a day for a total dosage of 800mg. You can take these supplements without a meal as long as you consistently take them daily. If for whatever reason, you find the recommended 2 daily capsules insufficient, you can increase the dosage up to 3 to 4 capsules per day. 
Although mild, this product does have some side effects; they include diarrhea, abdominal cramping, or nausea. The side effects should resolve once you reduce your daily intake, but you are advised to discontinue them if symptoms persist. People on diabetes medication and those on blood thinners are advised not to take these supplements. 
Double Wood Essential digestive enzymes bottle has 180 capsules, but this supplement doesn't have a broad spectrum formula as VitaPost Digestive Enzymes. The supplement is available for sale on Amazon and on the company's website for $19.95. 
Double Wood  Essential Digestive Pros
Affordable

Readily available
Double Wood  Essential Digestive Cons
The company fails to list how each of the ingredients present works

It does not guide what age this supplement is appropriate for

Not enough reviews
VitaPost Digestive Enzymes Review Conclusion: Our Experiences and Recommendation.
We feel that the makers of VitaPost Digestive Enzymes took the time to develop this broad formula that has over 18 enzymes that work together to help the body break down food. And not only that, their product helps the body absorb nutrients better. At the same time, the use of this supplement helps alleviate any indigestion issues you might have, such as bloating and abdominal cramps.
The reviews on the product are overwhelmingly positive, with consumers of the product attesting to how the product changed their gut health. The company behind VitaPost Digestive Enzymes is a reputable brand that has produced some of the most popular dietary supplements, making this supplement something that you can trust.
This supplement is an everyday supplement that has been carefully curated for every consumer. However, pregnant women and people under the age of 28 are not recommended to use this product. It is also essential to consult with your doctor to establish whether you are allergic to any of the ingredients in VitaPost Digestive Enzymes as it contains allergens such as soy.

Frequently Asked Questions About VitaPost Digestive Enzymes
Now that you have made it this far, what are the frequently asked questions on this product?
Is VitaPost Digestive Enzymes recommended or are there any criticisms of VitaPost Digestive Enzymes?
Are there any VitaPost Digestive Enzymes deals or coupon codes?
Who is behind the manufacture of VitaPost Digestive Enzymes?
Does VitaPost Digestive Enzymes have any risks or side effects?
Is the continuous use of VitaPost Digestive Enzymes safe?
Can you buy VitaPost Digestive Enzymes on eBay or Amazon?
VitaPost Digestive Enzymes, Do I need a prescription to buy VitaPost Digestive Enzymes?
How much does VitaPost Digestive Enzymes cost, and where can I buy Garcinia Cambogia Veda for the cheapest price?
References
https://www.walmart.com

https://www.advancedliving.com

https://www.reddit.com

https://www.bignewsnetwork.comt

https://www.bignewsnetwork.com

https://www.digestiveenzymes.us

https://www.healthinsiders.com

https://www.healthtrader.com

https://www.hopkinsmedicine.org

https://www.mountsinai.org

https://enzymedica.com

https://www.webmd.com

https://www.webmd.com

https://www.healthline.com

https://explore.globalhealing.com