Pure & Premium Nutrition Formulated with Your Health in Mind, that is what Purium is all about. Reboot your health and lifestyle with Ultimate Transformation.
Convenient foods are often filled with artificially and genetically-modified ingredients. During this unprecedented time, you don't need to compromise your health for convenience. We blend, bottle and ship pure superfood nutrition straight to your door.
Purium Health Products
Benefit from world class plant based nutritional products that provide high nutritional density.
These products are composed of synergistically combined superfoods that have been carefully selected to nourish at the cellular level, activating your metabolism and boosting your immune defense.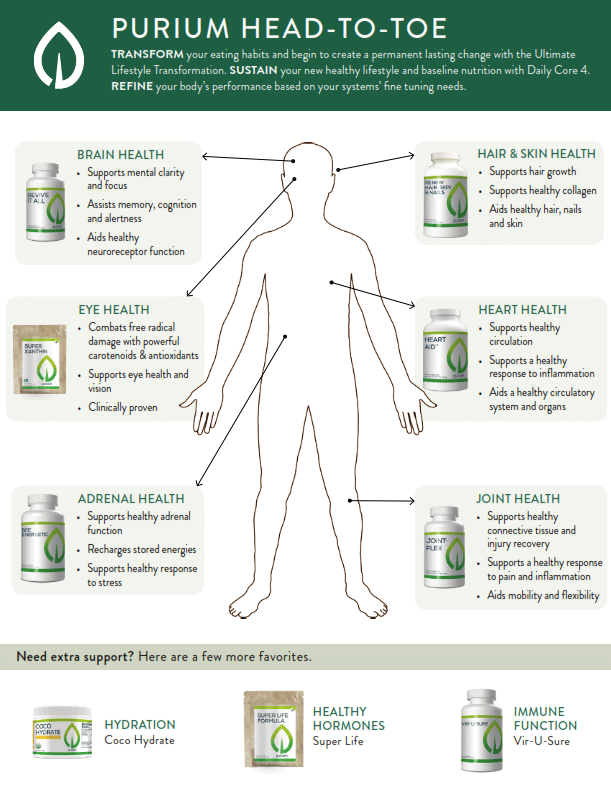 David Sandoval
is a co-founder and the formulator of Purium Health Products. He is a world-renowned expert and in demand lecturer, as well as an entrepreneur, nutritionist, activist, author, and authority on whole food nutrition and disease prevention.
David has researched and studied with the world's premiere authorities on Traditional Chinese Medicine, Ayurvedic medicine, and western holistic medicine, including his mentor, Ann Wigmore, the founder of the Hippocrates Health Institute and the world's foremost advocate of raw food nutrition.
Sandoval believes that there is most definitely a relationship between diet and disease, stating that …
"God and Mother Nature have provided everything the human body needs to live a long, disease-free life."
Purium is healthy
Organic, live, activated and sprouted ingredients
No binders, fillers, hormones, herbicides, pesticides, or irradiated or genetically-modified ingredients
No artificial colors, flavors, or sweeteners
FDA Approved
Powdered Foods are Certified Organic by the USDA
The Solution
With Purium, you can enjoy the most potent, whole food, raw food, live food, green food, super concentrated, highly-alkalinizing GMO-free, organic, vegan superfoods. It's the type of nutrient-dense food your body craves. And it's the type of food you won't find at your local grocery store, vitamin shop or restaurant.
Purium's collection of organic, vegan friendly meal replacement shakes, vegan protein shake (including a chocolate vegan protein powder)
Our Prices Include the Biggest Discount Available!!
Purium Products Catalog – (discount coupon embedded in these links)
We believe that there is nothing more beautiful or tasty than Mother Nature's variety of plants.
The Pollution
One-hundred years ago, all food was organic. Vegetables grew front he earth and fruit was picked right off the tree. Fish swam in pristine stream, lakes and oceans And animals roamed free. Now, many of the things we put into our bodies are not made by God and Mother Nature — but are made by chemists in laboratories.
In fact, they really aren't foods at all, but rather food-like substances, nearly unrecognizable by your body. That presents a real problem.
Processed, irradiated and genetically-modified; filled with artificial colors, flavors and sweeteners; loaded with hormones and sprayed with pesticides; not to mention the sugar, salt and fat! These processed foods go so far beyond fake food that we could call them frankenfood!
In fact, it's not too far off to say that almost all food is junk food these day. It's no wonder that nearly 7 of every 10 Americans are overweight, obese and are experiencing diet-related diseases. In fact, the rate of diabetes is going off the charts in a very bad way! Doctors and nutritional experts now agree that our poor eating habits may be blamed for more serious health challenges such as heart disease and cancer. Thankfully, there is a better way — a solution.
Purium Health Products provides organic formulas to meet any targeted nutritional needs you may have. In addition, they offer a vast array of educational resources to help you better understand and implement your plan of action. No hype. Just the real deal with 'YOUR' health in mind.
Use this link to buy Purium products for your family.   Receive the largest discount allowed by Purium when you  click here.
Family-Owned + Family-Run
From each sale, money goes to Brand Partners and their families, and farmers and their families. While corporations spend money for eye-level shelf space in stores, we provide money for families to live their healthiest and best lives.
Interested in making money with Purium products?
HealthStatus has been involved with Purium since 2017.   Our team can help you make more money, faster.   You have incredible opportunities when you sign up as a brand partner with us.   Use the chat box to connect and we will show you how easy it is to leverage the power of HealthStatus to help you make more money faster.
LOYAL CUSTOMER SAVINGS
After your first purchase, you automatically become a Loyal Customer  and will save 25%  as long as you place an order every 30 days.
If you forget to order, you'll receive a 15% discount instead.   But you can setup an automatic smart order to prevent this from happening.
But don't worry if you do forget, just come back within the 30 days to be back on track for the 25% discount.
Did You Know?
4Purium Products are organic and GMO free.