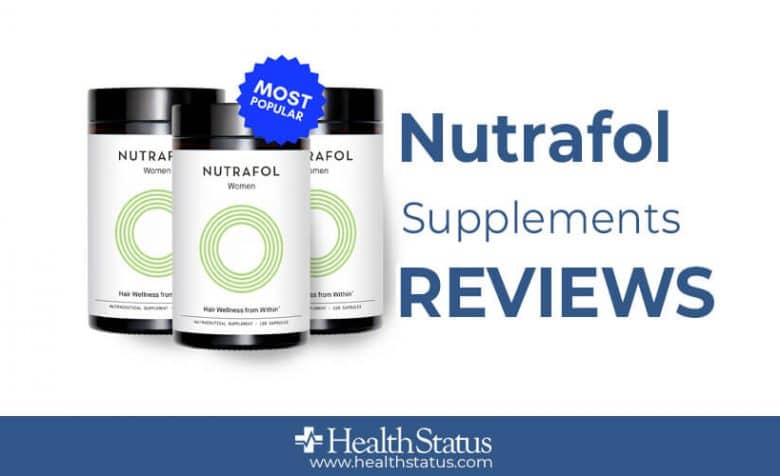 According to the American Academy of Dermatologists, it is perfectly normal to lose 50 to 100 strands of hair a day. It is, however, concerning if you start to lose clumps of hair daily. Some of the reasons why people lose hair include stress, alopecia, medication such as chemotherapy treatment, and many more. 
Though shedding may be normal, hair loss isn't. Hair loss occurs when your hair quits growing, medically referred to as Anagen effluvium. It is a condition caused by alopecia areata, universal hairstyles that pull on the hair, the compulsion to pull out one's hair, and harsh hair-care products. 
Hair treatments such as Nutrafol have been developed to help women and men experiencing excessive shedding. Different from pharmaceutical solutions, natural hair treatments such as Nutrafol are made with natural ingredients that make them a safer alternative.
In this Nutrafol review 2022, we aim to dig into the product and help you make a better purchase decision. We shall cover the key ingredients of Nutrafol, how it works, the scientific research behind the product, and what users have to say. 
What is Nutrafol? 
Because of their own traumatic and frightening experience with losing hair, Nutrafol's developers created a hair loss treatment that is natural and has no side effects. In collaboration with a team of scientists and doctors, they used a rigorous scientific strategy to research hair well-being and potent natural ingredients in clinically tested formulas.
Nutrafol is an oral hair loss supplement designed and produced by Nutraceutical Wellness Inc., a New York City-based company that claims to make drug-free products. Giorgos Tsetis, a former model and businessman with an engineering background, is a co-founder of the product. 
Product
Nutrafol
What is the product for
Hair loss treatment supplement
Nutrafol for Men
Nutrafol for Women

Nutrafol for women
Nutrafol women's balance
Nutrafol postpartum

Ingredients
Curcumin
Saw Palmetto
Indian ginseng, or Ashwagandha
Kelp
Piperine
Marine Collagen
Resveratrol
Tocotrienol and tocopherol complexes
Benefits

Neutralizing free radicals
Naturally rebalancing stress and androgen hormones
Combatting inflammatory molecules
Preventing the overproduction of DHT

Price
A tub of Nutrafol for men goes for $209
A tub of Nutrafol for women goes for $209
What are the Nutrafol ingredients?
According to Nutrafol hair loss supplement developers, their formula has been developed using only natural ingredients. These include:
Curcumin:

Curcumin is a micronutrient compound found in the turmeric plant's rhizome or rootstalk. It inhibits the excessive production of a hormone called DHT (dihydrotestosterone). DHT is a hormone that has been linked to hair loss by blocking new hair from growing from your follicles. Curcumin is also a beneficial effect on natural hair growth.

Saw Palmetto: This supplement's Saw palmetto extract is derived from a shrub-like palm native to the southeastern United States. Saw palmetto affects the enzyme 5-alpha reductase. This enzyme converts testosterone into DHT, which causes hair loss for male and female pattern hair.It also inhibits the action of androgen hormones. Because high levels of these hormones are linked to hair thinning, inhibiting them may conceivably improve hair growth. Saw palmetto also has anti-inflammatory qualities on the scalp. Many scalp-related and hair-growth issues are caused by inflammation.
Indian ginseng, or Ashwagandha:

Ashwagandha, also known as Withania somnifera, is a plant native to Asia and Africa. It has been used in traditional Indian Ayurvedic medicine since ancient times to relieve inflammation and pain, treat insomnia, and boost nutrition, among other things. Its inflammation properties can reduce scalp inflammation and may also contribute to new hair growth.

Tocotrienol and tocopherol complexes:

Tocotrienols are a family of chemicals related to vitamin E. They have natural antioxidant properties that may aid in hair growth maintenance. Tocotrienol's unsaturated side chain facilitates penetration into tissues with saturated fatty layers, such as the brain and liver.

Piperine:

Piperine is a chemical found in black pepper that is good for your body. It is an alkaloid, like capsaicin, which is found in chili powder and cayenne pepper. It has an anti-inflammatory effect that has been shown to safeguard against oxidative damage by blocking or quenching free radicals, reactive oxygen species, and hydroxyl radicals in tests in the lab.

Marine Collagen:

Marine collagen is derived from the skin or scales of fish and is used to make skin cream. It works by causing your body to naturally produce more collagen. The following is how it works: Hair can be made from amino acids, and this supplement provides your body with the amino acids it requires. Because this collagen is high in antioxidants, it can aid in the repair of damaged hair follicles, thereby promoting hair growth.

Resveratrol:

Resveratrol is also thought to improve mitochondrial function and, as a result, hair cell energy production. This keeps hair follicles young and healthy. According to some studies, resveratrol may also help suppress a hormone that inhibits blood flow to the hair follicle.

Kelp:

Kelp is a type of sea algae, and kelp is a type of seaweed. Sea kelp contains iodine, which is beneficial for thyroid regulation as well as dandruff and hair thinning.


Nutrafol for Women hair treatment
Nutrafol has developed a couple of hair loss treatment supplements for women. 
Nutrafol for women:

This supplement improves hair growth so that it looks thicker and stronger. It is packed with medical-grade, all-natural ingredients that support your whole-body health; you can fight thinning hair from the inside out.

Nutrafol women's balance:

It is a hair growth supplement for women going through perimenopause and menopause. In order to address the root causes of thinning, such as hormones, aging, and metabolism, we use medical-grade, natural ingredients. Visibly thicker and fuller hair for women of all ages results from their award-winning physician-formulated formula.

Nutrafol postpartum

:

It is a daily hair growth supplement developed with the help of OBGYNs for postpartum women to be taken in the first year after giving birth or breastfeeding. This formula, which is both natural and breastfeeding-friendly, supports overall recovery by replenishing vital nutrients such as theanine and Shatavari, DHA omega-3s and tocotrienol complex, and marine collagen with nettle and apple infusion.

A bottle of Nutrafol for women comes with 120 capsules, holding thirty servings. And though results from this supplement come earlier, its developers recommend that you take this supplement for up to 6 months for the best results.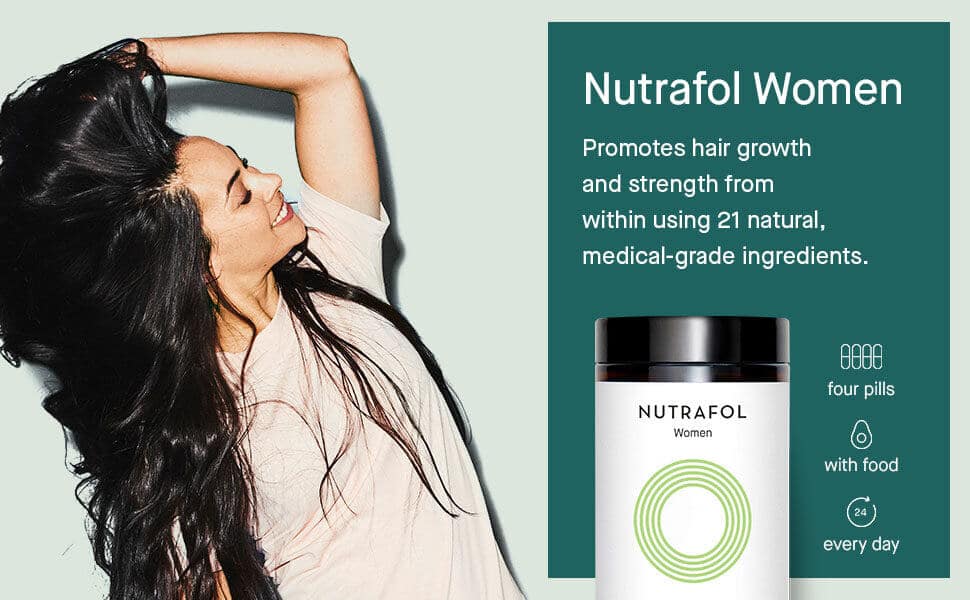 Nutrafol for Men hair treatment
Nutrafol for men promotes hair growth by thickening and covering the scalp. This supplement will address the root causes of thinning such as hormonal changes, stress, and poor nutrition without compromising your sexual health. The Natural, medical-grade ingredients also support your overall health.A bottle of Nutrafol for men comes with 120 capsules, enough for a month. Its developers recommend using this supplement for at least 6 months to see significant improvement.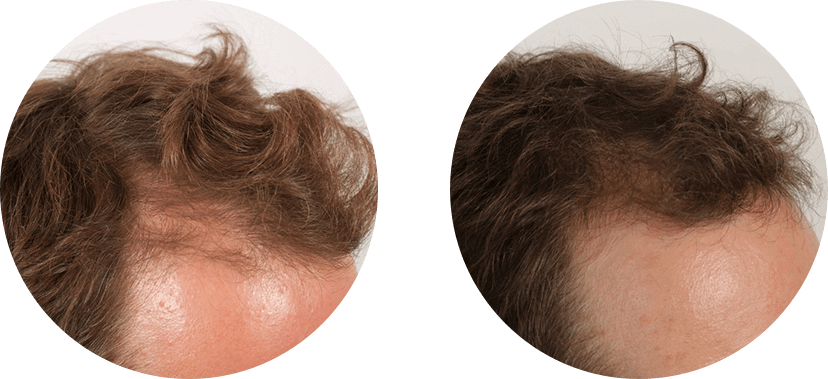 How does Nutrafol work? How good is the effect of the Nutrafol?
As previously mentioned, Nutrafol promotes hair growth by treating the underlying causes. According to its manufacturer, it works by:
Naturally rebalancing stress and androgen hormones:

Stress can affect the hair's natural growth cycle, resulting in excessive shedding and hair loss, which high-stress levels can cause. When hormone levels are out of whack, hair loss can result. Ingredients such as saw palmetto inhibit the activity of androgen hormones, resulting in less hair thinning. 

Neutralizing free radicals:

According to studies, hair ages more quickly when exposed to large amounts of free radicals for longer periods. Nutrafol hair treatment formula is rich in antioxidants, and these antioxidants help keep hair healthy and strong by neutralizing the free radicals.

Combatting inflammatory molecules:

The body's immune system can mistake cells and other parts of the body for foreign organisms, so it may attack them. The body's immune system thinks that hair follicles are foreign objects and attacks them often. Alopecia, or hair loss caused by inflammation, is the result of this. 

Ingredients like curcumin, which have anti-inflammatory properties, are found in the Nutrafol formula. These ingredients help keep hair follicles healthy, which leads to more hair growth.

Prevent the overproduction of DHT:

DHT is an endogenous hormone that comes from testosterone, but too much of this hormone can damage the hair follicles. As a result, DHT stops the hair's growth cycle, shrinks, and shortens its length, making it a lot easier for it to fall out and hard for it to grow back.

Ingredients like curcumin and saw palmetto in the Nutrafol keep DHT from binding to 5-AR receptors, which can make your hair follicles shrink. DHT can do this by binding to 5-AR receptors in your hair follicles.

How do you use Nutrafol for the best results? Nutrafol dosage recommendation – How much Nutrafol should you take?
The makers of this hair treatment recommend taking four pills a day. They also recommend taking them after a meal rich in healthy fats (as some of the individual vitamins in the formula are fat-soluble) to improve absorption. The four capsules should be taken all at once in the morning for the best results. If you are interested in trying difrend products like dose for weight loss you can see our review on GoKeto and see howdid it worked out for Chrissy Metz Weight Loss
How long does it take for Nutrafol to work?
According to Nutrafol, results from this supplement can be seen as early as 30 to 60 days, with most people noticing an improvement in their hair. However, men can expect to see results within three to six months of consistently taking the supplement; however, results may vary. In clinical trials, 83 percent of participants saw an improvement in hair quality, while 72 percent saw an improvement in scalp coverage.
Nutrafol 2023 clinical trial assessment and results: Is Nutrafol safe to use?
Clinical studies conducted by the developers of this supplement show that Nutrafol works. It was found that women taking Nutrafol had more vellus (baby) and terminal (longer, thicker) hairs than those in the placebo group after six months of treatment. Results showed that 80% of the women saw better overall hair growth, 80% saw thicker hair, and 73% saw an increase in growth rate.
For the first time, a supplement study for peri- and postmenopausal females was conducted with the results showing that women taking Nutrafol Women's Balance daily saw an increase in vellus (baby) and terminal (longer, thicker) hairs with less shedding than the placebo group after a six-month clinical trial. 
In the study, all women saw an improvement in their hair growth after nine months, 76% saw thicker hair after six months, and 80% experienced less shedding after three months. Finally, developers of this supplement conducted a test aiming to show how their supplements worked for every hair type. 
An expert grader found a statistically significant overall benefit from the treatment in progress photographs of both men and women in all the participating ethnic groups tested during the 6-month multi-ethnic observational study. More than 84% of women reported seeing stronger hair, 84% reported thicker hair, and 81% of men reported seeing more scalp coverage.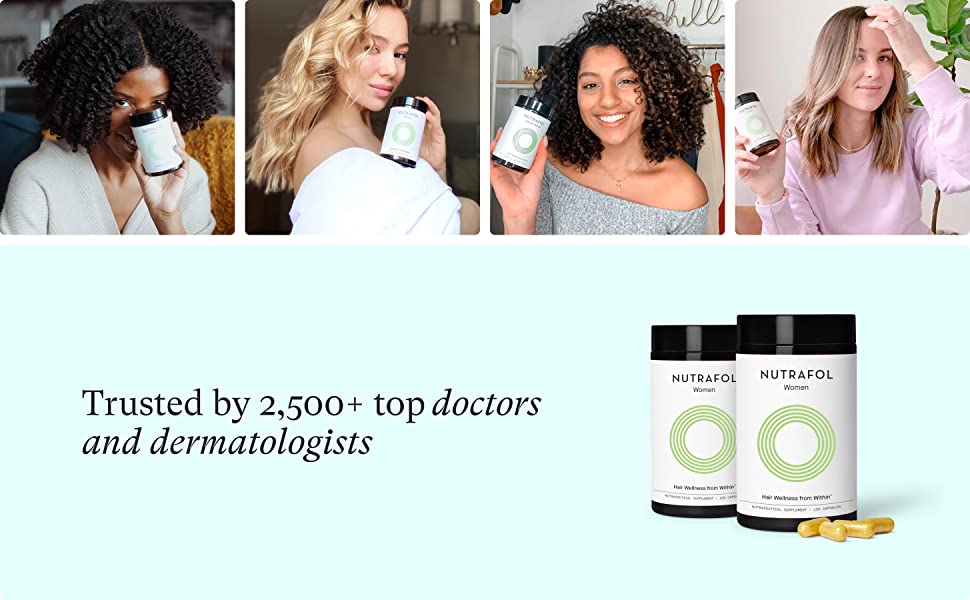 Nutrafol Side Effects
All Nutrafol supplements are free of drugs, hormones, and other things that aren't natural or healthy. Tests for heavy metals, pesticides, chemicals, and microbiological safety are also done on the products by a third-party company.
As scientists have accessed the Nutrafol supplements, there has been no evidence that the ingredients or the formula are unsafe. However, some users of this supplement do experience some side effects such as nausea, cramping, and rashes.
If these side effects do not subside, we recommend stopping taking this supplement. However, to avoid any side effects, we recommend having an allergen test done so you can tell if you are allergic to any of the ingredients in the Nutrafol supplements.
Nutrafol results before and after: Does Nutrafol really work, or is it a scam?
Here is what you should expect when taking the Nutrafol hair treatment supplements. It is important to note that these results may vary from one individual to another.
Nutrafol results after two weeks:

Nutrafol results after one month:

Thicker and more lustrous hair

Less irritated scalp

Healthier hair follicles

Less shedding

Some hair growth

Nutrafol results after two months:

Fuller and thicker hair

Noticeable hair growth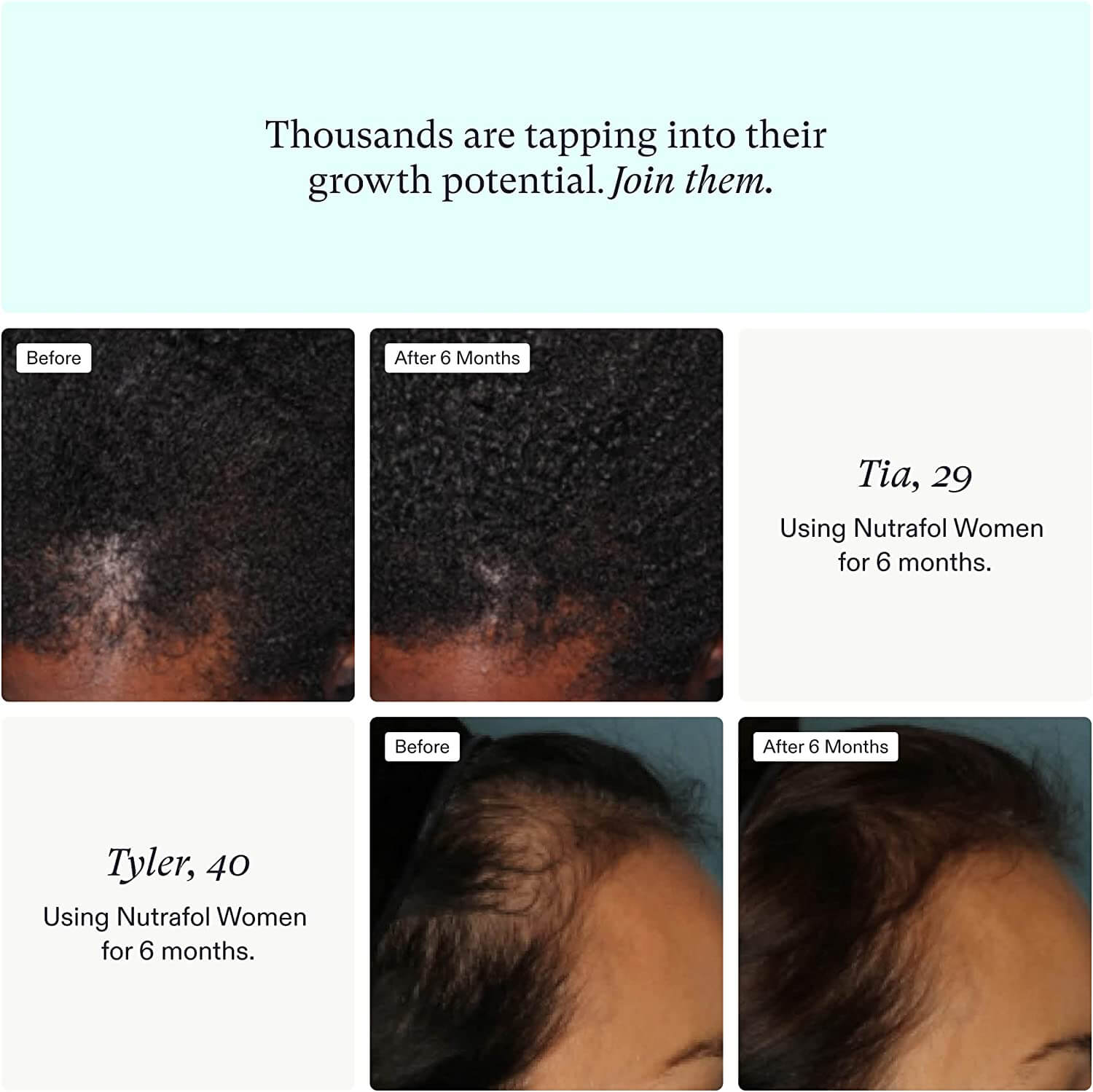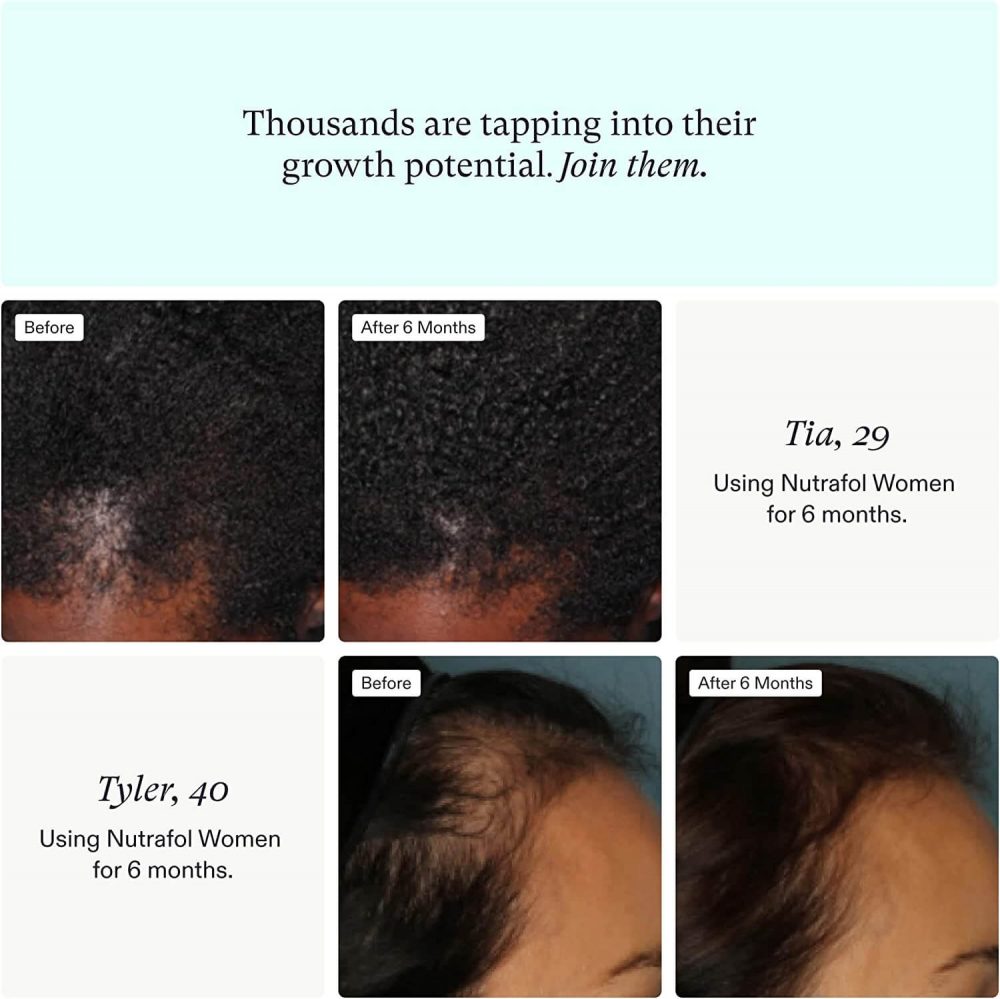 Nutrafol results after two weeks:
Within the first two weeks, hair growth will not be noticeable. However, your hair's texture will improve.
Nutrafol results after one month:
During the first month, the Nutrafol formula will work to resolve any inflammation that may be inhibiting hair growth. Consequently, your hair follicles will be healthier, which will make you have less shedding, see some hair growth, and have thicker and more lustrous hair.
Nutrafol results after two months:
At month two, hair growth should be somewhat noticeable. However, developers of this supplement recommend that you use the supplement consistently for 6 months for the best results.
Our Nutrafol review and rating: Nutrafol pros and cons:
Pros
The supplement's formula is made using 100% natural ingredients
The formula is based on clinical studies
The formula has been developed with the help of doctors
Highly effective in preventing hair shedding
Cons
Not ideal for people with significant hair loss

May cause some mild side effects such as nausea, rash, and cramping in some users.

It is priced on the higher side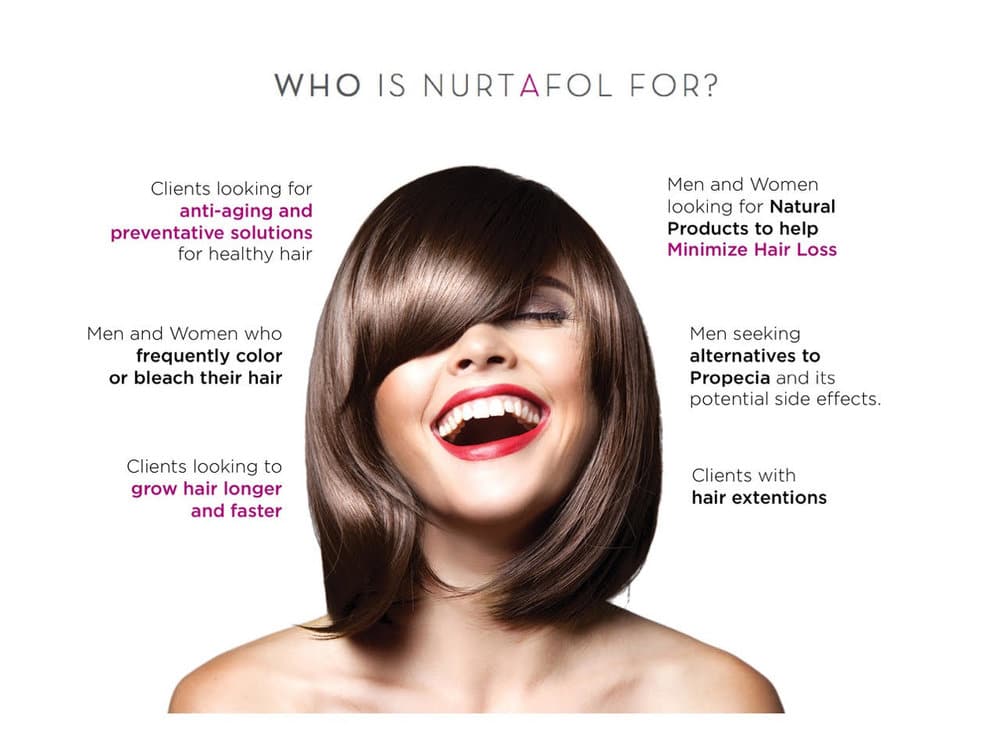 Nutrafol reviews on the internet and forums like Reddit or Consumer Reports:
Customer feedback on Nutrafol is largely positive. However, it does appear to be outside of many users' price points. While that may be the case, users of the supplement reported seeing results while on the supplements. Therefore, though pricey, it is a worthy investment. Also users lest a great reviews on other product, most of them were Antibiotics
Is Nutrafol reputable, or are there any warnings about Nutrafol on the internet?
Nutrafol has over 3,000 reviews on Amazon, with a star rating of 4.3 out of 5. Although their overall rating is good, their personal ratings by feature range from 3 to 4 stars, with the price cited as the number one reason for their reluctance to give the product a higher rating.   
Regardless of their dissatisfaction with the product's pricing, almost all customers report that the supplement is effective at preventing hair shedding.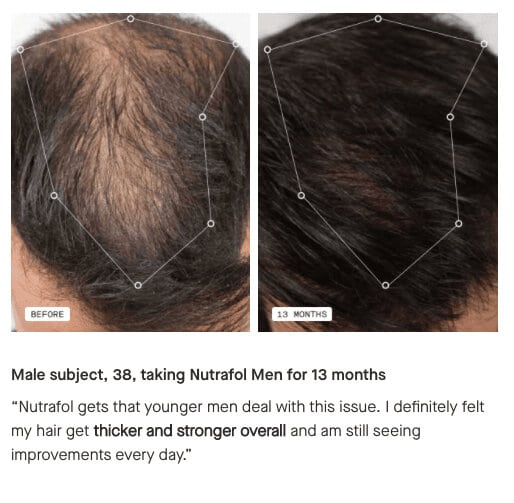 What do I need to consider if I want to discontinue Nutrafol?
Nothing! A section of people believes that discontinuing Nutrafol will lead to hair loss. The truth, however, is that the results received on this product last long-term. 
Where can you buy Nutrafol? Nutrafol price comparison & deals for sale
Though Nutrafol is available on many online platforms, the authenticity of these supplements cannot be guaranteed. We recommend getting your Nutrafol supplements from here for quality supplements at an amazing rate.
A three-month supply of Nutrafol for both men and women is $209 with a bottle having 120 capsules, enough for a month. If you buy your supplements from here today, you will get free shipping for orders over $50.A no-questions-asked money-back guarantee backs Nutrafol from Derm to Door. They offer a 30-day money-back guarantee if you aren't happy with your purchase. 
Your refund will be processed once your return is received, and a credit will be applied to your original method of payment. This vendor does not provide refunds in the form of store credit. Please allow 48 hours for refunds to be processed and 5-7 business days for a credit to appear in your account.
Can you buy Nutrafol in a pharmacy? 
Nutrafol is available for purchase on the developer's official website or here. We recommend buying your supplement from this supplier for comparable prices, and the supplements are shipped straight from the manufacturer, guaranteeing consumer safety. 
Nutrafol supplements are shipped within the U.S.A. in 2 to 8 days, and this is because it takes a day or so to get your package ready. When you buy your Nutrafol here, you will receive an email that will help you track your order.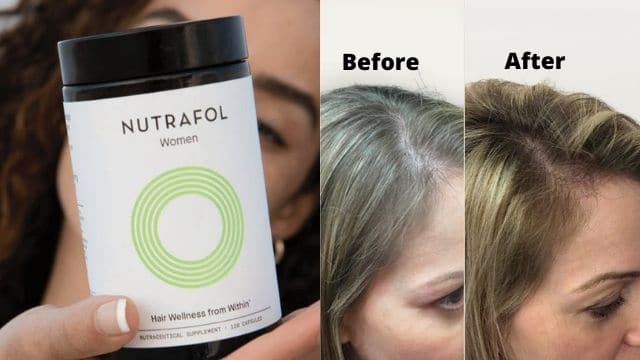 Nutrafol vs. Viviscal
According to its developers, Viviscal is an everyday hair supplement that promotes hair growth from the inside out by nourishing your follicles in four stages, resulting in thicker hair in just three months.
Compared to Nutrafol, Viviscal is relatively more affordable. However, the Nutrafol formula is more advanced than that of Viviscal. The Nutrafol formula has been developed with the help of doctors and has undergone thorough clinical studies that speak to its effectiveness. The same cannot be said about Viviscal.
In addition to this, Viviscal has more severe side effects than Nutrafol. Nausea is a common side effect, as the oral Viviscal supplement contains iron, which can cause stomach irritation. Skeletal problems, such as joint stiffness or pain, have been reported, but they are uncommon. It's also worth noting that this supplement may cause an allergic reaction.
In the dose, pricing, and review categories, Viviscal comes out on top. In the domain of natural components, Nutrafol comes out on top. Both supplements have been professionally proven to help with hair development and hair health. Both take about 3-6 months to show results when you take the appropriate dose.
Nutrafol Review Conclusion - Our experience and recommendation:
Nutrafol's unique blend of chemicals is what sets it apart from the competitors. Other hair supplements do contain vitamins and minerals, which aid in the nourishment and growth of hair. However, this isn't always enough.
Though generally safe, before starting on the Nutrafol supplements, we recommend seeing a doctor as it will be established whether your current medication may interact with the supplement. Additionally, the doctor will be able to advise you on whether you might be allergic to any of the ingredients in the Nutrafol supplement.
Frequently asked questions about Nutrafol:
Here are a few more questions on Nutrafol.
Where to buy Nutrafol for the cheapest price?
What is in Nutrafol ingredients?
How long does Nutrafol take to work?
Which is better: Nutrafol or Viviscal?
How much does Nutrafol cost?
Are there any Nutrafol discount or coupon codes?
Is it possible to buy Nutrafol on eBay and Amazon?
Are there any criticisms of Nutrafol, or is it recommended to take Nutrafol?
Does Nutrafol have any risks or side effects?
Is it safe to take Nutrafol continuously?
Do I need a prescription to buy Nutrafol?
Reference:
https://www.aad.org

https://nutrafol.com/clinical/

https://shrsl.com/3ck2r

https://donotpay.com/learn/cancel-nutrafol/

https://www.healthline.com/health/nutrafol-reviews

https://www.medicalnewstoday.com

https://www.healthline.com/health/how-to-prevent-hair-loss

https://www.viviscal.com/

https://www.amazon.com/ask/questions/asin/B07QZ5CTTF

https://www.healthline.com/health/dht

https://www.webmd.com/connect-to-care/hair-loss/dht-blocking-treatments-to-know-about

https://www.midlandplasticsurgery.com

https://dutchtest.com