You may have heard of using a heart rate monitor in conjunction with your exercise, but what is it exactly that this monitor does? Polar, a major name in the heart monitor field, sheds light on this question with the simple answer of a heart rate monitor shows the effects of exercise on your body in great detail by allowing you to measure the rate of your heart. This rate is measured in beats per inute, and is one of the many things monitors measure and show to the exerciser.
Basic components of the monitor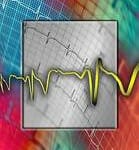 The most basic heart rate monitor consists of only two components: The transmitter and a data receiver. Typically these transmitters are water proof straps that are worn across the lower region of the chest, designed to pick up on the beating of the heart. The receiver is typically worn on a band that can placed in a readily accessible spot on the body, such as where a watch would be. This receiver stores and displays the data collected by the transmitter. Most models on the market today will last for a few thousand hours on the original battery. The newest models have even been taken so far as to prevent signal interference from other electronics to make sure the reading the monitor presents is as accurate as can be.
Functions
Many of the monitors a person can buy provide a plethora of functions. The most common feature of the unit is what gives it the name it has: The feature of monitoring your average heart rate from the time it is turned on until it is turned off. Most receivers will have a 'high' and a " Ëœlow" â"¢ option that allow you to see exactly where your heart rate peaked and where it dipped during your workout.
Some receivers offer the function of a calorie counter to inform you of an approximate measure of the amount of calories burned during your workout, provided you enter a little information about yourself prior to starting. Newer monitors have GPS tech to let runners know what speed they achieved as well as how much distance they covered on top of the heart rate information.
Benefits
There are many benefits to using a monitor. Easily the two most important are the accuracy of the device, and the data it provides in the first place. Accurate information on your heart rate during exercise is invaluable, as it lets you know just how much effort you are making to better your health. You will also be able to track heart improvement as a result of your exercise because as your heart gains strength, the number of beats needed to pump blood will be reduced. You will be able to see this with a heart rate monitor, and know you are on the right track to a better heart.
Most people can improve their heart rate with by getting in better health with regular exercise – if that is what the doctor suggests.