This twenty eight year old female had a vision, but wouldn't achieve her goal until she was 64 years old. Her journey started in 1978, but it was not completed until 2013. She simply wanted to be the first person to swim the 110 miles from Cuba to The United States.
The greatest swimmers in the world had been trying to achieve this feat since 1950, and she had failed on her four previous attempts.
Before her fifth attempt, almost everyone, even those in her own team had said, "It can't be done."
Diana Nyad finally became the first person to accomplish this amazing feat of swimming from Cuba to Florida. It took her over 53 hours of continuous swimming, fighting off boxed jelly fish with the most deadly venom in all of the ocean, throwing up from all of the saltwater, and even hallucinating about seeing the Taj Mahal during the endeavor.
The most awe-inspiring feat of all-time took 36 years to complete and she was able to do it because she "never gave up."
I'm a stout believer that if we never give up, then we will reach our goals, period. Goals are all about a game of attrition. If we never give up, then we will reach them.
But, we often make this one mistake and it crushes our own goals.
The mistake is that we quit!
Here's how it happens.
We may have been exercising regularly and eating well. Really proud of ourselves, feeling better and more confident and then something happens. Â Perhaps we sleep in and miss the workout session or we indulge after dinner and eat that piece of cake.
That's not the quitting part; that stuff happens, mistakes happen. But it's what happens next that crushes our health goals.
We say to ourselves "I blew it", or "since I missed yesterday's workout, what's one more day"? Or since we had that piece of cake, we go ahead and eat another.
There is pain and guilt of messing up. It hurts. Facing our mistakes often hurts worse than quitting because at least when we quit, we don't have to keep returning to the scene of the crime.
There are no more difficult reminders and we try and move on. Hence, we say, "forget it, I blew it."
The sad part is that we are quitting on who we want to become. We are quitting on why we started in the first place.
How would you describe your vacation to Florida if you got a flat tire on the way there, so you just turned around and headed back home?
It's not about the setback; it's about the comeback.
The workout or piece of cake that you ate does not define you. It's how you respond to the setback.
Can you learn from the mistake and approach your goals with an even stronger enthusiasm and resolve?
Don't let this one mistake to crush your goals. Move on from it, face it, change the tire, and just keep going.
---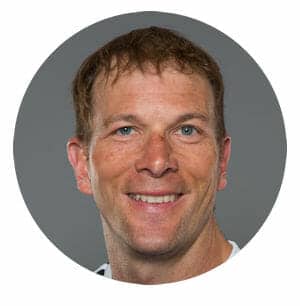 Dr. Rob Bell is a Sport psychology Coach and Mental Toughness expert based in Indianapolis. He has written six books on mental Toughness and works with corporate athletes helping them capture their hinge moment. Some of his clients have included University of Notre Dame and Indy Eleven.