People love gadgets, and today we have lots of gadgets to love, but the main thing we have that we would just be lost without is our cell phones. Iphones, smart phones, android, some people (like me) carry a cell phone mostly just for making phone calls or keeping track of appointments days, weeks, or months away, and even for that I find it indispensable. But many people carry a cell phone that is more than just a phone, they use it for everything.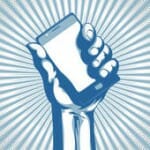 Their lives are in there, they use their phone for work, they use it to keep their appointments, and they have tons of pictures of friends and family. They use it for their music, they use it for email and web browsing, and they use it to get directions. They use it to start their cars; they use it to play games to pass the time when they are bored or waiting for anything from a bus to the receptionist to call their name at the doctors" ™ office. They can even use it to operate their home security systems; just name it, that"s what cell phones can do. They even make a fine companion while napping.
It is almost as if we have become the cyborg of science fiction, part human and part machine, except that the machine part is external, so far. We are so connected to our cell phones, as well as other devices, laptops, pc"s at home, game systems, if we were to lose them or have to stop using them we would actually go into withdrawal like a drug addict, yes it"s that bad. Just try it for a day and see how you do.