This is a continuation of our series on Natural Vision Correction.  Get to Part 1 Here.
Lazy Eights
This simple exercise packs a punch.
It integrates both hemispheres of the brain.
Relaxes the muscles of the hand and arm.
Supports eye movement.
Encourages eye-hand coordination.
Here's how to do it.
Track the sign of eternity or the figure eight with your dominant hand, the eyes following. Start by moving your eyes from center to the left and top.   Repeat the same exercise by making a lazy eight with your thumb, with your eyes following.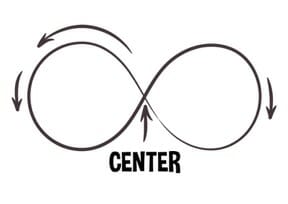 Central Fixation
The clearest point of our field of vision should be the one point we are looking at. This is central fixation. Anything in the periphery will not be as clear.  Any attempt to bring