Platinum Pure Barley
Platinum Pure Barley Caps help you to enjoy all the benefits of young, green, chlorophyll-rich cereal grasses in a convenient vegetarian capsule. Great for travel, on-the-go and for people who are unfamiliar with drinking green juices.
Barley grass contains an abundance of vitamins, minerals, trace elements and antioxidant enzymes as well as digestive enzymes, secondary plant substances such as laetrile and pangamic acid, glyconutrients (particularly healthy plant sugar forms) and chlorophyll.
In the natural context of the whole plant, a synergy is created for the optimized absorption into the body.
Barley grass was developed by Dr.  Hagiwara has been researched intensively in Japan and was first used in the eighties in a dried form on a broad basis with great success.
His drying method using maltodextrin was the only option for many years.
Benefits:
May support healthy digestion
Can support the natural detoxification of the body
May support a healthy immune response
Can aid healthy liver function
May support healthy blood sugar levels when taken between meals
Can help promote optimal healthy alkalinity
Nutrition Facts of Pure Barley Capsules: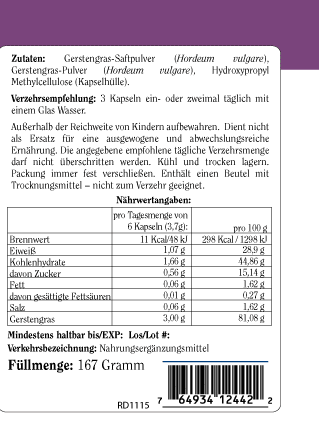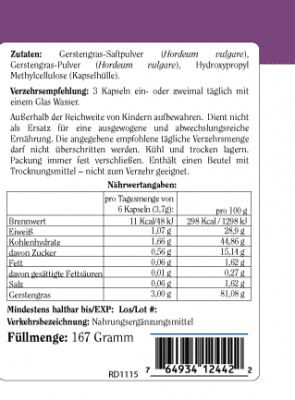 Ingredients:
Barley Grass Juice Powder
Barley Grass Powder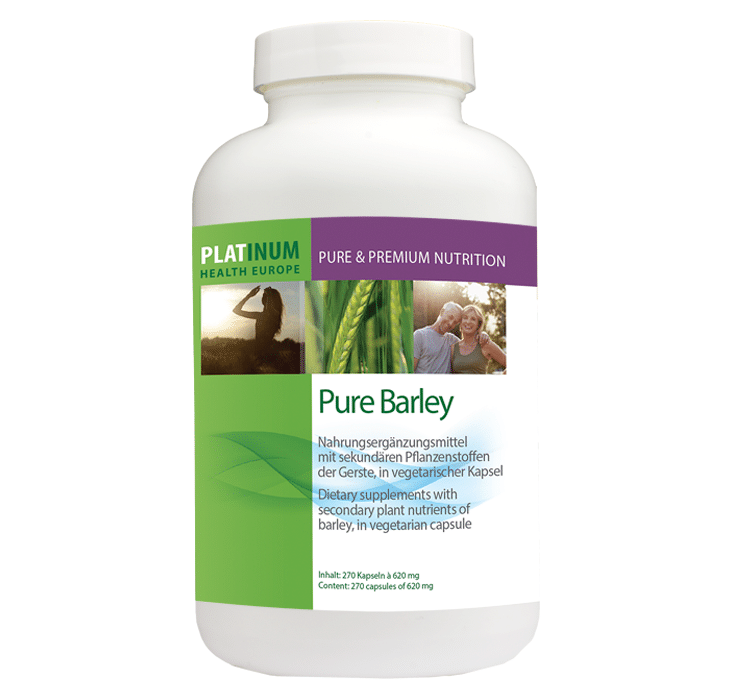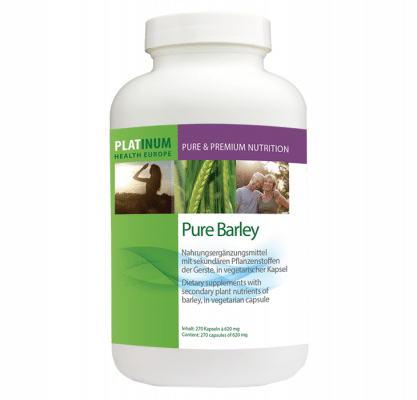 The Advantages of Platinum Barley Pure
Certified organic barley
Guaranteed pure
Guaranteed fresh
Vegetable capsules
Convenient
Important to Know:
However, since 1993 David Sandoval has been able to offer barley grass powder and other plant powders that are produced for the first time without stabilizers and without any additives and that still contain their natural enzymes.
Discover the vitality and energy  contained  in fresh young cereal  grasses.  Especially since they are cultivated by David Sandoval on strictly selected, fertile and mineral-rich soil and only irrigated with water from their own sources.
Platinum Barley Pure New Zealand is pure organic young barley grass grown and cultivated in the fertile plains of Canterbury. Barley grass is harvested before the ovule begins to move up and the grain to develop. At this stage, its nutritional profile is more like that of a green leafy vegetable than that of a grain.
Young barley grass is rich in chlorophyll, the substance which gives plants their green color. Chlorophyll is a deodorizer that helps control bad breath, urine and fecal odor and body odor. Barley's high fiber content helps promote regular bowel movement. It helps strengthen the immune system and helps protect against dreaded disease such as cancer.
It acts as a detoxifier and may help remove toxic heavy metals from the body.It contains a mucilaginous substance, which relieves inflammation and soothes throat and stomach distress. Barley Grass is naturally alkaline and may help to neutralize excess acidic materials in the body to maintain a healthy acidity/alkalinity balance.
It contains all essential amino acids for proper metabolism. Nutritionists recommend 5-6 servings of leafy green vegetables daily to help protect against degenerative diseases such as cancer, heart disease, and arthritis. It takes 100 kilos of fresh barley grass to produce just 10 kilos of barley powder. Sante Pure Barley New Zealand is concentrated nutrition in each capsule.
Package Contents:
270 Capsules of 620 mg
Caution:
Keep out of the reach of children. Keep the container tightly closed. This does not serve as a substitute for a well-balanced and varied diet. The recommended daily dose should not be exceeded. Store in a cool and dry place. Contains a big filled with a harmless absorbent that should not be consumed.
Labels of Pure Barley Capsules:


Did You Know?
 

Platinum Products are organic and GMO free.
Platinum Top Sellers
Let HealthStatus Send You a €50.00 Gift Card