This is a continuation of our series on Natural Vision Correction.  Get to Part 1 Here.
Energetic Yawning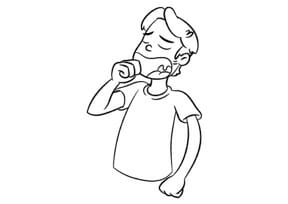 Yawning is one of the best, natural things you can do for your eyes. Take your time yawning and fully stretch out those tense jaw muscles (the TMJ), the strongest in the body.  Yawning lubricates the eyes, relaxes the muscles of face and mouth, and improves the nerve flow to and from the eyes.  Try it now. You might notice your vision a bit clearer?
Blinking  
Healthy eyes blink every 2-3 seconds. Do yours?  Observe yourself to find out. Good chance that you are not blinking your eyes more than every 20-30 seconds when looking at a cell phone or computer screen. Yet, if you deliberately tried not to blink for that long it would be hard.
If you want good vision, you need to train yourself to blink frequently and effortlessly.