Platinum Black Plus is a modern and convenient take on that culinary principle that you can add to your wellness regimen for any ten-day period or use while on the 10 Day Transformation.        
Product Benefits:
Can support healthy and optimal bile flow
May support healthy liver and gallbladder function
Can help with a healthy microbial balance throughout the digestive system
May aid in normal and regular bowel movements
Important to know:
Bitter herbs for seasoning and digestive bitters are a very important part of the cuisines and breweries of many traditional cultures. They are used for culinary purposes as well as to aid healthy and complete digestion and healthy immunity of the gut lining.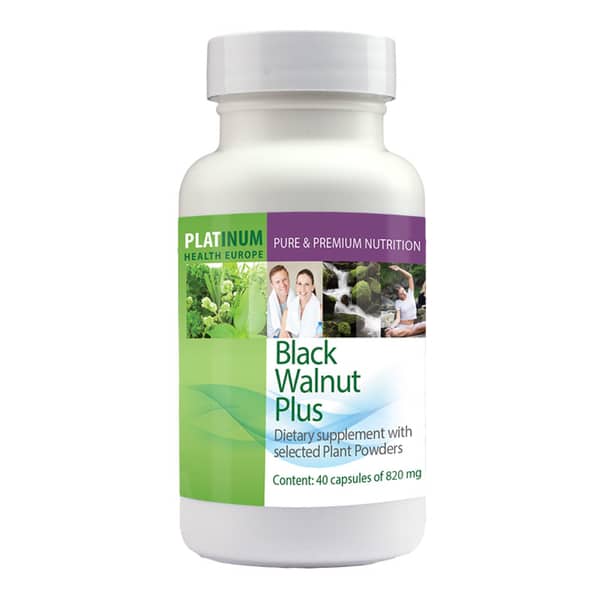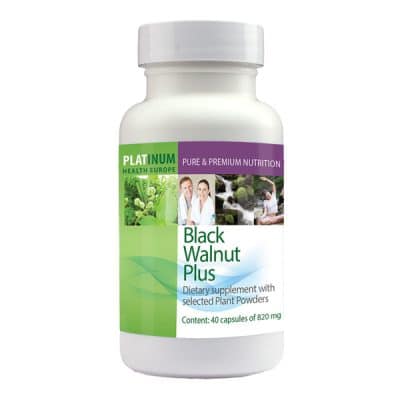 Advisory Information:
Expels Parasites
One of the key active components of the black walnut hull is juglone. Juglone exerts its effect by inhibiting certain enzymes needed for metabolic function. It's highly toxic to many insect herbivores – it's often used by organic gardeners as a natural pesticide – and researchers have observed that black walnut can expel parasitic worms from the body.
According to the Pharmaceutical Society of Australia, black walnut is  effective against ringworm, tapeworm, pin or thread worm, and other parasites of the intestine. This is why black walnut makes a great addition to any  parasite  cleanse.
Promotes Healthy Skin
The tannins in black walnut have an astringent effect, which is used to tighten the epidermis, mucous membranes and relieve irritation. Dermatological applications associated with black walnut include viral warts, eczema, acne, psoriasis,  xerosis, tinea pedis and  poison ivy.
Improves Cardiovascular Health
Black walnuts  are an excellent source of alpha-linolenic acid (ALA), with 100 grams of the walnuts containing 3.3 grams of ALA.  Walnuts are an excellent staple of  the  Mediterranean diet food list, a diet thought to be healthy in reducing mortality rates from coronary artery  disease, which is  low in Mediterranean populations.
Recent epidemiological studies suggest that frequent consumption of walnuts may have protective effects against  coronary heart disease  because of the promising effects on blood lipid profiles. In clinical studies, diets supplemented with walnuts decreased serum concentration of low-density lipoprotein and cholesterol.
Other potential protective constituents include high amounts of magnesium, vitamin E, protein, dietary fiber, potassium and alpha-linolenic acid.
Holds Antifungal and Antimicrobial Activity
The juice from unripe black walnut hulls has been used in folk medicine for many years as a treatment for topical, localized dermatophytic fungal infections, such as ringworm. These fungal infections usually involve the keratinized tissues, such as hair, skin and nails. Such infections may be chronic  and resistant  to treatment but rarely affect the general health of the patient.
Nutrition Facts of Black Walnut Plus: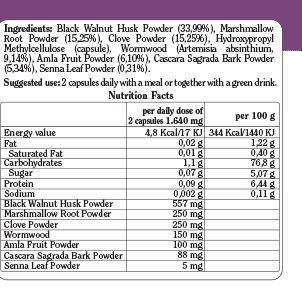 Package Contents:
40 Capsules of 820 mg
Note:
Keep out of the reach of children. Keep the container tightly closed. This does not serve as a substitute for a well-balanced and varied diet. The recommended daily dose should not be exceeded. Store in a cool and dry place. Contains a big filled with a harmless absorbent that should not be consumed.

Label of Black Walnut Plus:


Did You Know?
 

Platinum Products are organic and GMO free.
Platinum Top Sellers
Let HealthStatus Send You a €50.00 Gift Card