Platinum Daily Fiber Blend Caramel, Organic
Platinum Daily Fiber Blend Caramel of highly nutritious plant fibers has a delicious, natural apple-caramel flavor. It offers the benefits of different types of fiber plus the benefits of fat-soluble vitamins like Vitamin E and other key phytonutrients from rice bran.
Daily fiber blend contains in the new composition even more enzymatically active seeds, germs and spices. They supply all kinds of healthy soluble fibres, but also a whole range of fat-soluble vital substances that are not as easy to find in fruits and vegetables as the group of e vitamins and lecithin for healthy brain and nerve function
Fat Burning Fiber
This is not your grandmother's fiber product. Why? Because our new Daily Fiber Blend actually burns fat! A new ingredient called "Rice Bran Fiber," safely and naturally increases adiponectin (the "skinny hormone"), which will help your body burn fat. By making it gluten-free, increasing the quality of the fiber sources, and adding a delicious all-natural caramel apple flavor, Daily Fiber Blend has raised the bar on what a fiber product can be.
Product Benefits:
May support healthy bowel regularity

Can support healthy lipid metabolism

Offers nourishment to beneficial gut bacteria

Can support a healthy microbiome and gut lining

May help you feel full and satisfied

Can support healthy and normal blood sugar balance

May support healthy liver function
Recommendation for use:
Stir a measuring spoon (corresponding to 18 g) into a large glass of water or juice. Leave to swell for 5 minutes before drinking.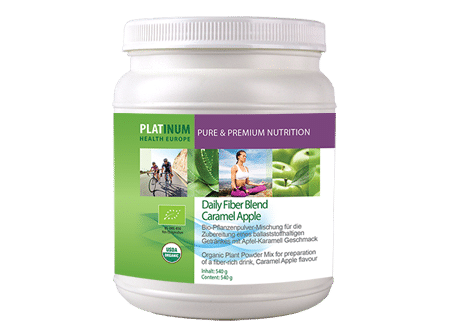 Nutrition facts (per serving of 18 g)
Energy value 60 Kcal / 251 KJ, 3g fat thereof 0g saturated fat, 11g carbohydrates of which 1g sugar, 10g fibers, 2g protein, 0.01g sodium.
Nutrition facts (per serving of 100 g)
Energy value 333 Kcal / 1393 KJ, 16.7g fat thereof 0g saturated fat, 61g carbohydrates of which 5.5g sugar, 55.5g fibers, 11.1g protein, 0.05g sodium.
Nutrition Facts of Daily Fiber Blend Caramel: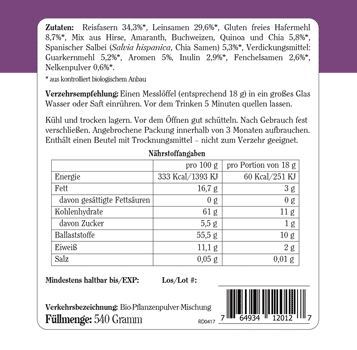 Ingredients:
Rice fiber 34.3%

Flax seed 29.6%  

Gluten free oat flour 8.7%

Grains blend (millet, amaranth, buckwheat, quinoa, chia 5.8%*, chia seed (Salvia hispanica) 5.3%

Thickening agent: Guar gum 5.2%

Natural flavors 5%, inulin 2.9%  

Fennel seed powder 2.6%

Clove powder 0.6%*.
Package Contents:
540g
Note:
Store in a cool, dry place. Shake well before use. Keep the container tightly closed after opening. Open bottle should be used within three months. Contains a bag filled with a harmless adsorbent that should not be consumed
Label of Daily Fiber Blend Caramel:


Did You Know?
 

Platinum Products are organic and GMO free.
Platinum Top Sellers
Let HealthStatus Send You a €50.00 Gift Card