Platinum Kids Focus Tincture
Kids Focus Tincture contains herbs to support a natural, calming focus. This product is designed to help with a healthy attention span and healthy coping response during schoolwork, sports and in stressful situations.
Kids Focus Tincture:
Can support a calm focus
Does not contain stimulants
May help with a healthy and normal attention span
Can support a healthy and normal response to stress
Suggested Use:
Take 2-3 times per day as needed in juice or water:
5-13 kg use 10-20 drops
14-27 kg use 20-40 drops
28-45 kg use 40-60 drops
over 45 kg use 60-90 drops
1 serving: 1ml (approx. 30 drops)
Nutrition Facts of Kids Focus Tincture:
Ingredients:
Eleuthero

 

—  this herb is considered an "adaptogen" — meaning it adapts to help your body either relax or have energy, depending on what it needs. Eleuthero is also thought to help increase mental acuity and is considered a great source of stamina and endurance for athletes. May also support the liver in the elimination of harmful toxins.
Chamomile

 

— has been used for many centuries as a mild, relaxing sleep aid, and an anti-inflammatory. The plant's healing properties come from its daisy-like flowers which contain volatile oils (including bisabolol, bisabolol oxides A and B, and matricin) as well as flavonoids (particularly a compound called apigenin) and other therapeutic substances. Extensive research over the past 20 years has confirmed many of the traditional uses for the plant and established pharmacological mechanisms for the plant's therapeutic activity, including antipeptic, antispasmodic, antipyretic, antibacterial, antifungal, and anti-allergenic activity. May help relieve restlessness, promote general relaxation and relieve stress.
Passion flower

 

— University of Maryland Medical Center says: Passionflower (Passiflora incarnata) was used traditionally in the Americas and later in Europe as a calming herb for mental stress and normalizing sleep patterns. Scientists believe passionflower works by increasing levels of a chemical called gamma aminobutyric acid (GABA) in the brain. GABA lowers the activity of some brain cells, making you feel more relaxed. According to WebMD.com: The chemicals in passionflower have calming, sleep inducing, and muscle relaxing effects.
Lemon balm herb

 

— Lemon  balm has been used for centuries as a popular oil in aromatherapy. It is said that the pure, sweet aroma of the oil promotes a feeling of relaxation and calm. Although lemon  balm calms the mind, it will not put you to sleep — instead it may actually boost your mental acuity.  Some studies have observed improved memory and problem-solving in test subjects regardless of age after taking lemon  balm. Another study noted lemon  balm suppresses brain chemical acetylcholinesterase which breaks down the brain-signaling chemical acetylcholine which is responsible for memory and thought. [4] This action helps stimulate and support memory and mood.
Package Contents:
30 ml
Safety Warning:
If you are pregnant or lactating, consult a health care professional before using this product. KEEP OUT OF REACH OF CHILDREN. Store in a cool, dry place away from sunlight and moisture. Do not use this product if tamper evident tab has been removed or is broken. Note: Silica packet included to help maintain freshness. Do not consume.
Note
Keep out of the reach of children. This does not serve as a substitute for a well-balanced and varied diet. The recommended daily dose of the product should not be exceeded. Store in a cool and dry place. Keep container tightly closed.
Label of Kids Focus Tincture: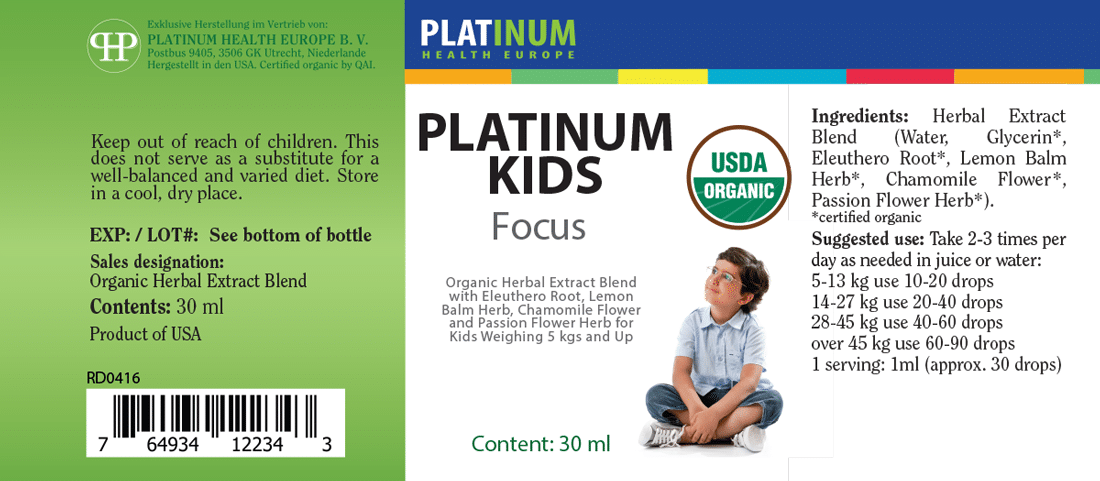 Did You Know?
 

Platinum Products are organic and GMO free.
Platinum Top Sellers
Let HealthStatus Send You a €50.00 Gift Card