Description
What is Active Gel Technology?
AirFeet's Active Gel Technology is DYNAMIC in design and used exclusively in all AirFeet insoles. Behind this engineered technology is the design of the insole itself. The engineered design that makes up AirFeet Insoles, with its curves, bumps and channels, allows for the Active Gel to flow rapidly and accurately to areas requiring support and comfort as you walk. This technology and design is like no other insole on the market.
Are there limits to where I should use my insoles?
There are really no limitations to their use. It is more a question of how comfortable you feel in them with the activity you are doing. It is not recommended you do high impact sports such as running or aerobics until you have worn them for at least two weeks.
How do I clean them?
Wash them gently by hand or machine wash on delicate cycle either cold or warm with a mild detergent. Do not use bleach. Let them  AIR DRY ONLY!
How long do they last?
Good question. To be quite truthful it really can depend on many factors. Materials do wear out, the weight distribution form the user, the environment they are being used in (sandy, wet, moisture, acidic reaction to chemicals that can splash into the shoe, gravel etc). Even down to how clean they have been kept and abuse with installing and removing from one shoe set to another (this is why more than one pair of insoles is recommended) Each pair comes with a warranty period and if there are still questions or issues, just contact us.
What if my Insoles go flat?
Although this is a rare situation, unfortunately it can happen. Sometimes due to manufacturing defects there are errors within products and yes even the Highest of Quality AirFeet insoles can suffer from a flat!
However we ask you to the  following test before  you send your insoles back.
All of these simple tests will provide you with a suitable answer.
* Remove the insoles from each shoe and simply move the left to the right shoe and the right to the left shoe. Wear them again and notice if the flat feeling goes away
* Remove both insoles and place them on a flat surface. Place your hand flat on each insole and rock them from palm to finger tips. If you cannot feel the Active Flow Media moving, then they maybe flat.
If your insoles fail any of these test please contact us at the information provided in the return section and we will be happy to assist you further.
What size should I order?
Our sizing is based on your actual shoe size. Use the chart below to determine your size:

W = WIDE
Each size is trimmable to 1-2 sizes smaller. Order a larger size and trim smaller if in doubt.
Is it possible to purchase the wrong size?
Not if you purchase the same size as the shoes you currently wear. And if they are a little large, just trim them down from the toe. Do not trim the sides or the heel area as this may lead to the Active Gel leaking out.
Can I wear odor eaters with them?
Certainly. Just be aware that you are adding layers in your shoes so your shoes may feel a little tighter. Loosen the laces if you have them, or be patient and allow your shoes to stretch a little.
What happens if the seam bursts and the Active Gel leaks out?
Sadly there will be a little mess to clean up. We are sorry about that. The flow media is not toxic or harmful to you, your clothes or your footwear. It is also an FDA approved material. Simply use some mild cleaning agent that does not damage your clothing or your footwear. Treat the little clean up just as you would if you were cleaning the footwear or clothing on a standard basis.
What happens if my feet feel hot or agitated?
This is actually excellent! What this means is that your muscles are actually being stimulated. There are about 20 muscles in each foot and unlike other areas of our body, we are unable to exercise or engage them in a specific physical activity. When we exercise other muscle groups, they become active and very warm both internally and externally. This is precisely what is happening under our feet. We recommend removing the insoles for the remainder of the day and refer to the break in schedule. This schedule differs from individual to individual as everyone is different. Basically, slowly introduce the insoles to your footwear and allow your foot muscles to become familiar and exercised. This stimulation is the best treatment you can possibly give to your feet. Be patient, as with any new muscular activity, it can take time to adjust.
They can feel a little weird, will this go away?
Yes it may take as little as just 30 minutes or up to a couple of weeks. Your feet have never felt this way or been massaged constantly like this before. Yes it will feel weird but the results are well worth it!
Should I wear them all day?
Certainly, but you may have to allow your feet to adjust. The rule of thumb is that you wear them for a couple of hours each day and increase that time by about 1-2 hours every 1-2 days. So after 2 weeks you should be up to about 14 hours if need be. Now, saying that some people adjust in a few days to wearing them from dawn to dusk. It's how you and your body adjust. It is just like a new exercise so some adjustment may take place. See the "Wear" table below also for clarity.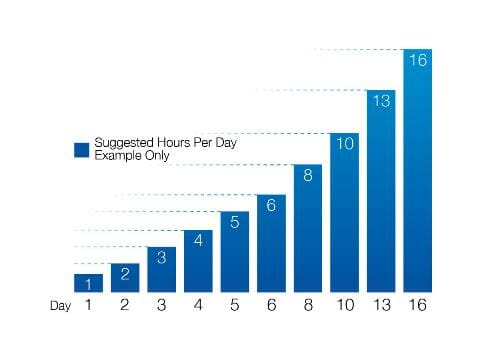 What shoes should I wear them with?
All of them! Seriously, you should wear them with all of your shoes, provided there is not a feeling of your foot being cramped as some shoes fit so incredibly tight, you may not fit your foot in as these insoles, although super thin, can have an effect on fit if they are tight already. This is a very rare situation but it is all based upon your level of comfort. Wear them with regular shoes, open toe and flip flops.You can wear AirFeet insoles with: Dress shoes, High Heels, Knee High Boots, Running Shoes, Hiking Shoes, Flats, Flip Flops, Work Boots, Sporting Shoes, Cowboy Boots…and more! How do I make them work for flip flops or sandals? Customizing your insoles for flip flops or sandals is easy! Just follow these steps:
Using scissors, simply cut along the dotted line from the outside edge to the existing hole.
Using AirFeet STICKEEZ, place them under the heel then position the insole right on top. STICKEEZ will leave zero residue on the sandal and allow for continued use in all open sandal or heels. For more information on STICKEEZ, visit the shopping cart and product page.

WARRANTY
Air Feet insoles are warranted for a period of up to 12 months against manufacturing defects. Misuse and lack of care or abuse of the product will void all warranties. This includes but is not limited to for example: incorrect cleaning or use of harsh chemicals. Incorrect use of the insole, such as but not limited to being worn on poorly fitted footwear, footwear containing sharp or pointed features.The warranty covers seam and material failures while under normal conditions as those described above. In the case that the insoles have been deemed covered under warranty, they will be replaced but not refunded. PLEASE make sure to place the damaged insoles in a plastic zip lock baggie before mailing.